This post may contain affiliate links. Read the full disclosure here.
These baked strawberry donuts are speckled with fresh bits of strawberry, topped with a strawberry glaze, and finished with a drizzle of cream cheese frosting. How could breakfast possibly get better?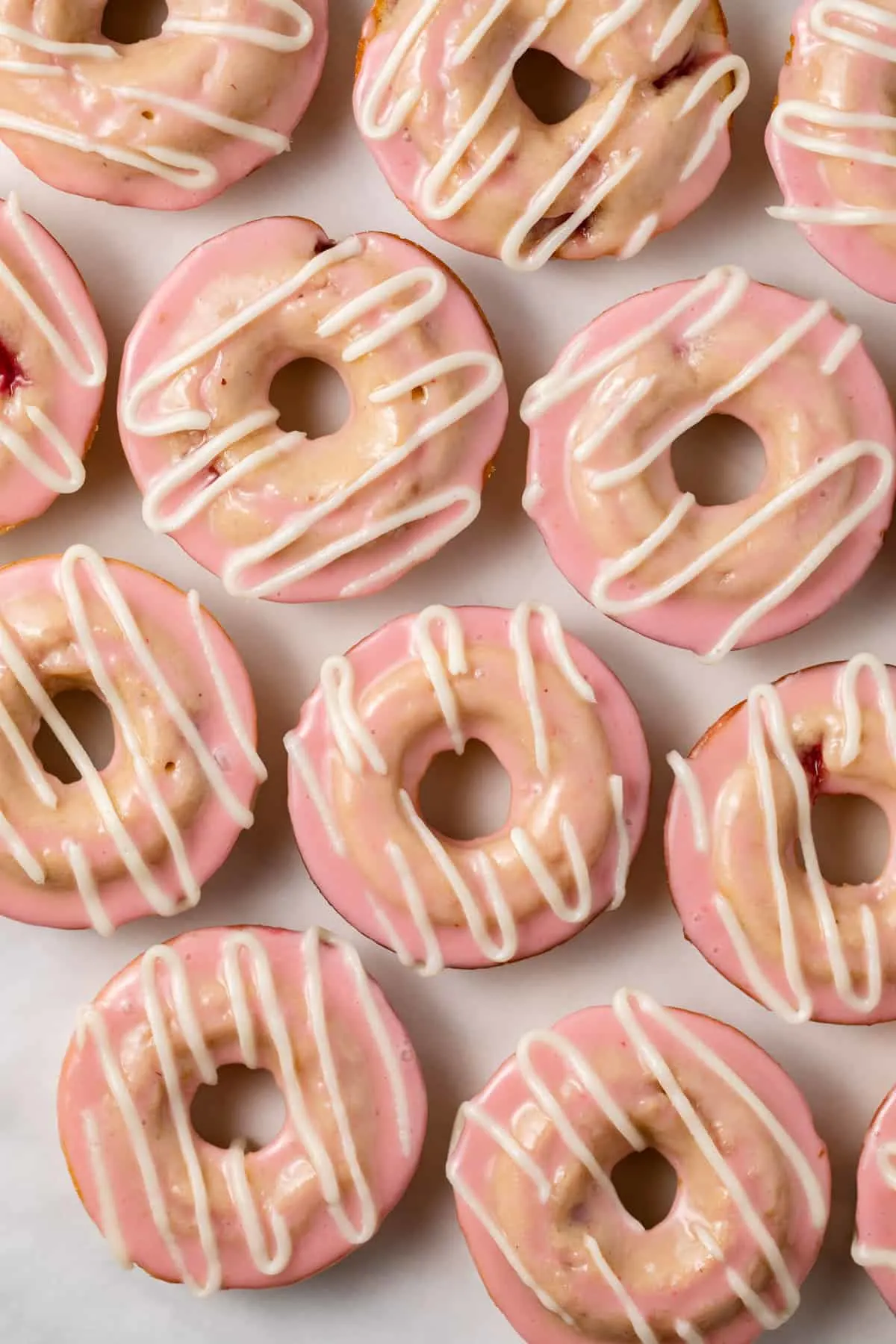 Easy Baked Donuts
These baked strawberry donuts taste so fresh and sweet, one bite will have you completely hooked – and all of your friends too! They'll quickly become a staple in your home.
And, since they're baked, they take no time at all to make! They're also much healthier than the fried donuts – not to mention prettier!
Strawberry cake donuts are my "birthday donuts", as I made them for myself to celebrate turning another year older. But they are also perfect for Valentine's Day or even Christmas. Of course, you can also enjoy them anytime you want without an excuse!
For the strawberry donuts, I turned to my baked donuts recipe. The only changes I made were adding a bit more vanilla, omitting the nutmeg, and stirring in fresh strawberries. I love how they came out and can't wait to try them with other delicious fruits. Maybe apple cinnamon for fall?
The strawberry glaze was tricky to get right. It's not a thick frosting type of glaze. Instead, it's very thin and appears slightly translucent once it's set on the donut. You could dip them a couple of times to form a thicker layer of glaze if you wanted.
In addition to the strawberry glaze, I added a drizzle of cream cheese frosting. You could also use just the cream cheese frosting if you wanted. Or mix-n-match any way you like.
Since this recipe makes 18 strawberry donuts, it's perfect for feeding a crowd. Or you can hoard them all for yourself. I won't judge.
If you make these and you like them, give my strawberry lemon donuts a try. And for the chocolate lovers, these chocolate donuts with peanut butter frosting are phenomenal!
---
Why this recipe works
Buttermilk gives the donuts their moist, cake-like texture.
All-purpose flour allows the donuts to remain light and fluffy.
Butter and oil combined offer flavor and added moisture.
What You'll Need
Don't let this list of ingredients intimidate you! After all, we're making not only the donuts but two types of glaze from scratch!
Strawberries – These donuts are loaded up with fresh strawberry!
Butter – You'll use unsalted butter that has been melted and then cooled.
Vegetable oil – You can also substitute canola oil or similar.
Granulated sugar – Just enough to make the donuts sweet!
Eggs
Vanilla Besides strawberry, vanilla is the primary flavor.
Flour – All-purpose flour is all you need.
Baking soda & baking powder – Help the donuts rise and create the crumbly, fluffy texture.
Buttermilk – Adds a moist tang to the donut.
Cream cheese – Soften before using for a smooth glaze.
Confectioners' sugar – Sweetens the glaze.
Milk – Whole milk works best for the cream cheese glaze
How to Make Baked Strawberry Donuts
Baked donuts are surprisingly easy to make – way easier, in fact, than creating one.
Make the strawberry puree. Puree the chopped strawberries until smooth, then push through a fine-mesh sieve to remove seeds. Heat in a saucepan and stir until thick like jam and reduced to ½ cup. Set aside.
Preheat oven. Preheat oven to 425°F. Spray donut pan with nonstick spray.
Make the donut batter. Whisk butter, oil, and sugar until combined. Add the eggs and vanilla. Gently whisk in the cooled puree. In a separate bowl, combine the dry ingredients. Stir half the batter in, then add the buttermilk, and then the rest of the batter. Fold in the diced strawberries.
Pro tip. Take care not to overmix the batter or the donuts will be tough.
Bake. Pipe into the donut pans. Bake for 7-9 minutes. Don't overfill the molds or the donuts will overflow during baking
Make the strawberry glaze. Cook strawberries over medium heat. Press through a sieve. Add the confectioners' sugar and stir well.
You will need to add a little milk to thin out the glaze. Add just a little at a time until the glaze is smooth and pourable.
Dip each donut in the glaze and set them on a wire rack. Once the glaze has started to set, drizzle the tops with cream cheese glaze.
Make the cream cheese frosting. Combine all ingredients and stir until well combined. Transfer to a piping bag and pipe over the glazed donuts.
Tips for Success
If this is your first time making baked donuts, keep these tips in mind!
Let the glaze harden. The glaze won't set completely but it shouldn't be dripping off. If you want the glaze to harden, you can pop the donuts into the refrigerator for about 20 minutes.
Make mini–donuts. You can make these using a mini or regular-sized muffin tin. For a regular muffin pan, bake them for 18-20 minutes. For a mini muffin pan, bake them for 15-17 minutes.
How to tell when donuts are done. The baking time for these strawberry cake donuts will vary based on your oven. A good guideline is about 15 minutes for mini muffins and 20 minutes for regular ones.
Serving Suggestions
Enjoy these baked strawberry donuts as a treat any day of the year! While they're perfect for events like Mothers's Day, Valentine's Day, or birthdays, you don't need a special occasion to serve up these donuts.
---
How to Freeze & Store
Donuts are best the day they are made but will keep airtight in the refrigerator for up to 3 days.
Plain or glazed donuts can be frozen for up to 2 months. Thaw in the refrigerator overnight then bring to room temperature before serving.
Did you try this recipe? I would love for you to leave me a 5-star rating or comment. This way, I have a better understanding of which recipes you like and can create more of them.
Please take a moment to follow me on Instagram, Pinterest, Facebook, Youtube or sign up for my free newsletter to never miss the newest recipes and blog updates.
You can also shop my favorite baking tools. Thank you so much for your support!