Strawberry Donuts with Lemon Glaze
This post may contain affiliate links. Read the full disclosure here.
These strawberry donuts are full of fresh strawberries and smothered with a sweet lemon glaze. Sweet and summery, these donuts are perfectly acceptable for breakfast!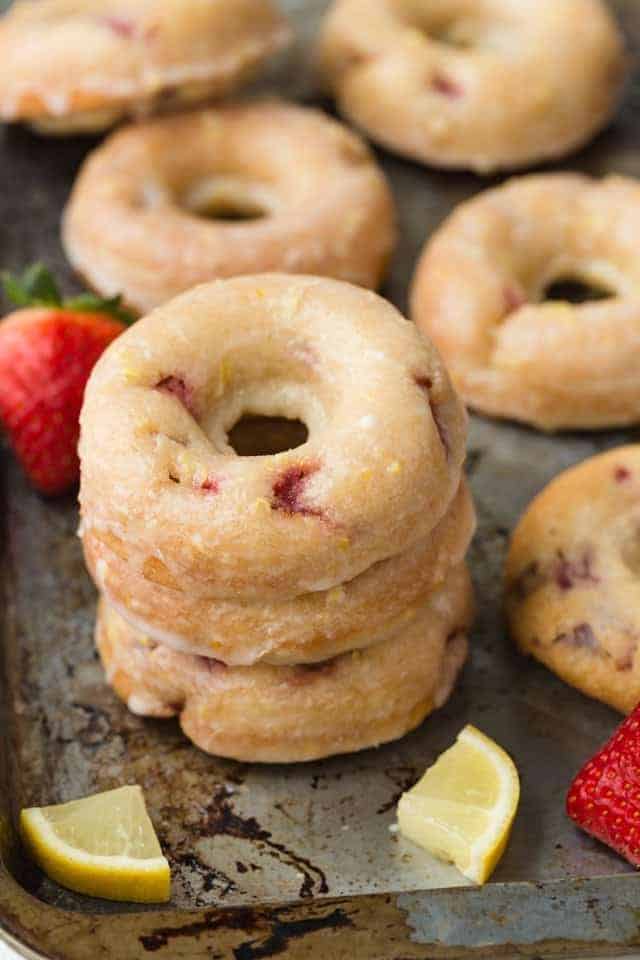 Strawberry Donuts with Lemon Glaze
This strawberry donut recipe has become a favorite weekend breakfast treat. When you hear homemade donut you may automatically assume they are complicated. However, surprisingly enough they are one of the simplest things to make. They only take about 20 minutes from start to finish.
Like my strawberry cake donuts, these strawberry donuts are baked instead of fried. The clean up after frying something is the thing I dread the most, so I avoid it if I can.
You'll need a 6-cavity donut pan* to make these and you can usually find one for less than $10. I would highly recommend grabbing two though. This recipe yields 18 donuts and it will take forever to make them all with just one pan.
The strawberry donut is soft, moist, and cake-like. I used butter, oil, and buttermilk to keep the donuts moist. And they are definitely not lacking in the flavor department. Every bite contains bits of fresh, ripe strawberries.
The baked donuts are dipped into a homemade lemon glaze. The lemon glaze recipe consists of butter, lemon juice, lemon zest, and confectioners' sugar. You can literally toss everything into the bowl at once and stir it with a whisk.
Dip the strawberry donuts in the glaze while they are still slightly warm. Doing this will allow the glaze to sort of melt over the donuts and form a thin layer. I prefer it this way so the lemon doesn't overpower the strawberries.
This recipe yields only about 18 donuts. They are so good, you will be reaching for seconds and thirds.
More baked donut recipe
Tips for baking strawberry donuts with lemon glaze
When measuring the flour, it's best to weigh it. But if you don't have a scale, stir the flour, spoon it into your measuring cup, and level it off with the back of a knife.
Chop the strawberries super fine. This will give you more bits of strawberry in each bite.
The easiest way to get the batter into the pan is by using a piping bag or ziplock bag with the corner cut off.
If the glaze begins to stiffen while dipping the donuts, try warming it in the microwave for a few seconds to loosen it back up.
Did you try this recipe? I would love for you to leave me a 5-star rating or comment. This way, I have a better understanding of which recipes you like and can create more of them.
Please take a moment to follow me on Instagram, Pinterest, Facebook, Youtube or sign up for my free newsletter to never miss the newest recipes and blog updates.
You can also shop my favorite baking tools. Thank you so much for your support!
Recipe and photo updated March 12, 2018.