Baked Chocolate Donuts with Peanut Butter Frosting
This post may contain affiliate links. Read the full disclosure here.
With these Baked Chocolate Donuts with Peanut Butter Frosting, you can have fresh, homemade donuts in under 30 minutes!
Easy Baked Donuts
These Baked Chocolate Donuts with Peanut Butter Frosting will take you back to your childhood when things were simpler. They are a reminder of just how tasty breakfast can be. This chocolate donut recipe will give you the best-baked donuts you've ever had.
Making baked donuts from scratch is surprisingly easy and the result is a soft, chocolatey but not overly sweet treat that you can enjoy morning, noon, or night!
After making these a few times, I am fully convinced that the only way to enjoy a chocolate donut is with peanut butter frosting. It's an obvious conclusion.
These baked chocolate donuts are perfectly balanced, lightly sweet, and decadent without being overly rich. The peanut butter frosting over the top makes them absolutely perfect all around.
It's a challenge to eat just one, so consider this your warning.
Even better, these baked chocolate peanut butter donuts are ready in just 30 minutes! And, all you need is two bowls, a whisk, and a donut pan to make these!
Love baked donuts as much as I do? Check out this recipe for Strawberry Donuts!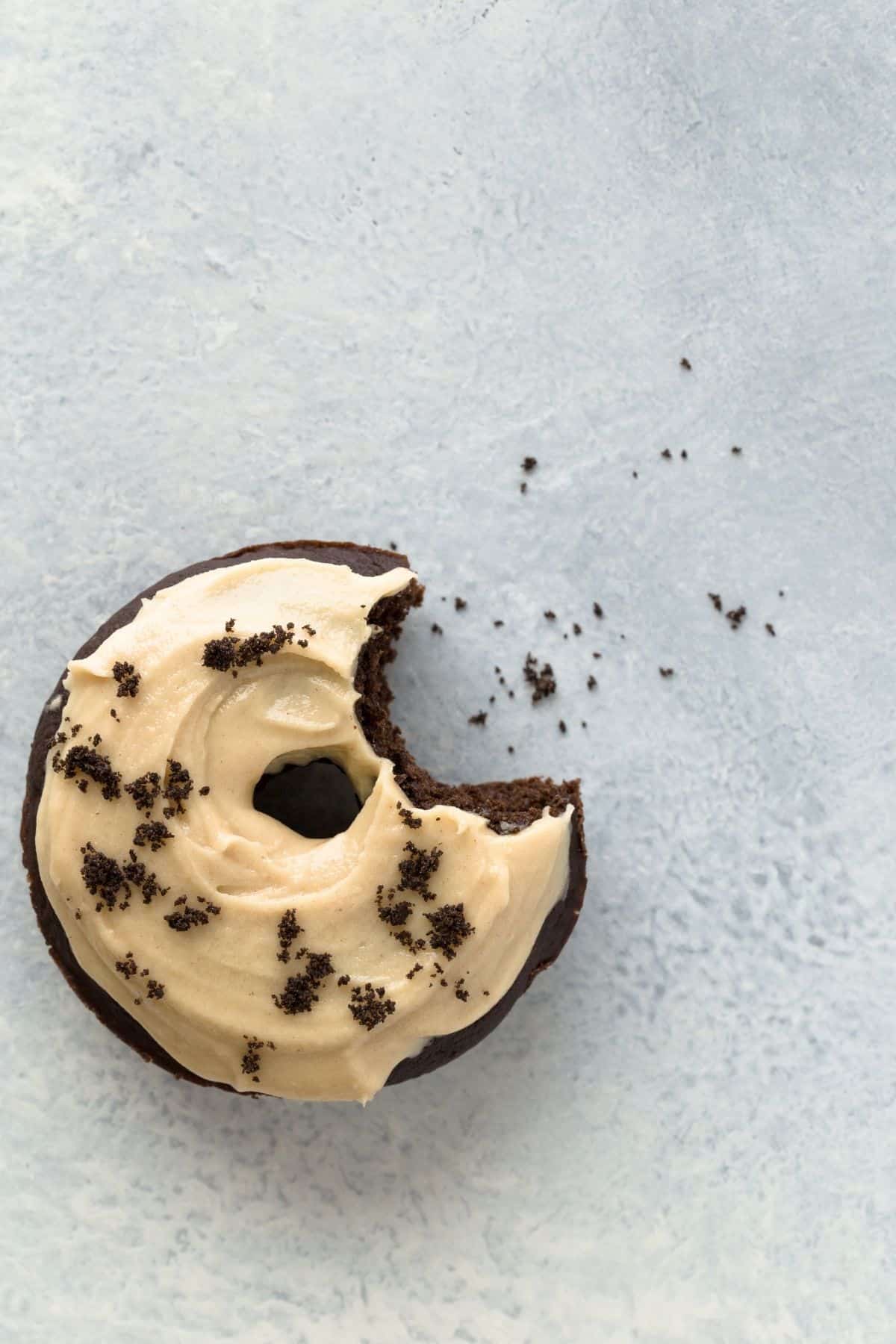 What You'll Need
These homemade donuts are made with just a few pantry staples!
Flour – All purpose flour is best for this recipe.
Unsweetened cocoa powder – Sift the cocoa powder to prevent any clumps.
Light brown sugar – I prefer the flavor of brown sugar in the donuts compared to white sugar.
Baking powder & baking soda – Both leavening agents are used to make the donuts light and fluffy.
Salt
Eggs – Eggs help to hold the batter together.
Buttermilk – Buttermilk produces a soft texture that's ideal for these donuts. If you don't have buttermilk, you can make your own by adding lemon juice to regular milk or replace it with sour cream.
Unsalted butter – If you wish to use salted butter, omit the additional salt from the recipe.
Peanut butter – Any brand of creamy peanut butter will work but make sure it's creamy.
Confectioners' sugar – Sift before adding to the mixture to prevent any lumps.
Heavy cream – Add just enough to make the frosting thin enough to easily spread on the donuts.
---
How to Make Baked Chocolate Donuts with Peanut Butter Frosting
These chocolate peanut butter donuts come together in just a few easy steps.
Make the donut batter. Combine the dry ingredients in a large bowl. Whisk the eggs, buttermilk and butter in a separate bowl. Add to the flour mixture and mix until just moistened.
Bake the donuts. Pour into a ziploc bag and cut the corner off. Pipe mixture into greased donut pants, until ¾ full. Bake for 10-12 minutes.
Make the peanut butter frosting. Microwave the butter and peanut butter for 30 minutes. Stir vigorously then stir in the sugar. Add the heavy creamy one tablespoon at a time, until the frosting is smooth.
Dip the donuts into the frosting. Dip the tips of each donut into the frusting, using the back of a spoon to smooth the frosting if needed. Serve immediately.
Tips for Success
Homemade baked donuts are surprisingly easy to make – just keep these few things in mind!
Don't overmix. When you combine the wet and dry ingredients, mix them just until all of the dry ingredients are moist
Don't over-fill the pans. The donuts will rise during baking so be sure to fill each tray only ¾ full.
How to tell when donuts are donut. The easiest way to tell when the donuts are dough is to gently touch them and see if they spring back.
Serving Suggestions
Frosted donuts are best enjoyed immediately, when still slightly warm or at room temperature. Perfect for a quick breakfast or enjoy as dessert later in the day. I love a big cup of coffee or tea with my donuts, but a cold glass of milk would go just as nicely!
---
How to Store Leftovers
Donuts can be stored at room temperature or in the fridge, covered, for up to 2 days. Let come to room temperature before eating, if you're saving them in the fridge.
---
Can I Freeze These?
The donuts can be stored in the freezer for up to 2 months. Thaw in the refrigerator overnight. Be sure to wrap tightly in plastic wrap and aluminum foil to prevent freezer burn.
Did you try this recipe? I would love for you to leave me a 5-star rating or comment. This way, I have a better understanding of which recipes you like and can create more of them.
Please take a moment to follow me on Instagram, Pinterest, Facebook, Youtube or sign up for my free newsletter to never miss the newest recipes and blog updates.
You can also shop my favorite baking tools. Thank you so much for your support!
More Chocolate Peanut Butter Recipes: