These Baked Chocolate Donuts with Peanut Butter Frosting will take you back to your childhood when things were simpler. They are a reminder of just how tasty breakfast can be. This chocolate donut recipe will give you the best-baked donuts you've ever had.
The recipe walks you through how to make baked donuts from scratch that are perfectly soft, chocolaty, and not overly sweet. These donuts are great for breakfast, brunch, or snack at any time of day!
I am fully convinced that the only way to enjoy a chocolate donut is with peanut butter frosting.
It's an obvious conclusion.
These chocolate donuts are perfectly balanced, lightly sweet, and decadent without being overly rich. The peanut butter frosting over the top makes them absolutely perfect all around.
It's a challenge to eat just one, so consider this your warning.
This breakfast treat is so easy! It takes just a few minutes to put together and 10 minutes to bake. Overall, it will take you about 30 minutes to make the donuts.
First, you need to whip up the decadent chocolate donut batter. That requires mixing the dry ingredients in one bowl and the wet ingredients in another then combining the two. Two bowls and a whisk. Those are the only tools necessary for this recipe.
I used buttermilk and melted butter for an extra rich and tender donut. If you don't have buttermilk, you can use sour cream or make your own buttermilk by adding a tablespoon of lemon juice to ¾ cup of regular whole milk.
I turned to cocoa powder for an intense chocolate flavor. And naturally, chocolate isn't complete without its partner in crime – peanut butter.
A thick creamy frosting made with peanut butter, butter, confectioners' sugar, and heavy cream is slathered over the top of each donut. This is the ultimate flavor combination.
Fluffy baked chocolate donuts in a few short steps
Mix the dry ingredients
Mix the wet ingredients
Combine the wet and dry ingredients
Transfer to a donut pan and bake
Top with creamy peanut butter frosting
ENJOY!
Love baked donuts as much as I do? Check out this recipe for Strawberry Cake Donuts!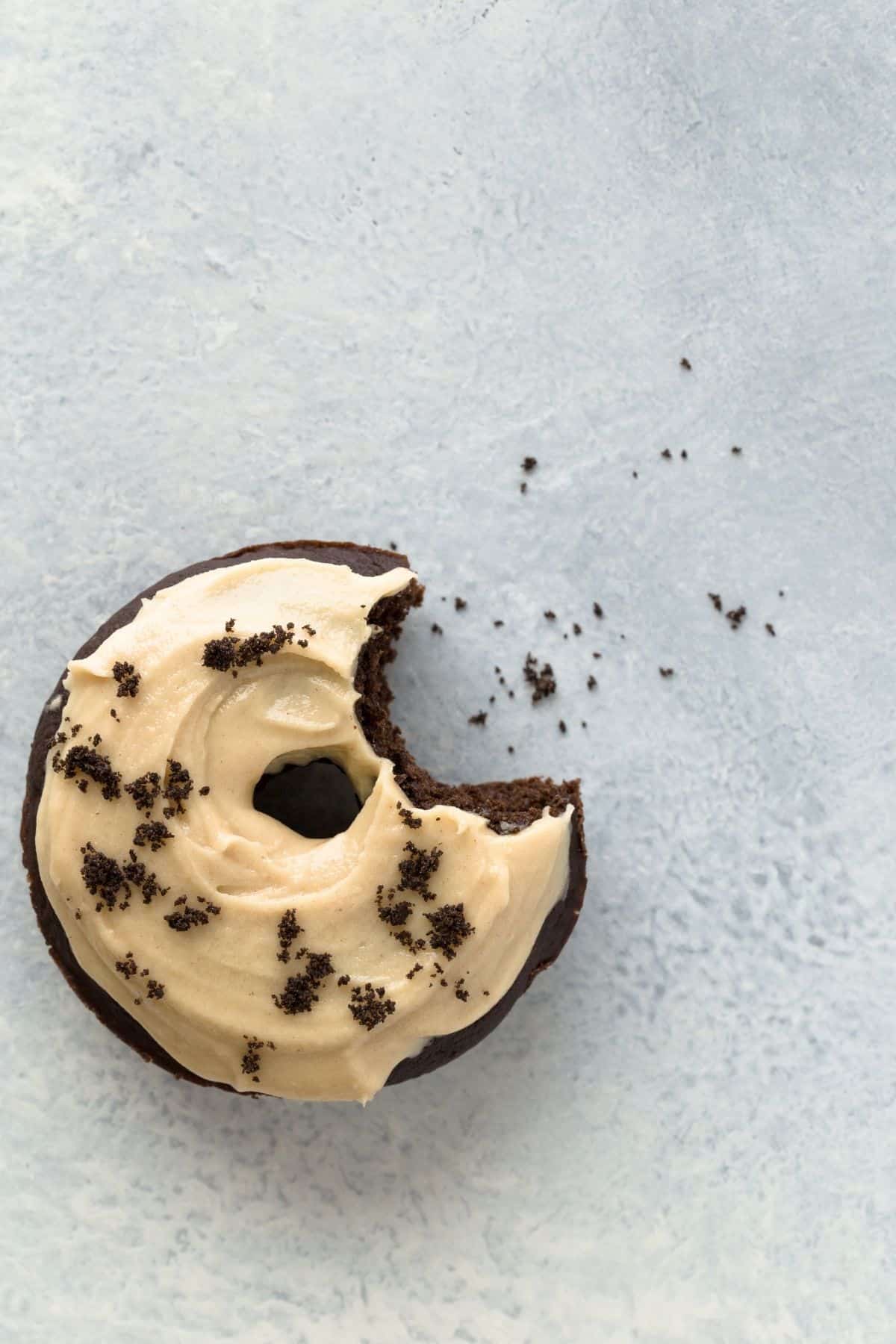 NEED MORE BAKING IDEAS? Subscribe to our newsletter and Youtube channel. Also, follow along on Facebook, Instagram, and Pinterest for all the latest updates!