Chocolate Peanut Butter Cheesecake
This post may contain affiliate links. Read the full disclosure here.
This Chocolate Peanut Butter Cheesecake starts with an Oreo cookie crust, followed by a rich peanut butter filling, then topped with chocolate ganache and chopped peanuts. It's a decadent dessert that is well worth the effort of making a baked cheesecake.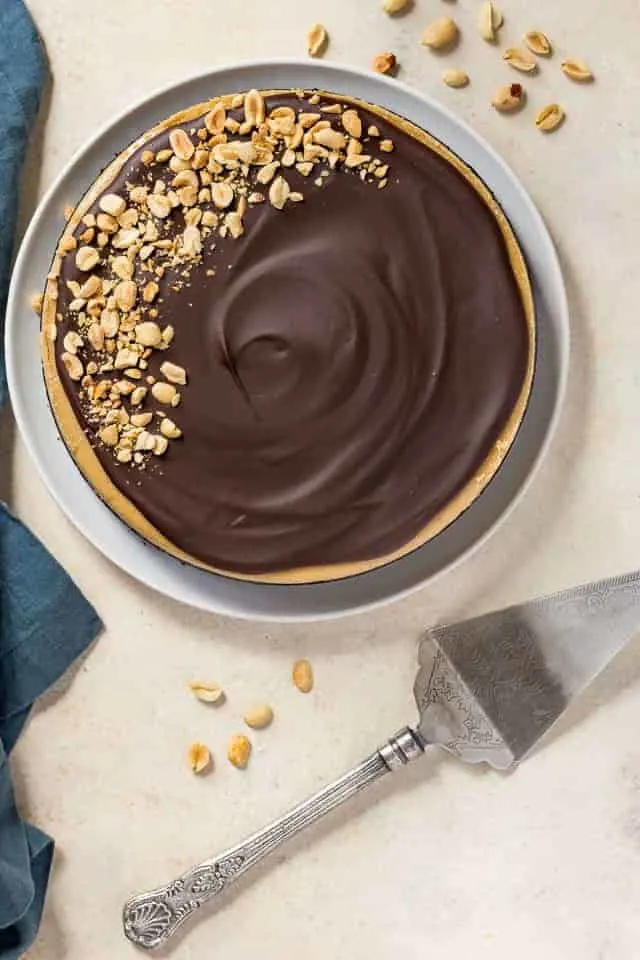 It's no secret I love cheesecake. I have so many different cheesecake recipes on the blog and will continue to add to the collection.
Today's recipe is a play off my popular Nutella Cheesecake. The recipe is pretty much exactly the same with the exception of using peanut butter instead of Nutella.
Make sure you read through my post on how to make the best cheesecake. There you'll learn all of my favorite tips and tricks for making a perfect cheesecake. If you follow these tips, your cheesecakes will come out creamy and free of cracks.
Chocolate cookie crust
The chocolate peanut butter cheesecake begins with a chocolate crust made with chocolate filled Oreos just like my peanut butter pie recipe. You can use any fudge-filled sandwich cookie that resembles an Oreo.
Pulverise 30 cookies in a food processor or smash them in a zip-top bag with a rolling pin. You should end up with about two and a half cups of cookie crumbs.
Mix the crumbs with melted butter and press it into the bottom of a 9-inch springform pan. Bake the crust for 10 minutes at 350°F.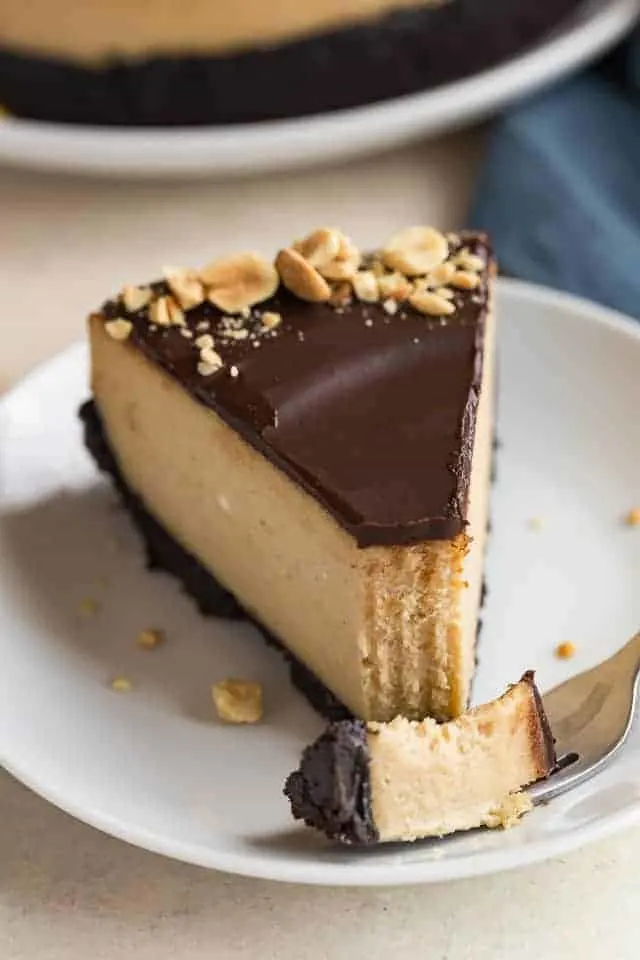 Peanut butter cheesecake filling
The creamy peanut butter filling calls for cream cheese, heavy cream, sugar, vanilla, salt, peanut butter, and eggs. Basically, your staple cheesecake ingredients with the addition of peanut butter.
I have a specific order for adding the ingredients to the filling. The reason behind this is to achieve an ultra creamy filling. So be sure to follow the recipe exactly when mixing the filling.
First, beat the cream cheese until smooth and creamy. Then mix in the sugar, salt, vanilla until well combined. Beat in the cream until the filling is light and creamy. Mix in the peanut butter next. And finally, fold in lightly beaten eggs.
Don't use the mixer to beat in the eggs! It's important that you fold them in with a spatula. Using a mixer will whip too much air into the eggs causing the cheesecake to puff up during baking. It will then deflate as it cools causing cracks to form on the surface.
I preach this with every cheesecake I share with you. I'm sorry for constantly repeating myself but it's really the most valuable cheesecake advice I can give you.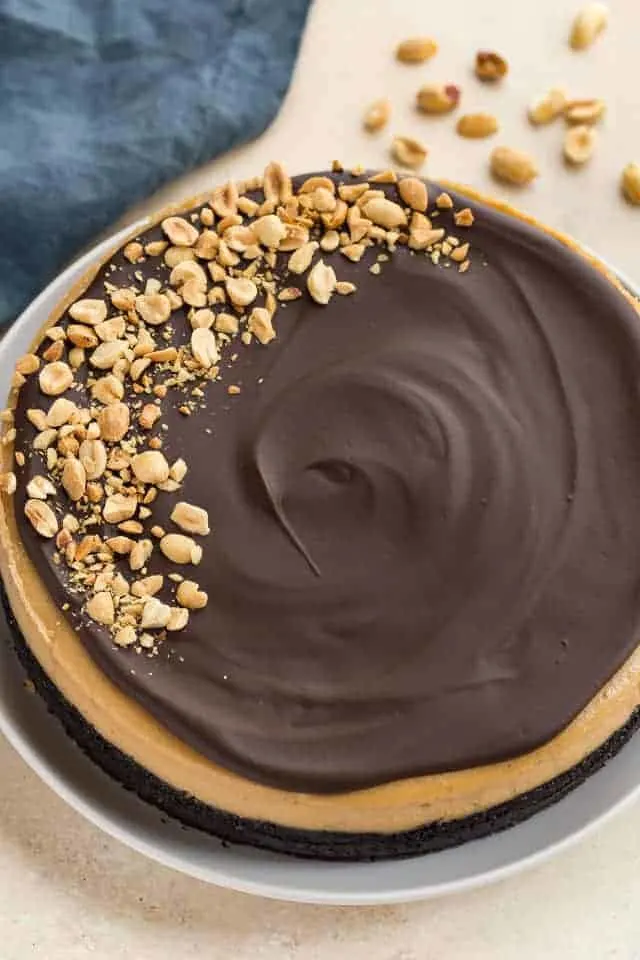 Bake the cheesecake low and slow
Bake the cheesecake in a water bath at 300°F for one hour. Then, turn the oven off and let the cheesecake sit in the oven for another hour. Do not crack the oven door.
I know a lot of other recipes tell you to crack the door, but don't do it. Trust me on this. Leave the door closed to allow the oven to cool down slowly.
This is a process you don't want to rush because it also helps keep the top from cracking.
After the cheesecake has cooled in the oven for an hour, it needs to sit at room temperature until it's completely cool to the touch. Then, refrigerate it for at least 4 hours but overnight is best.
I decided to top the cheesecake with chocolate ganache and garnish it with chopped peanuts.
The ganache is super simple. Just warm heavy cream in a saucepan and pour it over chopped chocolate. Let it sit for a minute then stir it until melted and smooth. Spread it over the top of the cheesecake and pop it back in the refrigerator until it sets.
Cheesecakes are extremely time-consuming but one bite of this chocolate peanut butter cheesecake will make it all worthwhile.
Did you try this recipe? I would love for you to leave me a 5-star rating or comment. This way, I have a better understanding of which recipes you like and can create more of them.
Please take a moment to follow me on Instagram, Pinterest, Facebook, Youtube or sign up for my free newsletter to never miss the newest recipes and blog updates.
You can also shop my favorite baking tools. Thank you so much for your support!