When you're craving strawberry cheesecake try this easy recipe for baked Strawberry Cheesecake Quesadillas. It's quick to prepare and guaranteed to satisfy your sweet tooth. Made with just a few simple ingredients, this dessert is easy enough to whip up anytime the mood strikes.
This is a sponsored post written by me on behalf of Mission®. All opinions are entirely my own.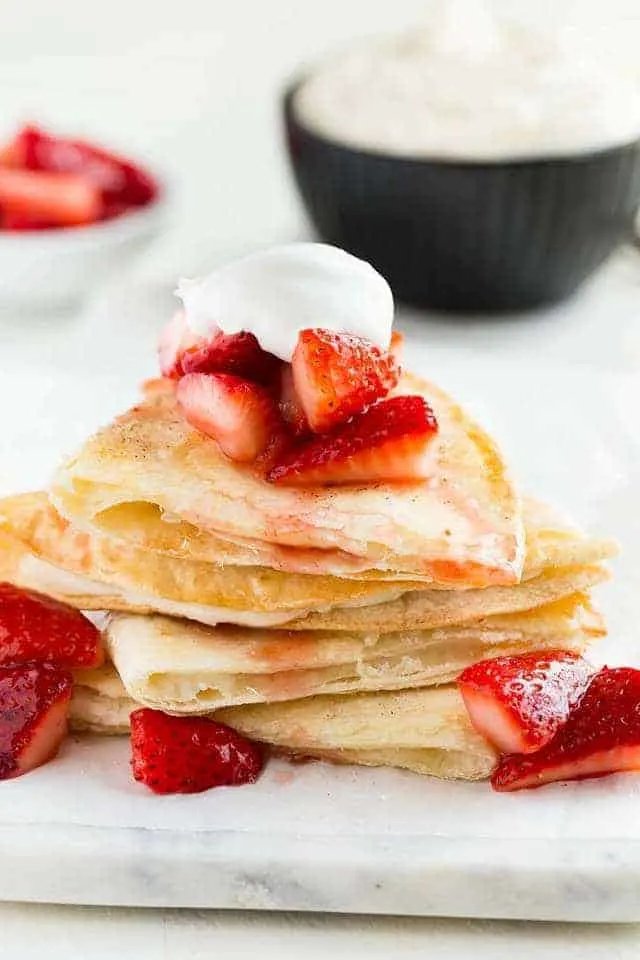 Quesadillas are one of my favorite things to make. I usually make them several times a month because they are easy to put together and with the right ingredients for the filling, they'll keep you satisfied.
I got the idea to make a dessert version of my favorite Mexican-inspired meal after having sopapillas coated in cinnamon and sugar.
I thought it would be great to do something similar but instead of frying it, I'd bake it. Then that thought led to me wanting to stuff them with something. Then that transpired into cream cheese stuffed tortillas served with fresh strawberries and homemade whipped cream.
I have to say, this resulted in one of the best desserts I've had in a long time!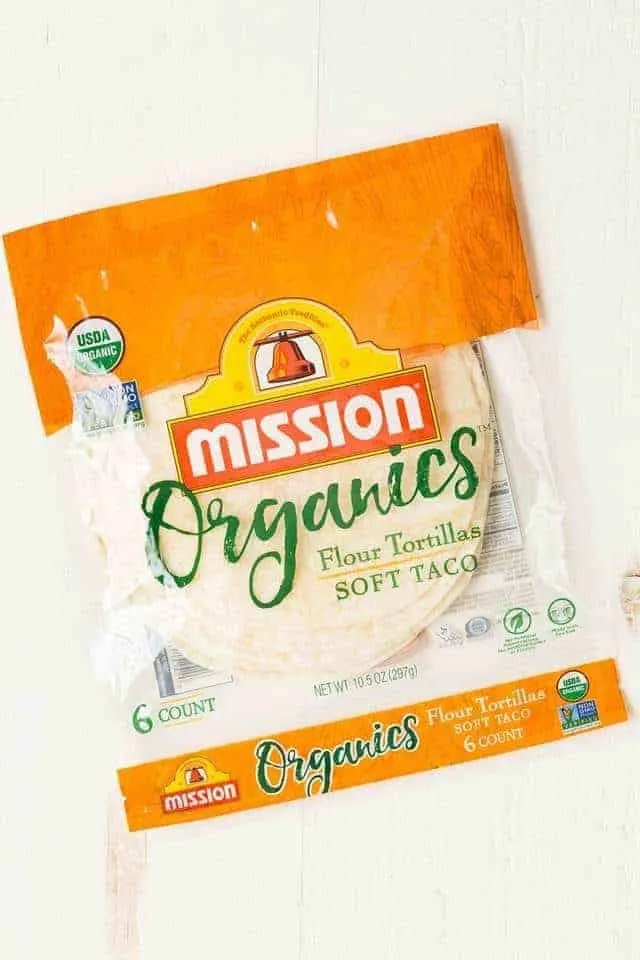 This recipe starts with Mission Organics ® Flour Tortillas. They come in a pack of 6 and are available in the tortilla section. I was glad to find them at Kroger, as they are new to market.
I chose these tortillas because they're USDA organic certified and non-GMO project verified. They fit the theme I had for a light and fresh dessert. Completely perfect for summer!
---
Making cheesecake quesadillas in the oven
The best thing about these dessert quesadillas is that they are baked in the oven instead of fried on the stovetop. This makes them lighter but still offers a nice crispiness.
I stuffed the tortillas with a cheesecake filling. It's made with cream cheese, confectioners' sugar, and vanilla. Spread it over half of one tortilla then fold the other half over and press it lightly to seal it.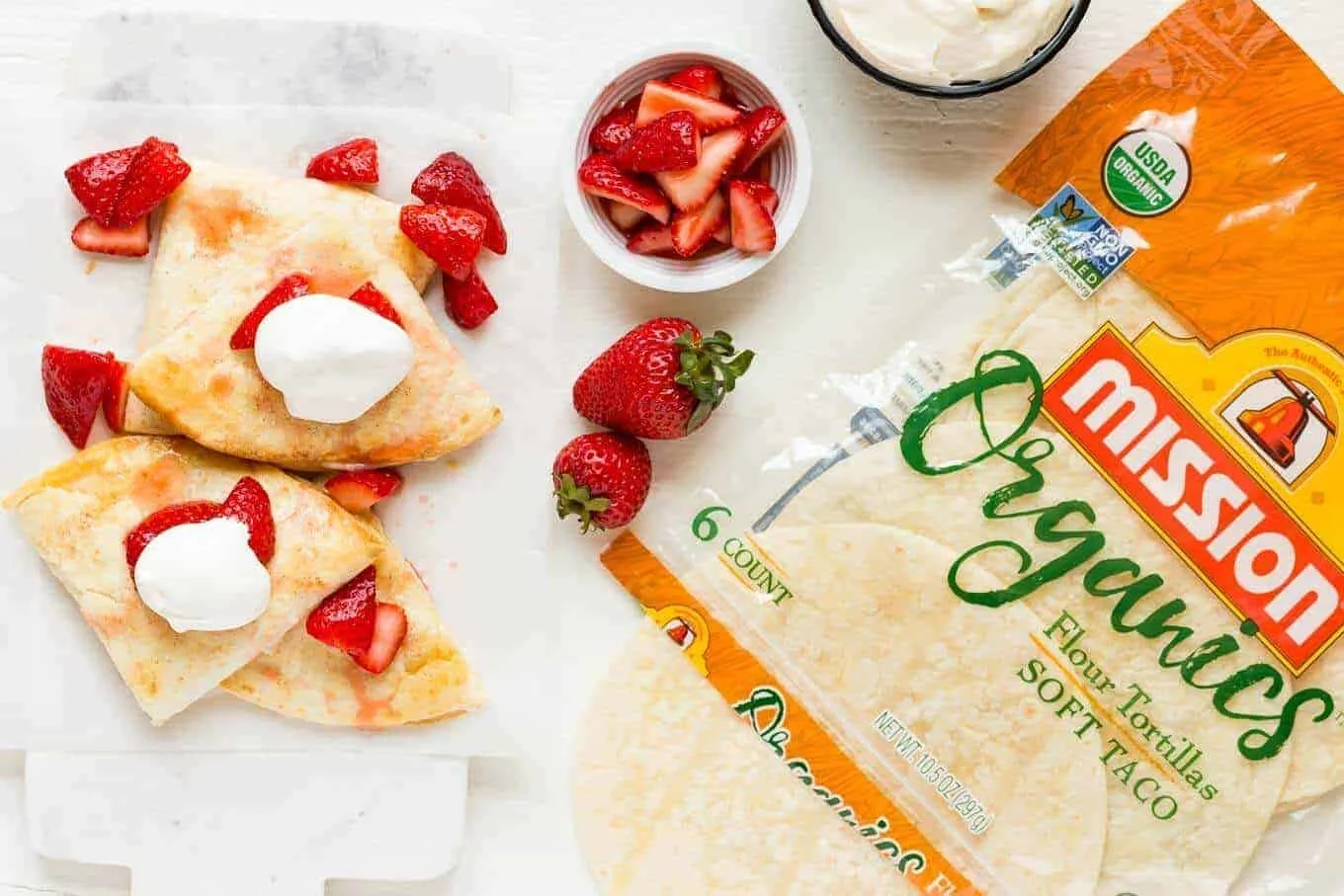 I decided not to use oil on the pan or on the tortillas. Instead, I placed them on an ungreased baking sheet and baked them at a high oven temp. And I only baked them for about 4 minutes on each side.
As soon as I removed them from the oven, I brushed them with a little melted butter and sprinkled them with cinnamon and sugar. This is totally optional but I highly suggest it.
Stack them on a plate and top them with fresh strawberries and freshly made whipped cream.
I like to dice the strawberries and sprinkle them with a little sugar. If you do this before you begin making the cheesecake quesadillas, the strawberries will have time to sit and release some of their juices. This creates a lovely strawberry syrup that is perfect for drizzling over the quesadillas.
With this recipe, you can whip up enough Strawberry Cheesecake Quesadillas to feed a crowd!
Mission Organics comes in three varieties of tortillas- Flour, White Corn, and Whole Wheat. For more recipe inspiration and to find the product near you, visit www.mission-organics.com.
NEED MORE BAKING IDEAS? Subscribe to our newsletter and Youtube channel. Also, follow along on Facebook, Instagram, and Pinterest for all the latest updates!