This post may contain affiliate links. Read the full disclosure here.
These Lemon Lime Cupcakes are a refreshing drink in cupcake form! Tangy lemon and lime flavor the cupcake and the buttercream frosting to mimic 7UP's crisp, clean taste. These cupcakes are perfect for any summer party or get-together.
This post has been sponsored by 7UP®. All thoughts and opinions are my own.
It's so hard to believe that summer is already here! The year is flying by.
But, I'm thankful for warmer weather because that means more time is spent outdoors. More time grilling, BBQing, and hosting get-togethers. The weather here in TN has been perfect for days spent on the lake followed by grilled steaks and ribs.
Today I'm sharing one of my favorite summer cupcake flavors that will suit all your outdoor entertaining with family and friends. These Lemon Lime Cupcakes are super easy and come together in a snap. 7UP is used in the batter along with lemon and lime zest for the most flavorful cupcake you'll have all summer long.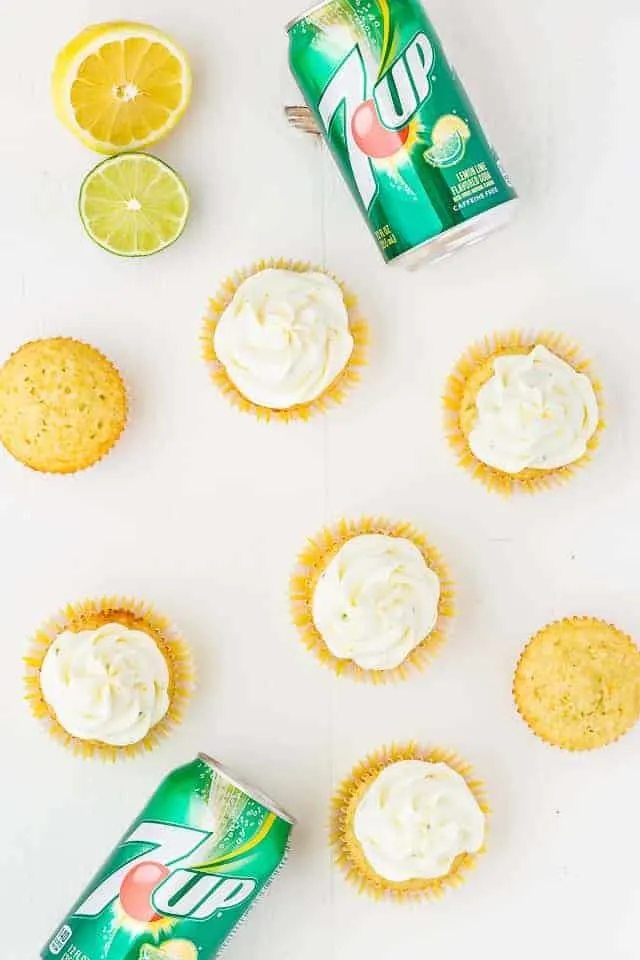 I love the refreshing citrus flavor of 7UP and these cupcakes offer just that. Plus, cupcakes are easy to transport from one place to another making them great for outdoor potlucks. Not to mention, they are adorable and fun to eat!
The cupcake starts with a basic cake recipe that has been reduced to make 12 cupcakes. They're fluffy and full of bright citrus flavor. I took my most popular vanilla cake recipe and modified it to create these cupcakes. Many of you have made that cake and it always gets rave reviews.
The batter is simple. You need butter, sugar, eggs, flour, baking powder, salt, lemon zest, lime zest, and 7UP. I'm using 7UP in place of milk today. The batter comes out so flavorful and fragrant. I'm sure you'll absolutely love the taste.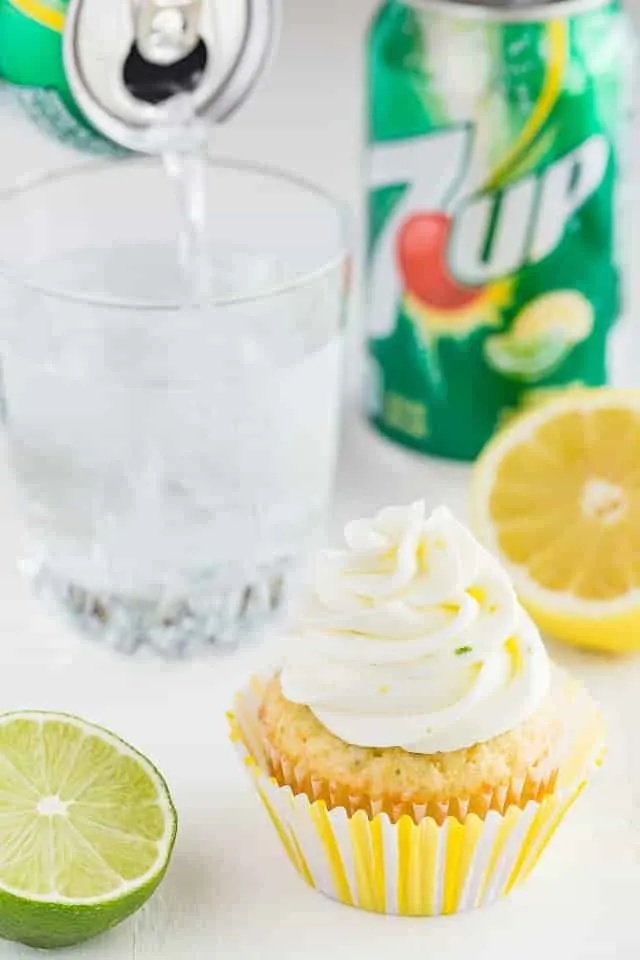 Don't fill the cupcake liners too full or the batter will overflow. Fill them just ⅔ of the way full. I like to use an ice cream scoop to portion the batter so I get uniform cupcake sizes.
Because these cupcakes use soda instead of milk, it's very important not to overbake them. Start checking them at about 16 minutes and remove them as soon as they are no longer wet in the center.
Test this with a toothpick. If it comes out with wet batter, they need more time. If it comes out with a few moist crumbs stuck to it, they are done.
Bake them no longer than needed to ensure they turn out moist and tender.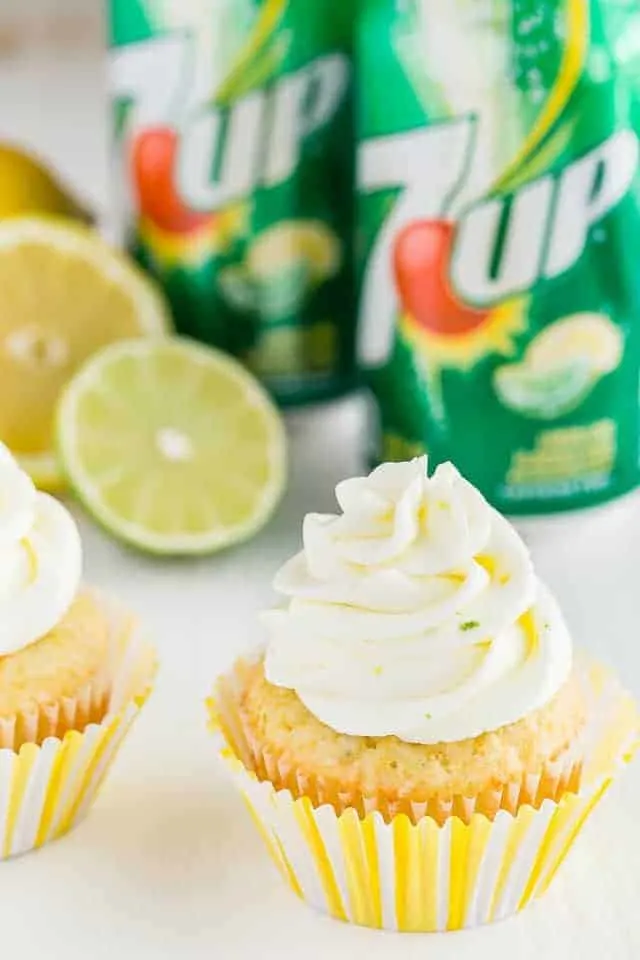 As the cupcakes cool, you should begin making the frosting. I always set the butter for the frosting out on the counter to come to room temperature as the cupcakes bake.
You'll need more lemon and lime zest as well as a few tablespoons of 7UP. Yep, that's right. We're putting soda in frosting today!
Beat the room temperature butter until it's creamy and smooth. Then beat in a dash of salt and confectioners' sugar. Once that is well combined, beat in the lemon and lime zest. Then add one to two tablespoons of 7UP and beat the frosting until it's light and fluffy.
I could seriously eat the frosting all by itself. I love how sweet and tangy it tastes. This is my new favorite way to flavor frosting!
You can also find more inspiration and simple summer recipes using 7UP at 7UP.com.
Did you try this recipe? I would love for you to leave me a 5-star rating or comment. This way, I have a better understanding of which recipes you like and can create more of them.
Please take a moment to follow me on Instagram, Pinterest, Facebook, Youtube or sign up for my free newsletter to never miss the newest recipes and blog updates.
You can also shop my favorite baking tools. Thank you so much for your support!