Cheesy Pull-Apart Rolls with Garlic
This post may contain affiliate links. Read the full disclosure here.
These Cheesy Pull-Apart Rolls are loaded with garlic, sharp cheddar, and parmesan cheese. The ultimate cheesy roll to serve alongside soup and salad.
This is a sponsored post written by me on behalf of Red Star® Yeast.
Cheesy Pull-Apart Rolls with Garlic
Cheesy pull-apart rolls have been on my list of yeast bread to make for quite some time now. I've been wanting to add a savory roll ever since I shared my Hawaiian sweet rolls with you.
I love working with yeast, especially when it's Red Star Yeast. They are my absolute favorite brand to use and always yield incredible results.
For these pull-apart rolls, I used active dry yeast but you can use instant yeast instead. Instant yeast will give you a quicker rise time so keep a close eye on the dough as it proofs.
The great thing about cheesy pull-apart bread is that you can use any cheese you like. I opted for sharp cheddar and parmesan. But I bet gouda or gruyere would also taste incredible.
The dough requires two rises. Once before it's shaped into rolls and once after. This makes the process a bit long so make sure you plan ahead.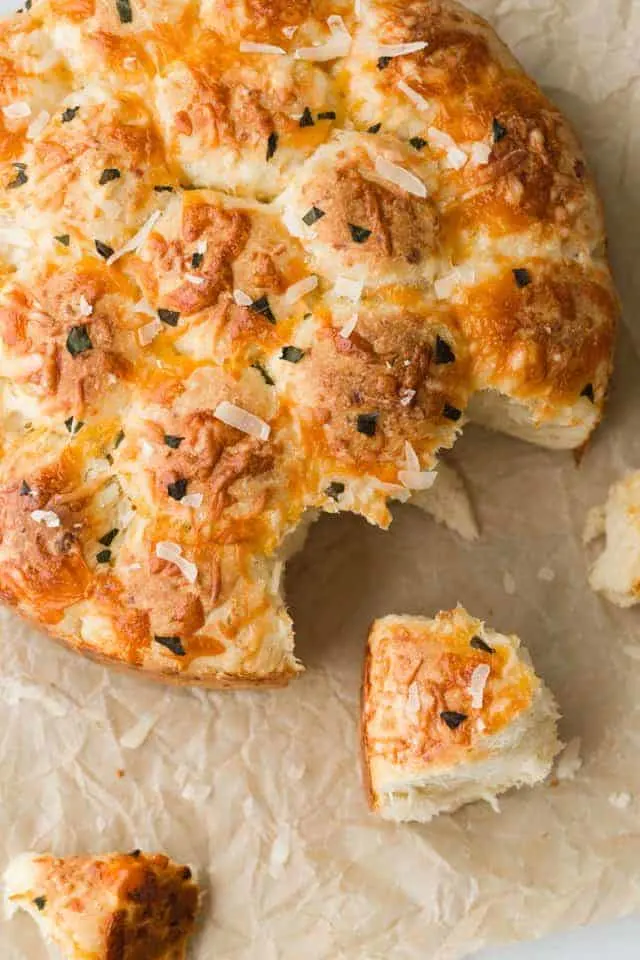 Can you make pull-apart rolls ahead of time?
Cheesy pull-apart rolls with garlic can be made in advance. Baked rolls will keep for up to 1 week stored in the refrigerator or for up to 3 months stored in the freezer. Thaw frozen rolls in the refrigerator overnight and warm in a 300°F for 10 minutes.
The dough for cheesy pull-apart rolls can be made ahead of time as well. Let the dough rise for the first time in step 6, gently fold it over on itself to release some of the air then cover the bowl with plastic wrap.
Refrigerate the dough for up to 2 days. Remove it from the refrigerator and continue with step 7.
The dough can also be frozen for up to 2 months. Thaw it in the refrigerator overnight and continue with step 7.
---
Main ingredients for cheesy pull-apart rolls
Yeast – Red Star Active Dry Yeast is recommended for making pull-apart rolls from scratch. It provides ultimate baking activity in all yeast dough which results in big, fluffy rolls.
Garlic Powder – There's a ton of garlic powder in these rolls. It packs so much flavor and makes the house smell fantastic as the rolls are baking.
Cheese – These rolls are called cheesy for a reason. Two whole cups of shredded cheese get mixed in the dough plus more sprinkled over the top of the rolls. The recipe calls for sharp cheddar and parmesan but feel free to swap those out for other cheeses that you desire.
---
How to make cheesy pull-apart rolls with garlic?
Step 1: Proof the yeast then combine wet and try ingredients
Proof the yeast in warm milk with sugar then stir in an egg. Pour the yeast mixture into a large mixing bowl with flour, salt, and garlic powder. Mix until soft dough forms.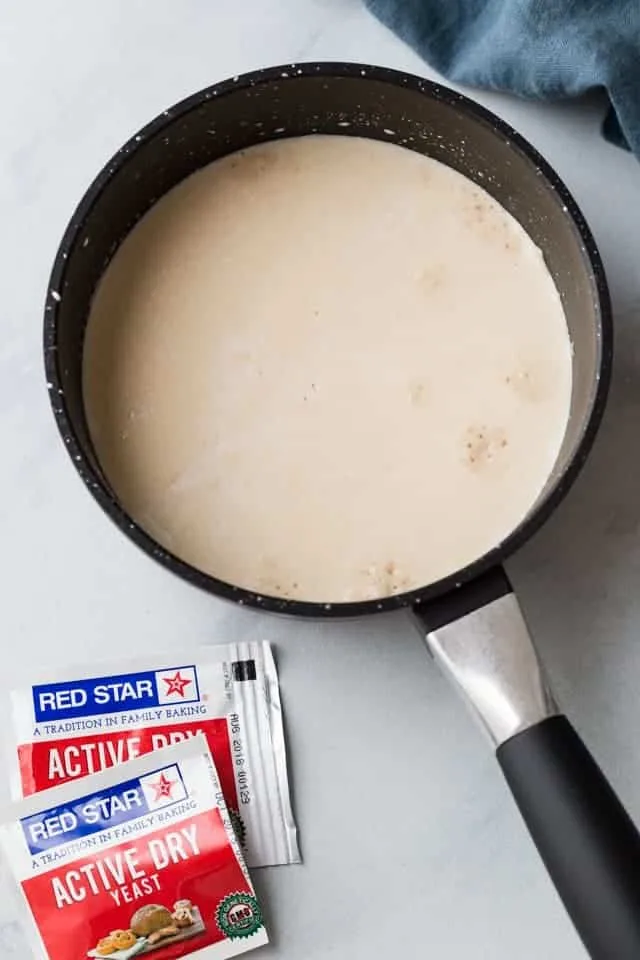 Step 2: Mix in the cheese
Add the cheese and continue to mix until combined. Beat in softened butter then let the mixer run until the dough is smooth and elastic.
Step 3: Let the dough rise
Cover the dough with plastic wrap and let it rise until it's doubled in size.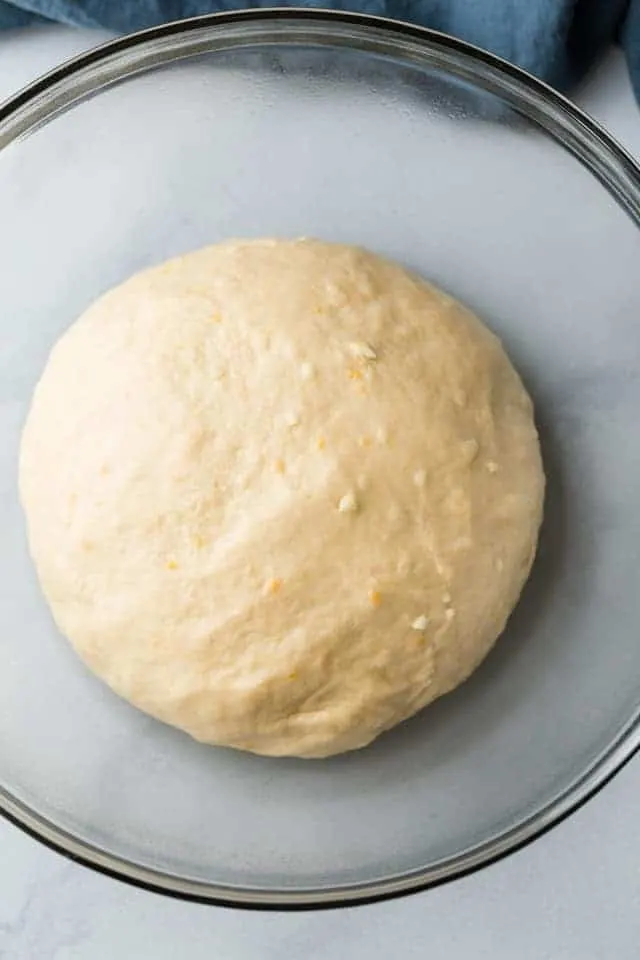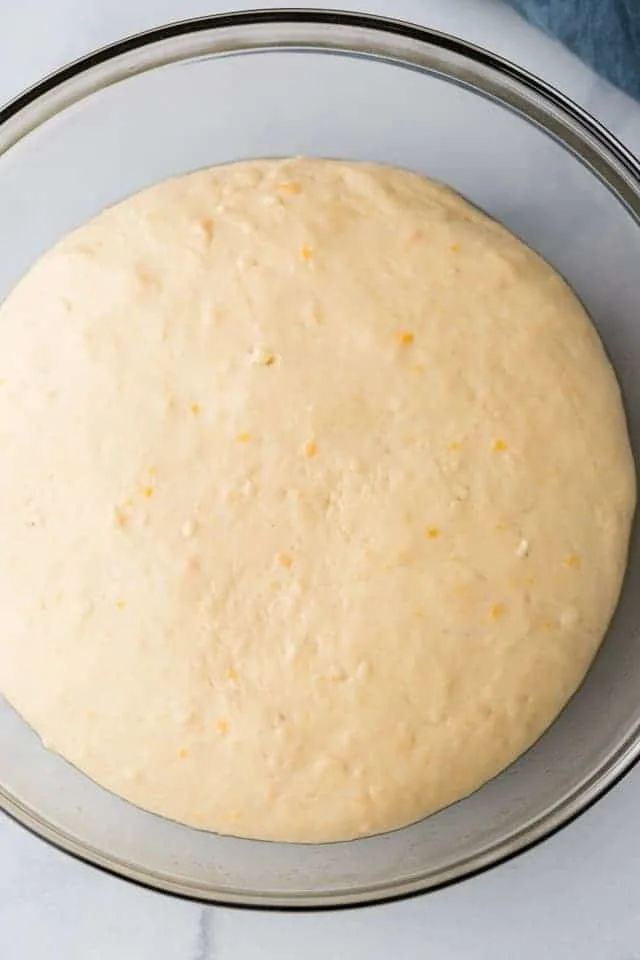 Step 4: Shape the dough
Shape the dough into 16 equal-sized balls and place them in a 9-inch springform pan. Brush the tops with melted garlic butter and let rise once more for about 30 minutes.
Step 5: Top with cheese and bake
Sprinkle the top of the rolls with more cheese and fresh basil then bake in a 350°F oven for 30-40 minutes.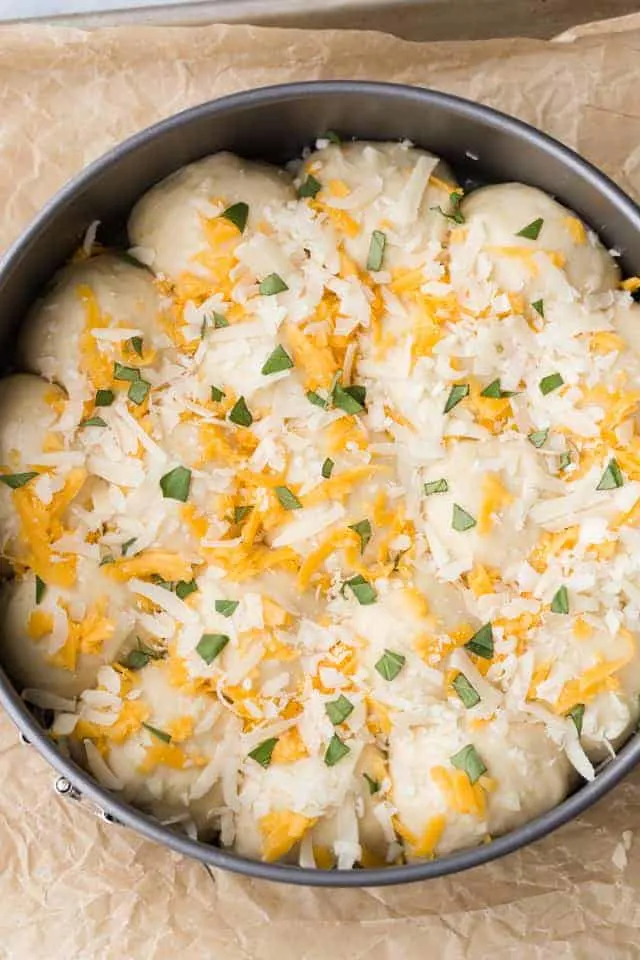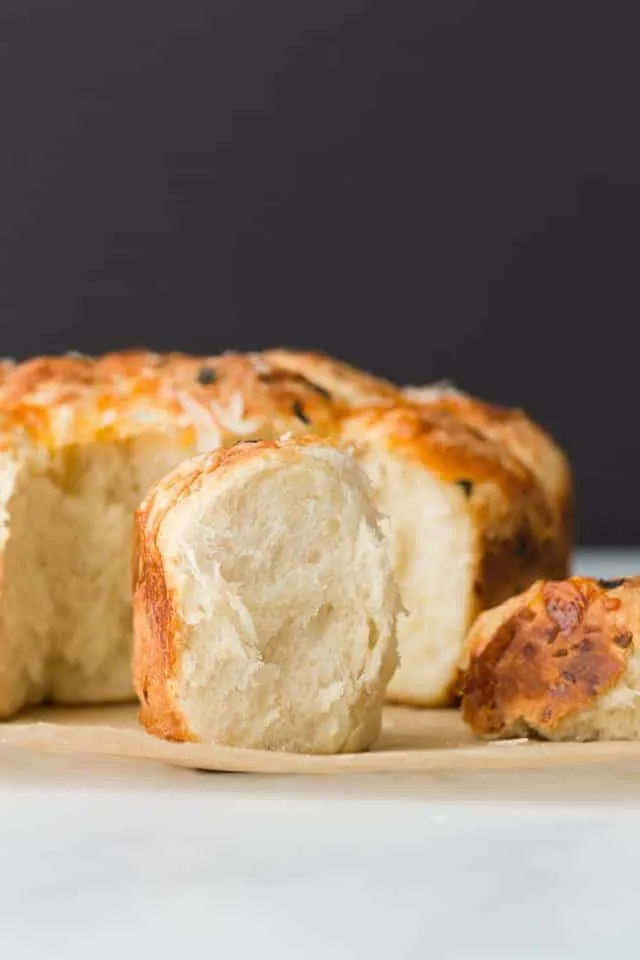 Tips for this cheesy garlic pull-apart rolls recipe
Plan ahead since the dough requires two rises.
The dough for these rolls is a super soft dough. It may stick to the bowl a bit but shouldn't be super sticky when you touch it with your fingertip. Add a little more flour if the dough seems too sticky.
Please visit RSY.com for more recipes, yeast baking tips, coupons and more. You can also follow Red Star Yeast on social media on Instagram, Facebook, Pinterest, Twitter, and Google Plus.
Did you try this recipe? I would love for you to leave me a 5-star rating or comment. This way, I have a better understanding of which recipes you like and can create more of them.
Please take a moment to follow me on Instagram, Pinterest, Facebook, Youtube or sign up for my free newsletter to never miss the newest recipes and blog updates.
You can also shop my favorite baking tools. Thank you so much for your support!