Best Chocolate Buttercream Frosting
This post may contain affiliate links. Read the full disclosure here.
Lush and creamy, this Chocolate Buttercream Frosting is silky and holds up well when piped. Plus, it's melt in your mouth delicious and simply the best!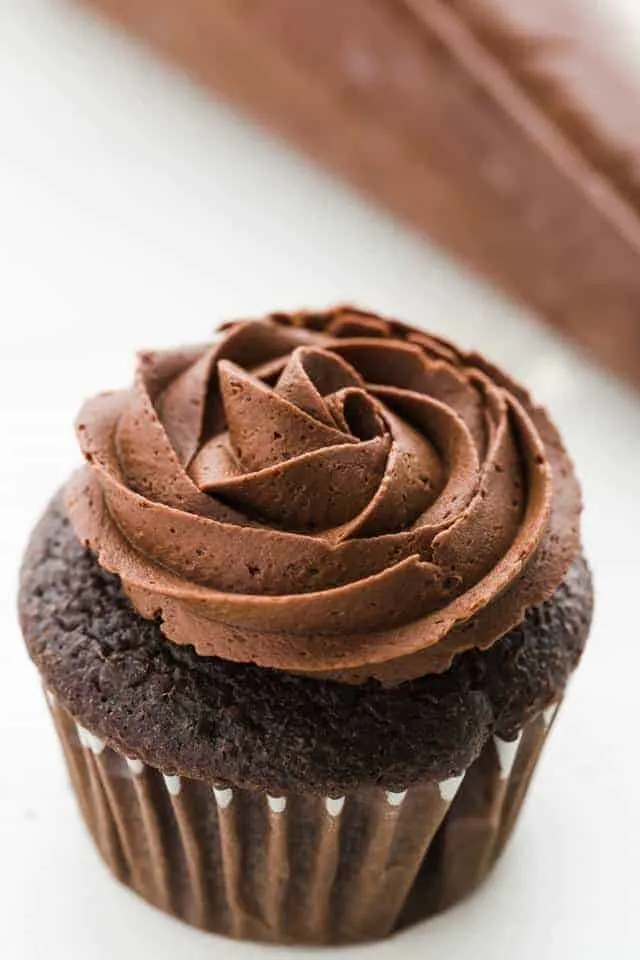 Chocolate Buttercream Frosting
It's taken me some time to find a chocolate frosting that is extraordinarily decadent but, today, my search is finally over. This frosting is so silky, smooth and yet it is sturdy enough to be piped.
I've made this buttercream several times now and it gets rave reviews with everyone who tries it. It's practically the same as my basic vanilla buttercream frosting but with the addition of cocoa powder.
Chocolate frosting, vanilla frosting, and cream cheese frosting are now my three staple recipes that get used on rotation around here.
This easy Chocolate Buttercream Frosting recipe is one that will pair wonderfully with chocolate cake, chocolate cupcakes, or vanilla cake! Made with the perfect ratio of butter, heavy cream, cocoa powder, and confectioners' sugar, this frosting is incredibly silky and rich.
If you follow all the tips and advice I give you, you'll have an amazing frosting that turns out perfect every time you make it!
Now, I must admit chocolate is not my favorite. I mean, it's delicious but I'll get sick if I eat too much of it. However, this frosting was something I couldn't resist taking samples of.
It's just so dang decadent. And it's surprisingly not cloyingly sweet. You can eat spoonfuls without getting a toothache.
If you are a chocolate lover or know someone who swoons over ultra decadent desserts, then you must give this frosting a try.
---
How to make this chocolate buttercream frosting recipe?
The light, fluffy, and silky chocolate buttercream frosting from fancy bakeries is truly a treat, but you can make this type of frosting at home! All you need are butter, heavy cream, vanilla, cocoa powder, confectioners' sugar, and a mixer.
First, make sure your butter is properly softened. It should be malleable without being melty or oily. If your butter looks oil, put in the refrigerator for a few minutes to firm up slightly.
Beat the butter with an electric mixer until it is smooth, creamy, and noticeably lighter in color.
Add half the powdered sugar and beat it until it's well mixed in. This can take up to 3 minutes.
Add the remaining powdered sugar, cocoa powder, vanilla, and salt. Beat until everything is very well combined. This will take about 3 minutes.
Add the heavy cream and beat for about 5 minutes. Stop the mixer after about 2 minutes to scrape down the sides and bottom of the bowl. This is also a good opportunity to test the consistency of the frosting. It should be soft and spreadable but not so loose it doesn't hold its shape. If it's not soft enough, beat in ½ tablespoon heavy cream at a time until the frosting reaches the proper consistency.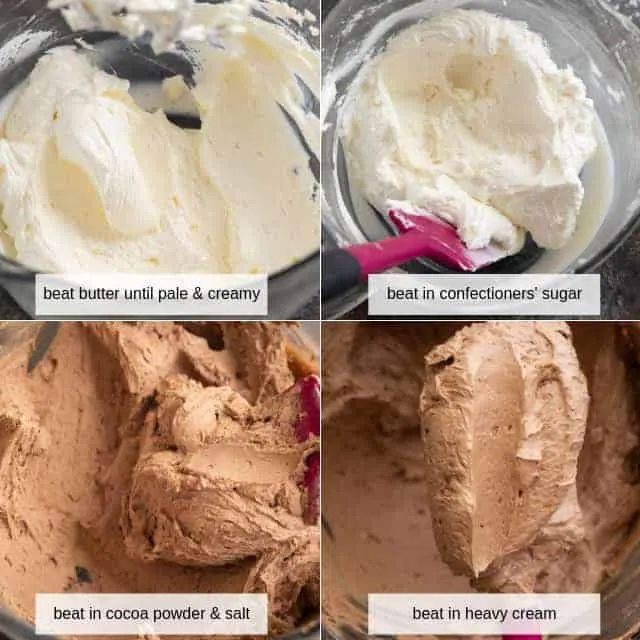 Can you make chocolate buttercream frosting with melted chocolate?
Yes, you certainly can! I love the light airiness when using cocoa powder but if you'd prefer, melted chocolate is a great alternative. Simply melt 4-ounces of coarsely chopped chocolate in a heatproof bowl set over a pot of simmering water then allow it to cool. Prepare the frosting as directed and fold in the cool, melted chocolate at the very end.
Does chocolate buttercream frosting need to be refrigerated?
American buttercream is stable at room temperature for 2-3 days but will keep for up to 2 weeks stored in the refrigerator. Let the frosting come to room temperature then whip it if necessary before using it.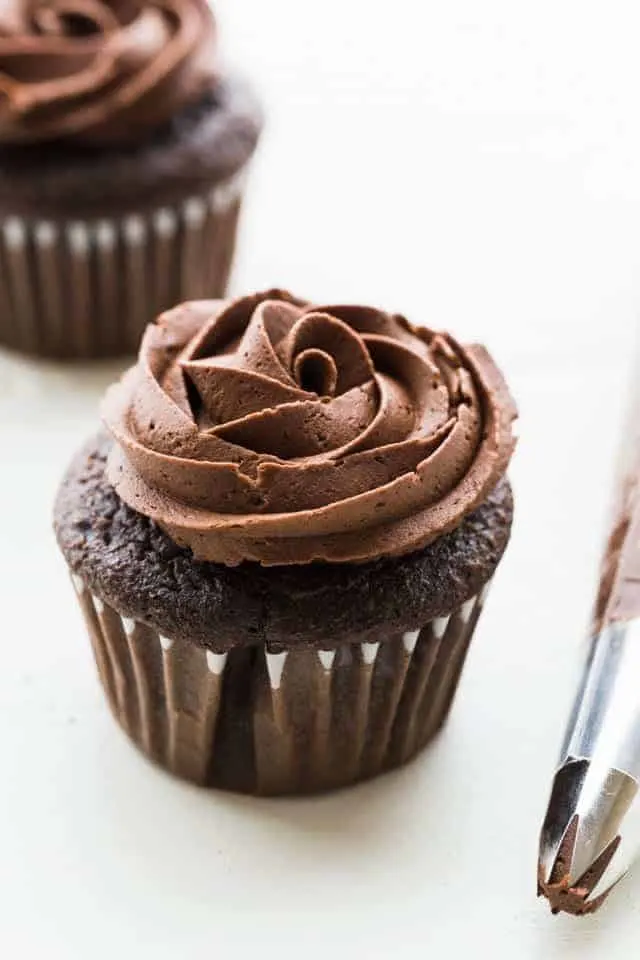 Tips for making the best chocolate buttercream frosting
Make sure the butter isn't too soft. It should be malleable without being melted or greasy.
Be sure to sift the cocoa powder and confectioners' sugar. This will break apart all those little clumps allowing the frosting to come together easily.
Use room temperature heavy cream. If you add cold heavy cream, it could cause the frosting to separate.
More tasty ways to serve chocolate buttercream
Did you try this recipe? I would love for you to leave me a 5-star rating or comment. This way, I have a better understanding of which recipes you like and can create more of them.
Please take a moment to follow me on Instagram, Pinterest, Facebook, Youtube or sign up for my free newsletter to never miss the newest recipes and blog updates.
You can also shop my favorite baking tools. Thank you so much for your support!