How to Make a Basic Vanilla Cake
This post may contain affiliate links. Read the full disclosure here.
This made from scratch Basic Vanilla Cake recipe is one that must be added to your repertoire. It's light, tender, and full of vanilla flavor. The buttery, moist texture makes it a great cake for all occasions.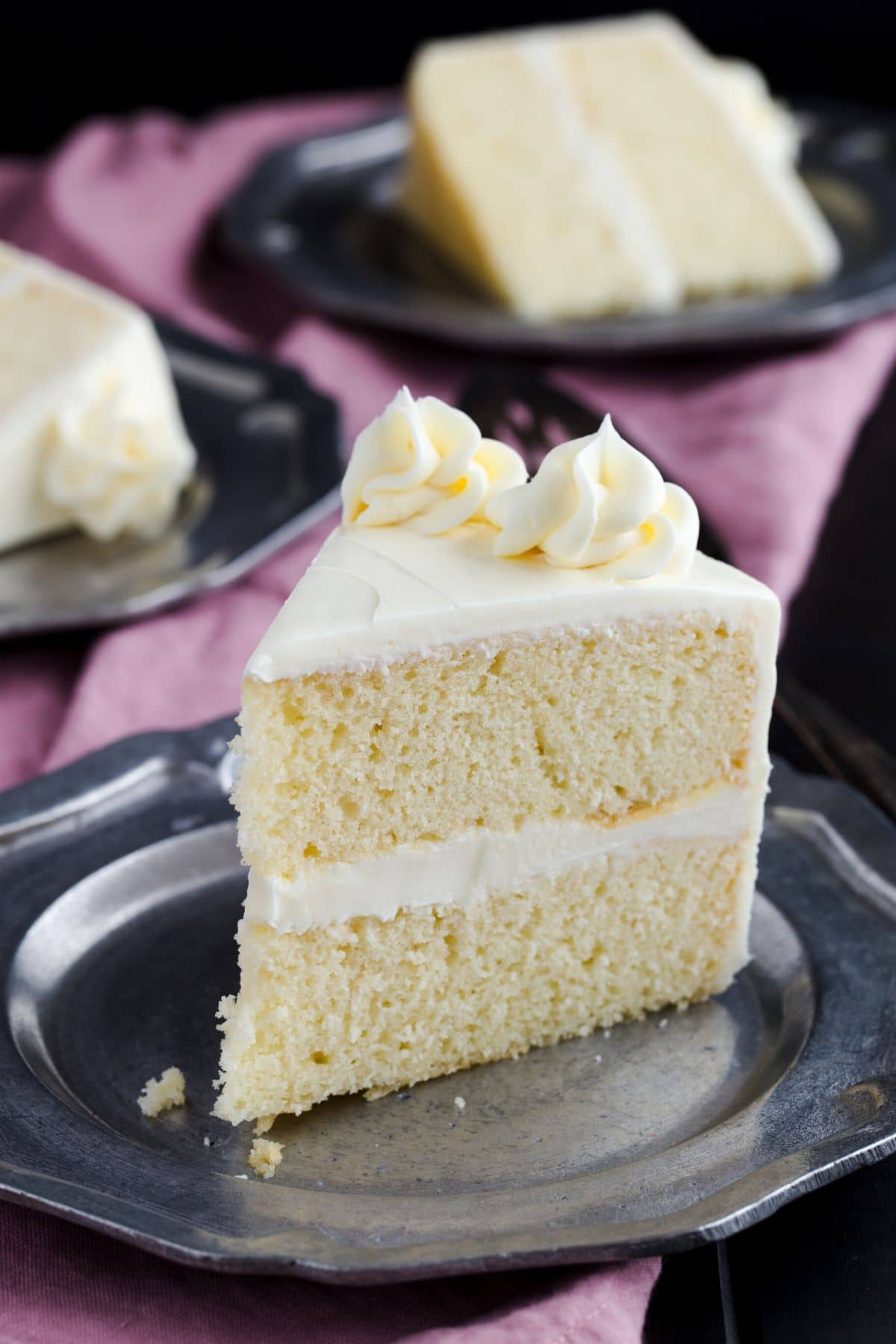 I've been on the hunt for a great vanilla cake recipe that I can use over and over again. I tried many and never found one that was wonderful enough to claim a spot on my blog until now.
If you like this version, you may also want to try my vanilla cupcakes and moist white cake recipe. It uses only egg whites instead of whole eggs. Or my mug cake version and cake pops for single and bite-sized servings! Or my chocolate cake if you'd love a chocolate version.
This is the same recipe I used in my "how to make the perfect cake" post. Make sure you follow all the tips I give you in that post to ensure great results every time.
The recipe starts by creaming the butter and sugar together and then adding the eggs. Once that is mixed together well, the flour is added followed by the milk.
The process is easy to remember which makes this simple vanilla cake easy to make. And I'm certain you are going to agree that this is the best vanilla cake recipe!
Why this basic vanilla cake recipe works
This easy vanilla cake recipe uses the 1-2-3-4 method which is from the 19th century. It's an easy method to remember the ratio of ingredients. 1 cup of butter, 2 cups of sugar, 3 cups of flour, and 4 eggs.
I adjusted these quantities slightly to achieve the texture I was looking for. I used half a cup less sugar and a fourth cup less flour. This gave me a lighter cake that isn't overly sweet.
Cake flour is used for a fine crumb and delicate cake texture.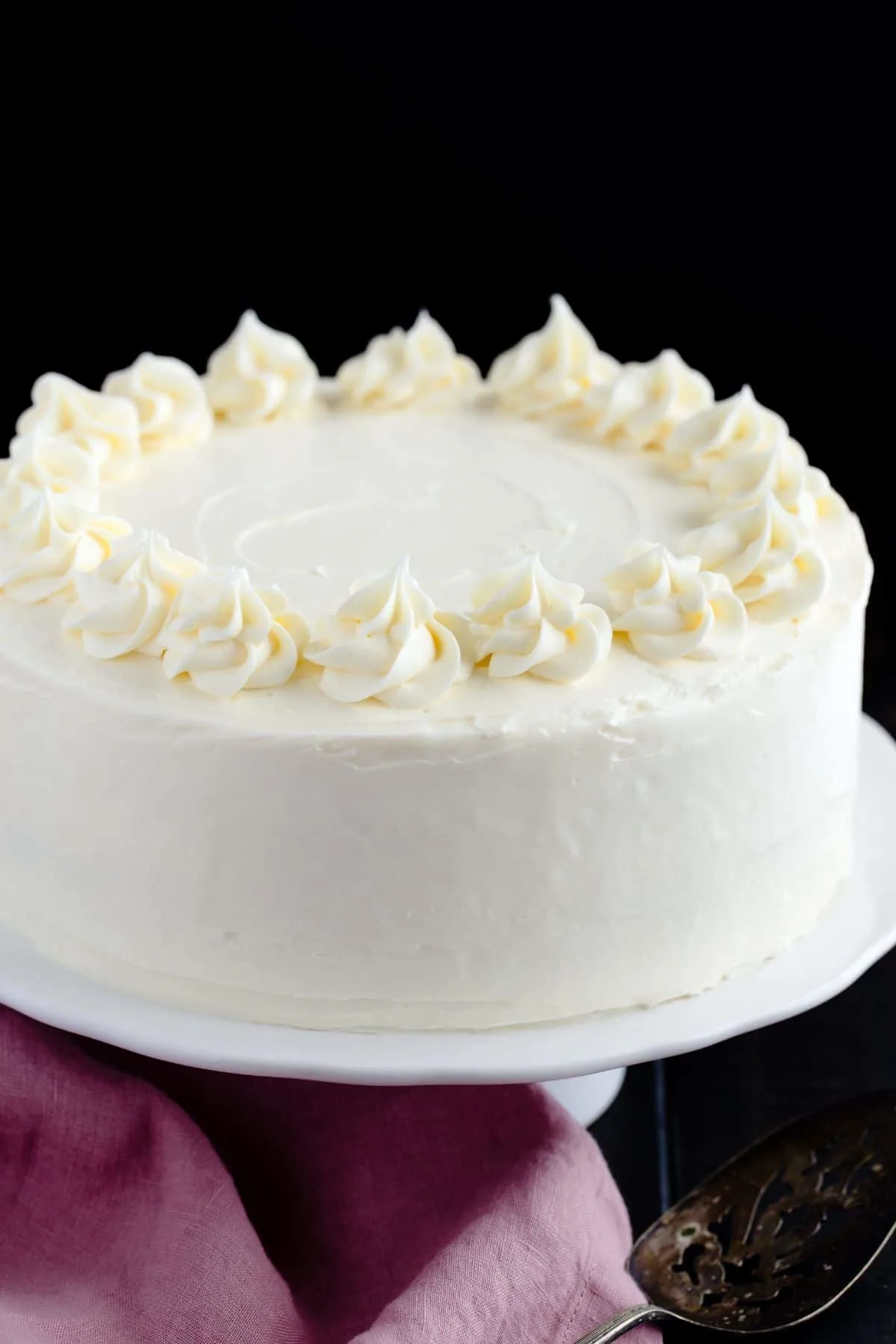 Vanilla cake ingredients
As mentioned above, this cake uses standard pantry ingredients. But choosing quality ingredients is key to a great tasting cake with the best texture. Let's go over those ingredients in detail.
Butter: Unsalted butter that is softened to room temperature will cream perfectly with the sugar.
Sugar: Granulated white sugar is what works best.
Eggs: I use 4 whole eggs in my cake recipes.
Vanilla: Look for high-quality vanilla to use. I prefer Nielsen-Massey Madagascar Bourbon Pure Vanilla or you can make your own vanilla.
Flour: Bob's Red Mill Super Fine Cake Flour is the best and will ensure the cake has the best texture.
Leavening: Baking powder is used to give the cake rise.
Salt: Salt helps to balance the sweetness.
Milk: Whole milk works best but you can also use buttermilk.
---
How do you make a cake from scratch?
Making a cake at home is incredibly easy! This recipe uses the creaming method to emulsify the ingredients. This also incorporates air to give the cake a light and fluffy texture.
The Batter – It's important to set the cold ingredients out for about 1 hour before you begin. The butter, eggs, and milk must be at room temperature in order for them to blend together properly.
The Frosting – The frosting is my very favorite basic vanilla buttercream. I have a dedicated post for the frosting. Be sure to pop over and read all my tips for silky smooth frosting that isn't overly sweet tasting.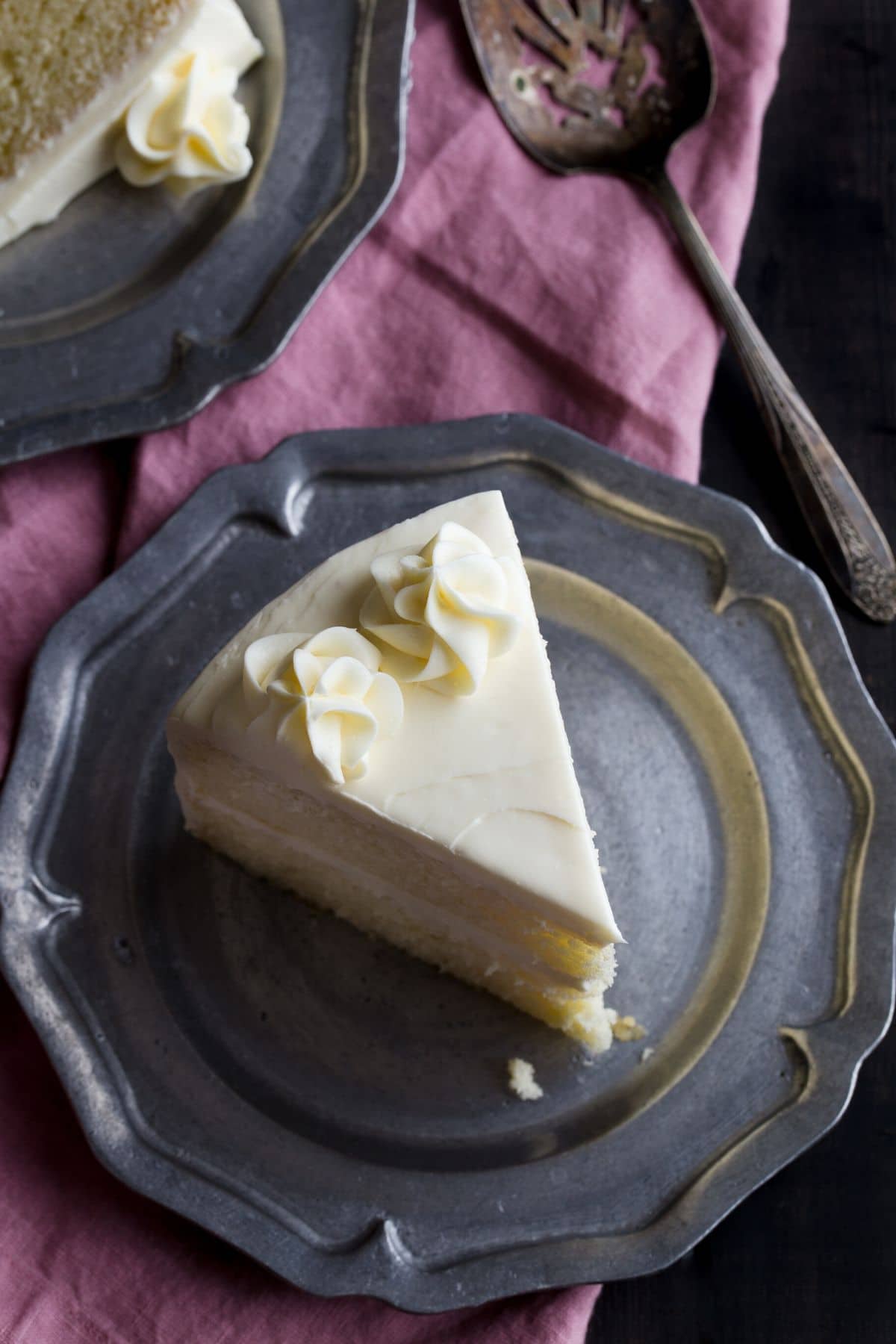 Step 1: Gather the ingredients and preheat the oven
It is essential to use butter, eggs, and milk that are at room temperature. Room temperature ingredients will combine more easily, giving you a properly emulsified batter.
Set the butter, eggs, and milk out on the counter 1 hour before you plan to make the cake. Measure out all the other ingredients and have them ready to use.
Prepare your stand mixer with the paddle attachment or handheld mixer with beaters. Lightly grease and flour two 9-inch round cake pans and line the bottoms with parchment paper. Preheat the oven about 30 minutes before you begin making the batter.
Step 2: Cream the butter and sugar together
The butter must be room temperature in order for it to cream properly with the sugars. This is why it is so important to set it out 1 hour ahead of time.
Use a stand mixer fitted with the paddle attachment to beat the butter and sugar together. You're looking for a light and fluffy texture.
It should appear lighter in color and double the sized in volume once it has been creamed properly. This can take 5 to 10 minutes.
Step 3: Add the eggs and vanilla
Make sure the eggs are at room temperature or they'll cause the batter to curdle.
Add one egg at a time and beat the batter well after each addition. Then beat in the vanilla extract.
Step 4: Add the dry ingredients
In a small bowl, combine the flour, baking powder, and salt. Use a whisk to stir everything together well.
Sift the flour mixture into the butter mixer. This will remove any lumps from the cake flour so it incorporates into the batter.
With the mixer on low speed gradually pour in the milk. Continue to beat the batter just until all the flour is incorporated. Take extra care to not overmix.
Step 5: Bake the cake
Divide the cake batter evenly between the two pans. Bake the cake for 20-30 minutes. Just until a toothpick inserted into the center comes out with only a few moist crumbs attached.
I suggest starting to check for doneness at around 15 minutes since ovens can vary in temperature.
Cool the cake layers in the pan for 10 minutes then invert them onto a wire rack to cool completely. Once cooled, make the frosting and frost the cake.
Vanilla Cake FAQ's
Can I bake this cake in 3 8-inch round pans instead of 2 9-inch pans?
Yes, you certainly can. The recipe yields enough batter to fill 2 9-inch pans, 3 8-inch pans, or 24 muffin cups.
The bake time will vary slightly. Start checking the cakes about 5-7 minutes sooner than the time listed in the recipe.
How do I adjust the recipe for it to work at high elevation?
I have zero experience baking at high altitudes so I don't feel comfortable giving advice for this. However, a reader who lives 5,000 feet above sea level made the following changes:
3 cups sifted cake flour
4 large eggs
1-¼ cups whole milk
2 teaspoons baking powder
1 teaspoon salt
All the other ingredients listed in the recipe stayed at the same amounts. Baked in 2 8-inch round cake pans at 375°F for 25 minutes.
She said the cake was delicious and has already been requested to be made again.
How do I make a cake more moist?
First, make sure you've followed all my tips on how to make the perfect cake. Second, keep a close eye on it during baking. Check it with a wooden toothpick.
If the toothpick comes out with wet batter on it, it needs more baking time.
If the toothpick comes out with a few dry crumbs, it is perfectly baked and needs to be removed from the oven.
If the toothpick comes out completely clean, it has baked too long and will result in a dry cake.
Start checking the cake about 5-7 minutes before the suggested bake time.
If you like this basic vanilla cake recipe, try these others:
Did you try this recipe? I would love for you to leave me a 5-star rating or comment. This way, I have a better understanding of which recipes you like and can create more of them.
Please take a moment to follow me on Instagram, Pinterest, Facebook, Youtube or sign up for my free newsletter to never miss the newest recipes and blog updates.
You can also shop my favorite baking tools. Thank you so much for your support!
Adapted from Bigger Bolder Baking.