This post may contain affiliate links. Read the full disclosure here.
This strawberry cupcake recipe captures and celebrates everything delicious about summer. Moist vanilla and strawberry flavored cupcakes with a delicious frosting bursting with fruit. You'll love these fruit-flavored cupcakes.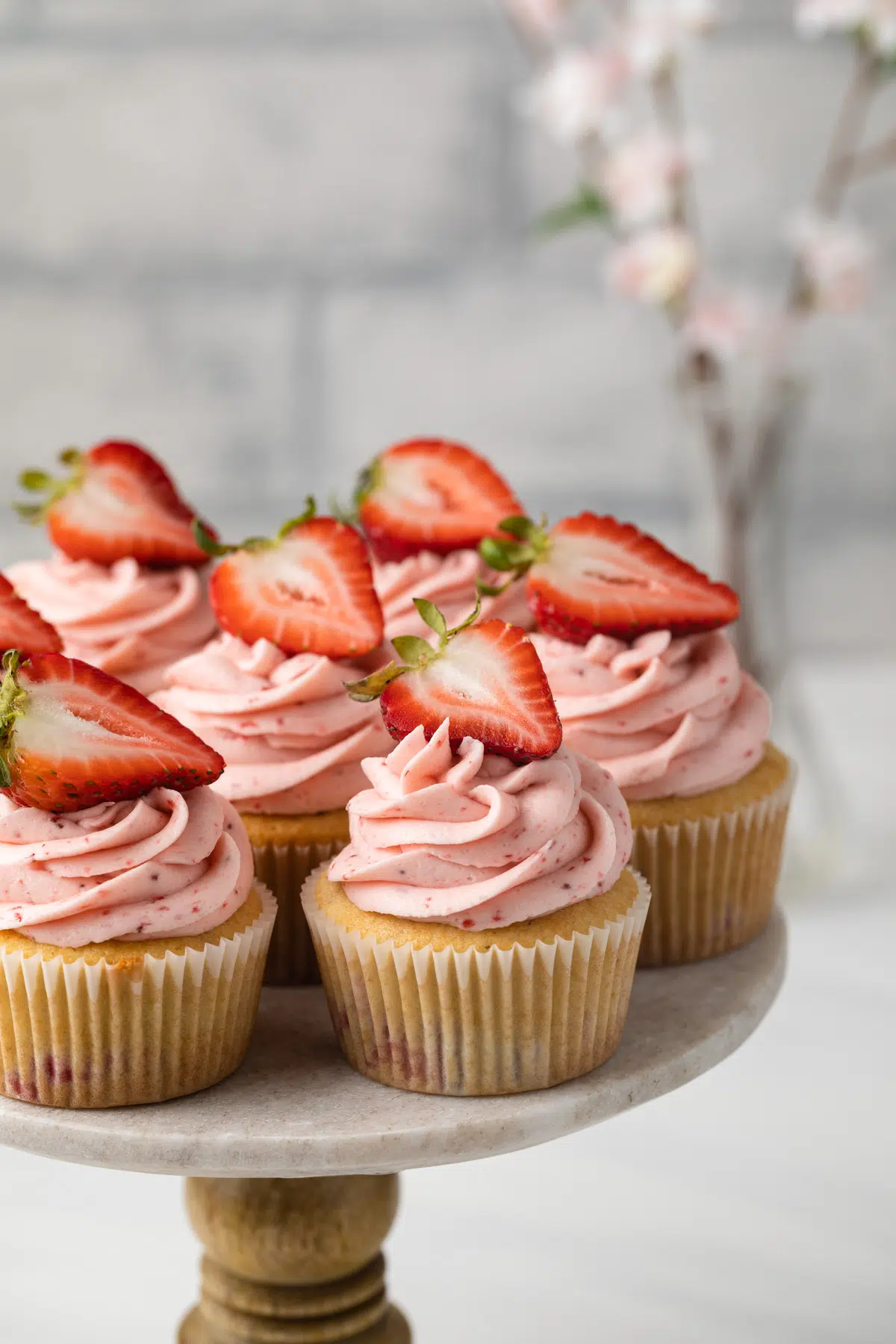 I'll be the first to admit it – I have yet to meet a cupcake I don't like. But these moist, delicious strawberry cupcakes might be my favorite. Or at least in my top 5.
A vanilla cupcake (you could also use this vanilla cupcake base) is flavored with fresh, juicy strawberries. The frosting is a rich basic buttercream with the addition of chopped strawberries, which add flavor, texture, and color.
I have another strawberry swiss meringue frosting which you might want to try too. This recipe is made with blended freeze-dried strawberries. It's also a great contrast to these luscious cupcakes. It makes a lot of frosting though, so cut everything in half if you are planning on using it to top these cupcakes.
As I'm writing this, it's strawberry season. Fresh, juicy, just-picked berries are available at every roadside stand and most local markets. I have so many great strawberry recipes you can make with them.
Strawberry shortcake is so good. The ultimate summer dessert. This strawberry shortcake cake has all the same flavors but is easy for a crowd. And if you are in the mood for pie, this gelatin-free strawberry pie can't be beaten.
But these strawberry cupcakes are a must when you don't want to make a full strawberry cake. The strawberry cake batter gets a bit of tang and richness from buttermilk – one of my favorite ingredients to add depth to a cake. And chopped strawberries add a juicy and fruity flavor to the cupcakes.
And the frosting. Oh the frosting. Ahhh… I love buttercream frosting. Rich and creamy and so so good. My best vanilla buttercream frosting recipe is about as good as it gets. Unless and until you add fresh chopped berries. And watch out. Strawberry buttercream frosting is so good on top of these cupcakes, but don't be afraid to just eat it with a spoon!
Recipe Details
Taste – Strawberry flavored cupcakes with fruity frosting.
Texture – Moist and tender cupcakes with chunks of fresh berries. Creamy frosting.
Ease – These involve a few steps, but aren't difficult.
Time – Just under an hour front start to finish.
What You'll Need
Ingredients
Canola oil – You can use another unflavored oil if you prefer.
Butter – I use unsalted butter when baking, and this should be softened.
Sugar – White granulated sugar adds sweetness.
Eggs – These should be at room temperature.
Vanilla extract – My vanilla extract is what I usually use, but use the highest quality you have.
Cake flour – This silky flour adds to the soft texture of these cupcakes.
Leavening – This recipe uses baking powder and baking soda for leavening.
Salt – Kosher salt.
Buttermilk – Store-bought or make your own, this should be at room temperature
Chopped strawberries – The freshest berries you can find. You'll use these for both the cake and the frosting.
Confectioners' Sugar – Sweet and smooth – won't give the frosting a gritty texture.
Recommended tools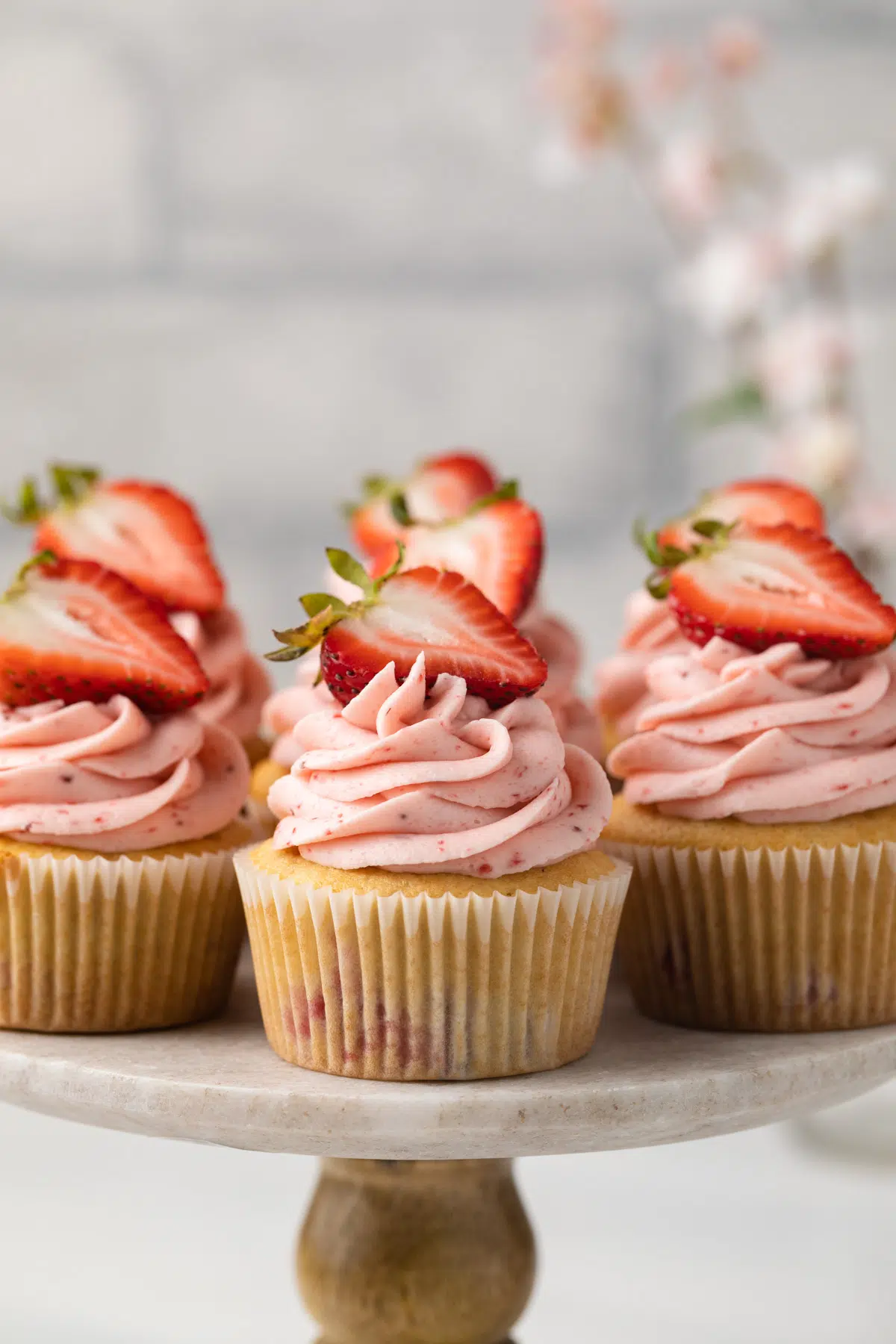 How to Make Strawberry Cupcakes
In just under an hour, you can go from wondering what to make with fresh strawberries to having these completely scrumptious cupcakes ready to eat. To start, preheat your own to 350 degrees and line a 15-cup muffin cup pan with paper liners.
Make the cupcakes
Mix the wet ingredients (except the buttermilk). In a large bowl, beat the oil, butter, and sugar together on medium-high speed until light and fluffy, about 5 minutes. Add the eggs, one at a time, mixing for 20 seconds after each addition. Beat in the vanilla.
Mix the dry ingredients. Combine the flour, baking powder, baking soda, and salt in a medium bowl. Stir with a whisk and add half to the butter mixture. Beat on low speed until the flour is almost fully incorporated.
Add the buttermilk. Add the buttermilk followed by the remaining flour mixture and beat on low until just combined. Take care not to over-mix.
Add the berries. Gently fold in the chopped strawberries.
Bake. Fill each muffin cup ⅔ of the way full. Bake for 14-18 minutes or until a toothpick inserted into the center comes out with a few moist crumbs attached. Take care to not over-bake. Cool for 10 minutes and transfer to a wire rack and cool completely before frosting.
Make the frosting
Prepare the strawberries. It's almost as if you are making a strawberry jam. Add the strawberries to a food processor or blender and process until smooth. Cook in a small saucepan over medium-high heat, stirring occasionally until the puree has reduced to 2-3 tablespoons. Remove from heat, transfer to a small bowl and cool completely.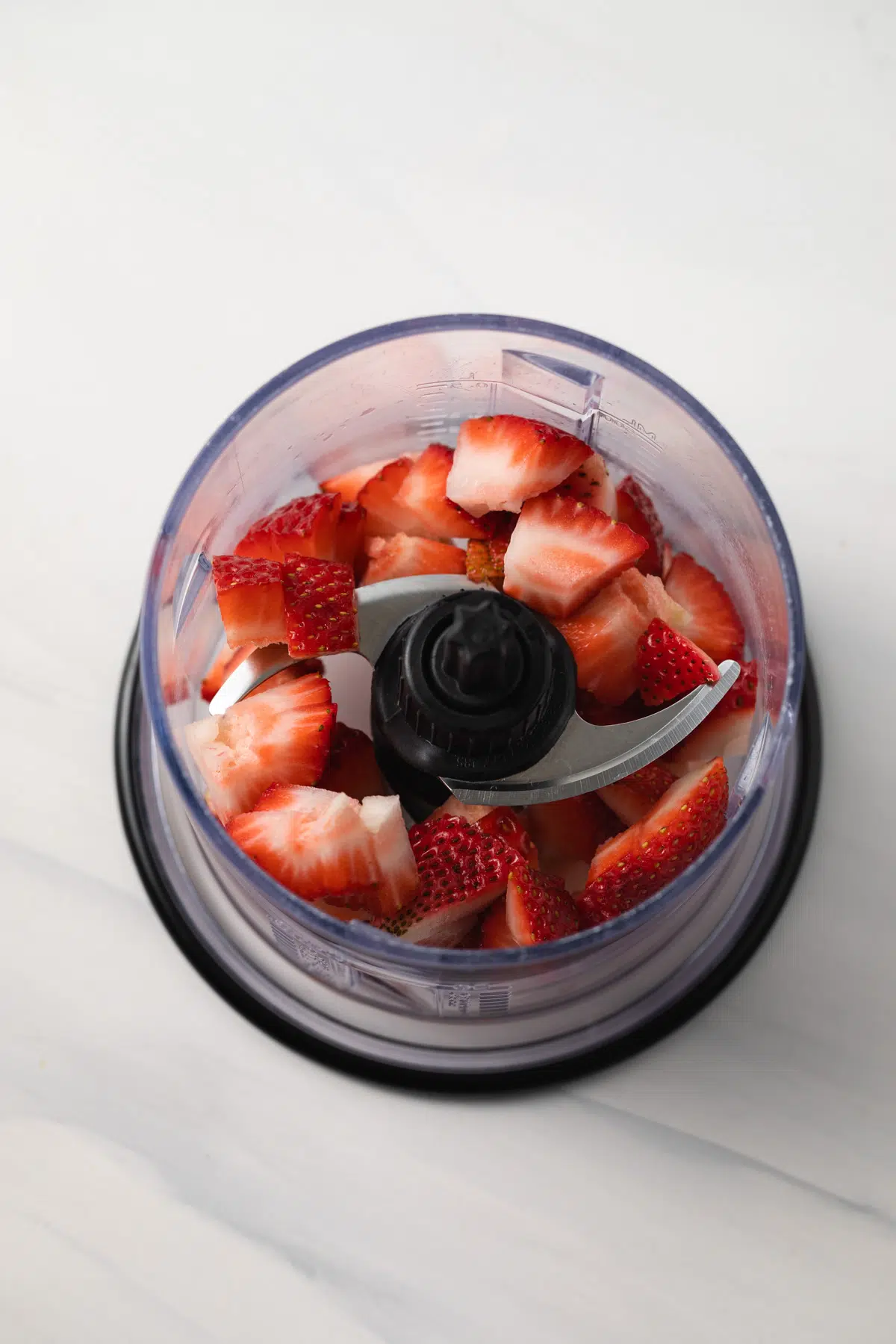 Cream the butter. Add the butter to the bowl of a stand mixer fitted with the paddle attachment or to a large bowl using an electric hand mixer. Beat on medium-high speed until creamy and pale in color, about 5 minutes. Stop to scrape down the sides of the bowl as needed.
Make the frosting. Add the vanilla, salt, and half the confectioners' sugar and beat on low speed just until the sugar has fully moistened, then turn the speed up to medium-high and beat until well incorporated, about 3-5 minutes. Add the fully cooled puree and beat at medium-low speed until fully mixed in. Add the remaining confectioners' sugar and beat on low speed just until the sugar has fully moistened, then turn the speed up and beat until well incorporated, about 3-5 minutes.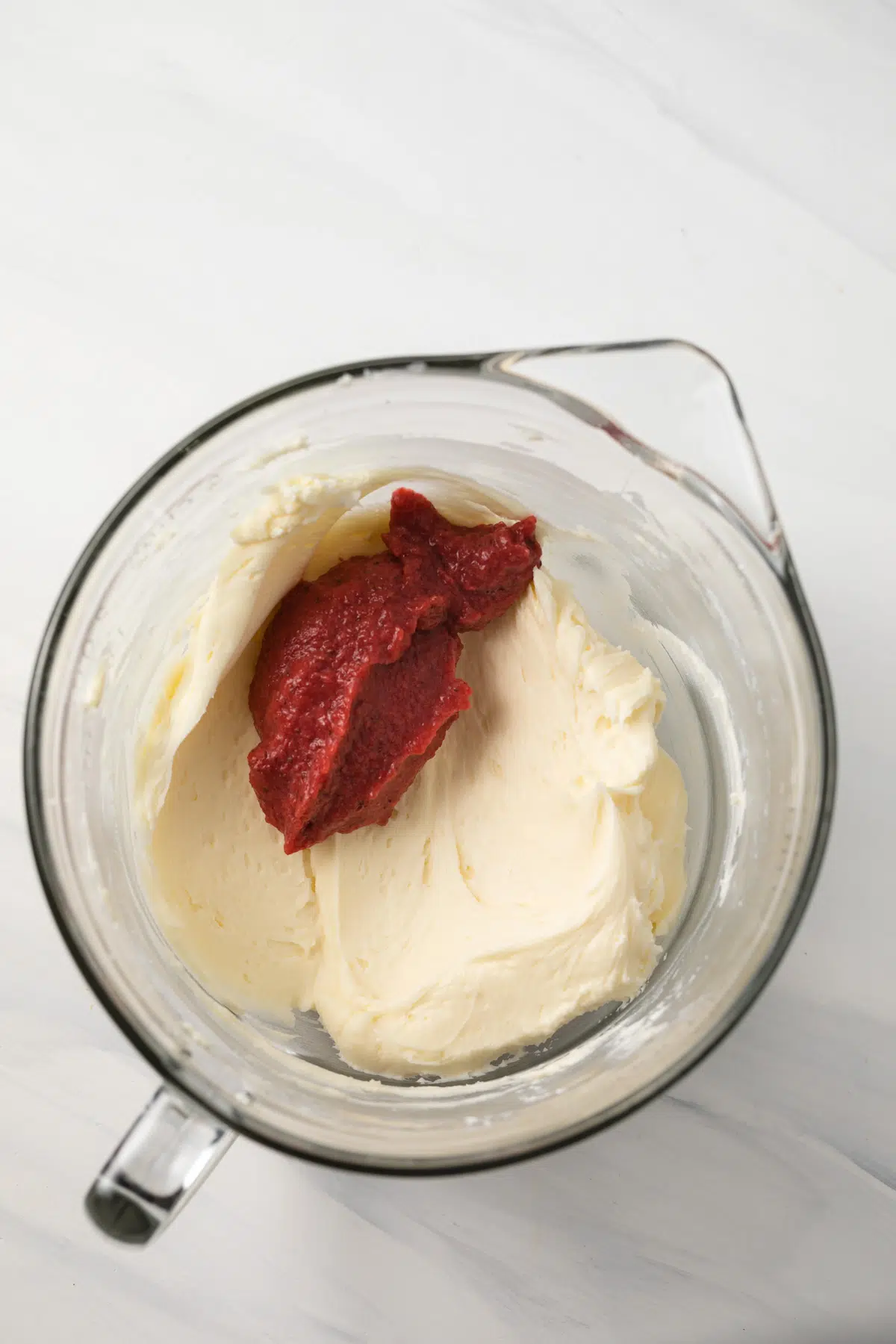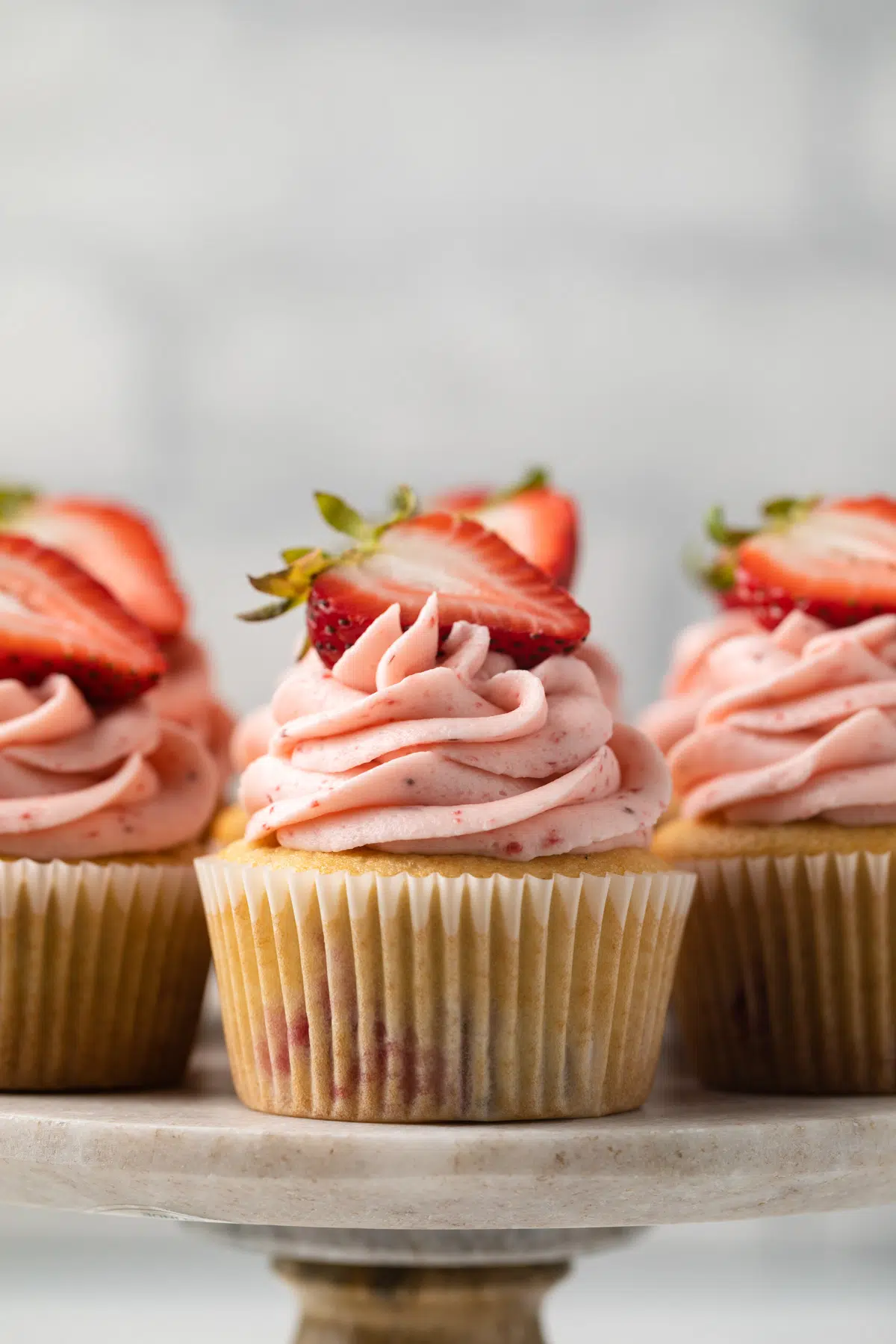 Tips For Success
Strawberries: I highly recommend fresh strawberries. You may use frozen. Thaw them before using.
Cake flour: I don't recommend substituting with all-purpose. Use cake flour or you can make homemade cake flour.
Buttermilk: For the richest, moistest cupcakes, use whole milk buttermilk.
---
Storage & Freezing
Frosted cupcakes can be stored covered tightly at room temperature for up to 1 day or in the refrigerator for up to 5 days. Bring to room temp before eating.
Unfrosted cupcakes can be frozen for up to 2 months. Thaw overnight in the refrigerator and bring to room temperature before frosting and serving.
Did you try this recipe? I would love for you to leave me a 5-star rating or comment. This way, I have a better understanding of which recipes you like and can create more of them.
Please take a moment to follow me on Instagram, Pinterest, Facebook, Youtube or sign up for my free newsletter to never miss the newest recipes and blog updates.
You can also shop my favorite baking tools. Thank you so much for your support!