This post may contain affiliate links. Read the full disclosure here.
Lemon Cupcakes filled with lemon curd and topped with lemon buttercream frosting. These Lemon filled cupcakes remind me of lemon drop candies, so sweet and tangy!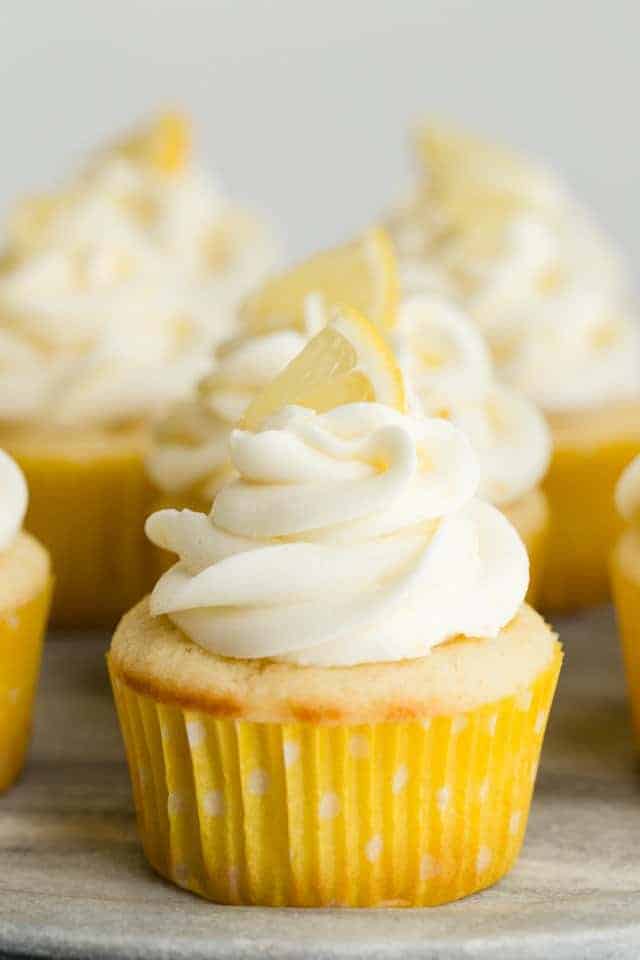 Lemon cupcakes are one of my absolute favorite cupcake flavors. I'm a huge fan of lemon desserts as it is. But when you take a lemon cupcake, fill it with lemon curd, and top it with lemon buttercream, you have the ultimate spring dessert.
These cupcakes just make me so happy!
The cupcake part is actually my favorite cupcake recipe. I use a variation of it for almost all the cupcakes on the blog.
My lemon lime cupcakes and vanilla cupcakes with lemon cream cheese frosting are just a couple examples of that.
The texture of these cupcakes is so light, airy, moist, and springy. My taste testers said they remind them of angel food cake with how light they are.
So, if you are looking for a fantastic cupcake base, this is the one!
Why this Lemon Cupcakes recipe works
It has the perfect balance between sweet and tangy!
The cupcake is delicate without being too soft! It's able to stand up against the homemade lemon curd and buttercream frosting.
The frosting is perfect on its own and reminds me of lemon candy. It's so good!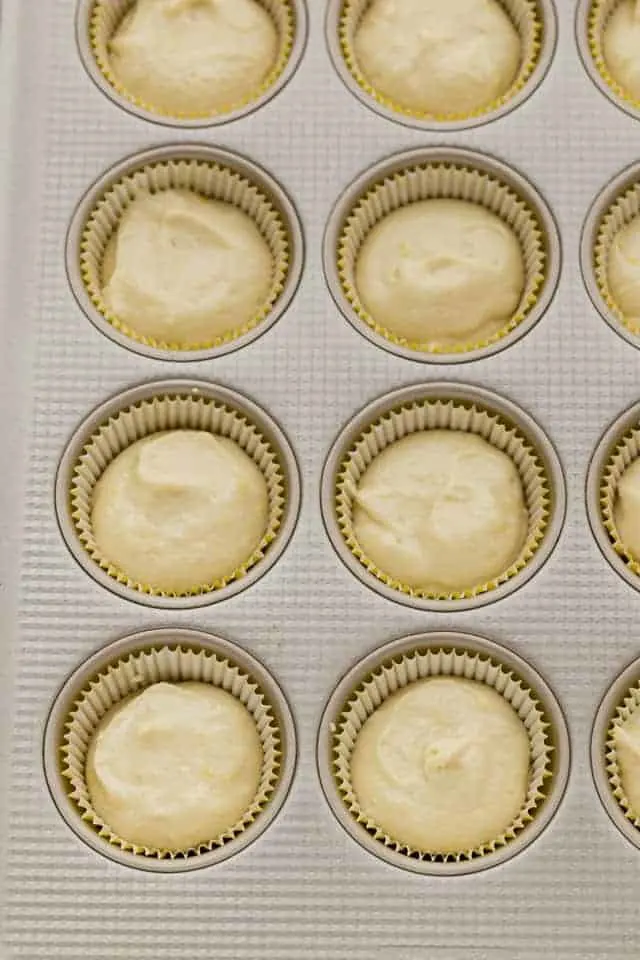 How to make lemon cupcakes with lemon curd filling
There's nothing fancy about the cupcake batter. It's a simple mix of creamed butter, sugar, eggs, lemon zest, lemon juice, milk, and flour. A little salt and baking powder are also added. The batter whips up into a silky, creamy texture that smells of fresh lemon.
It's quite amazing and I know you will love it after the first bite.
There's just enough batter for 12 muffin cups so you can simply divide the batter evenly among the cups. They'll end up being about ⅔ of the way full.
After the cupcakes bake, they get filled with a sweet and tangy homemade lemon curd. This part is totally optional but I highly recommend it.
Top the filled cupcake with silky lemon buttercream frosting.
How to make lemon frosting for cupcakes
Lemon buttercream starts with my basic buttercream frosting recipe. It's modified slightly so you get the silkiest, fragrant lemon frosting for 12 cupcakes.
Start by creaming the butter until it's super smooth. Then add a pinch of salt and ⅓ of the confectioners' sugar. Whip it until it comes together.
Add the zest and gradually beat in the remaining sugar. Slowly add the lemon juice and whip until you have a fluffy, smooth frosting.
Tips for lemon cupcake success
When measuring your flour, don't scoop it out of the container with the measuring cup. Instead, use the spoon and level method or simply weigh it.
When creaming the butter and sugar together for the cupcakes, it's important to let it mix for at least 5 minutes. You can mix for up to 10, though! This ensures the cupcakes will have a light and fluffy texture.
I highly recommend making the lemon curd yourself! Storebought lemon curds can be too sweet or too tart. My recipe is balanced just right and works well with the cupcakes.
If you love these cupcakes, you'll also enjoy these other lemon recipes
Did you try this recipe? I would love for you to leave me a 5-star rating or comment. This way, I have a better understanding of which recipes you like and can create more of them.
Please take a moment to follow me on Instagram, Pinterest, Facebook, Youtube or sign up for my free newsletter to never miss the newest recipes and blog updates.
You can also shop my favorite baking tools. Thank you so much for your support!