This post may contain affiliate links. Read the full disclosure here.
This simple Ciabatta Bread recipe will give you a rustic Italian loaf that is perfect for dipping into soups or sauces. The high hydration in this bread results in a wonderfully chewy center and tons of irregular holes.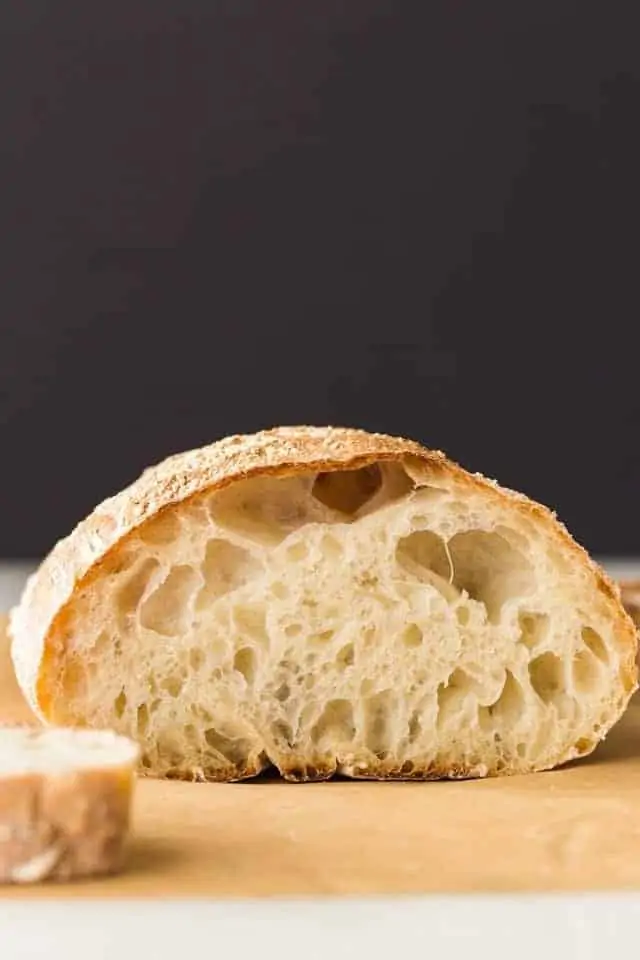 Homemade ciabatta bread
This is probably the easiest ciabatta bread recipe you'll come across. It is an 80% hydration bread which means it's very wet and sticky.
Because of this, you'll need a stand mixer to make the dough. Otherwise, it will be near impossible to mix the dough.
The mixer will do all the mixing and kneading for you. This is why I say it's the easiest recipe.
No-knead recipes are the best! I make baguettes, pizza dough, and slow cooker bread all the time because they require little effort. And now I'll be making ciabatta bread just as often, if not more.
Ciabatta means slipper in Italian. Can you see how the bread gets its name? It's shaped just like a slipper!
Are there eggs in ciabatta bread?
There are no eggs in ciabatta bread. It's made with flour, water, yeast, and salt.
What do you use ciabatta bread for?
You slice ciabatta bread at an angle and drizzle it with olive oil. It can also be used for dipping in soup or soaking up a sauce.
Or you can slice it lengthwise and make an Italian Style sandwich. Whichever way you decide to enjoy this bread, I'm sure you'll be impressed with the texture and flavor.
How do you heat up ciabatta bread?
You can heat ciabatta bread by wrapping it in aluminum foil and baking in a 350°F oven for 10-15 minutes.
Main ingredients for ciabatta bread
Bread flour – this is essential for the sturdy texture of this bread.
Yeast – you can use instant or active dry yeast. Either one will work. Just be sure to use a quality brand like Red Star®.
Water – there's a lot of water in this bread and it's the only liquid the recipe calls for.
Salt – salt boosts the flavor of ciabatta bread but also slows down the fermentation and enzyme activity in the dough. It helps to strengthen and support volume as well.
---
How to make ciabatta bread?
Step 1: Make the sponge
Combine flour, yeast, and water in a large bowl. Stir it with a wooden spoon until it's well mixed and free of lumps.
Cover the bowl with plastic wrap and let sit at room temperature for at least 15 hours but up to 20 hours. The longer you let the sponge sit, the more flavor and structure the final bread will have.
Step 2: Make the dough
In the bowl of a stand mixer, combine the sponge with more flour, water, salt, and yeast. Mix it with the dough hook until the dough no longer sticks to the sides of the bowl.
The dough will be very soft and batter-like. This is normal for ciabatta.
Step 3: Rise and turn the dough
Transfer the dough to a large bowl greased with olive oil. Cover and let it rise for 1 hour. Use wet hands or a greased silicone dough scraper to gently lift and fold the dough over onto itself. Flip the dough over so the top is now the bottom.
Cover the bowl and let the dough rise for 45 minutes. Repeat the folding process twice more and let rest for another 45 minutes after each.
Step 4: Shape the dough
Transfer the dough to a well-floured surface and liberally flour the top of the dough. Use two well-floured bench scrapers and carefully manipulate the dough from the sides to form a square.
Don't add any pressure to the top of the dough or it will deflate. Cut the square in half and use the bench scrapers to gently shape each half into a loaf.
Gently slide the bench scrapers under the dough and transfer each loaf to an inverted baking sheet lined with parchment paper. Cover the loaves with a cloth and let rise at room temperature for 30 minutes.
Step 5: Bake
Invert a baking sheet onto the rack just below the center of the oven and heat to 450°F.
Spray the loaves lightly with water. Then, carefully slide the parchment with the loaves onto the heated baking sheet in the oven. Bake for 25-30 minutes.
It's important to bake with steam to create a crisp, golden crust. Do this by placing a cast iron on the lowest rack. When transferring the loaves to the oven, add 1 cup of ice to the cast iron. The ice will melt and steam during the first few minutes of baking.
I don't have a mixer. Can I use a food processor? Or can I mix by hand?
A stand mixer is recommended for this recipe! This dough is high in hydration, meaning it is very sticky. A stand mixer is the easiest way to mix it.
You can try mixing it with a wooden spoon and kneading it by hand but be mindful that adding more flour during kneading will affect how the bread turns out.
I don't recommend using a food processor for mixing.
---
Tips for this easy ciabatta bread recipe
Plan ahead since the sponge needs to be made a day in advance.
The dough for this bread is very wet and sticky. It requires a lot of external flour to prevent it from sticking. If you use too much flour on the outside, you can easily brush it off before spritzing the loaf with water and baking. Just use a pastry brush* to do this.
The dough will puff up and resemble a giant marshmallow. Be very delicate when shaping it so you don't knock out all the air. The air is what gives the bread those gorgeous irregular holes.
More yeast bread recipes you'll love
Some quick bread recipes you might like
Did you try this recipe? I would love for you to leave me a 5-star rating or comment. This way, I have a better understanding of which recipes you like and can create more of them.
Please take a moment to follow me on Instagram, Pinterest, Facebook, Youtube or sign up for my free newsletter to never miss the newest recipes and blog updates.
You can also shop my favorite baking tools. Thank you so much for your support!
This recipe has been updated with a few tweaks to ensure everyone has success. I've added additional yeast and there's also less handling of the dough which prevents the air from being knocked out.
Adapted from On Baking and Bread Illustrated.