This post may contain affiliate links. Read the full disclosure here.
Kids and families love this moist, simple banana muffin recipe. It's the perfect comfort food to store in your freezer.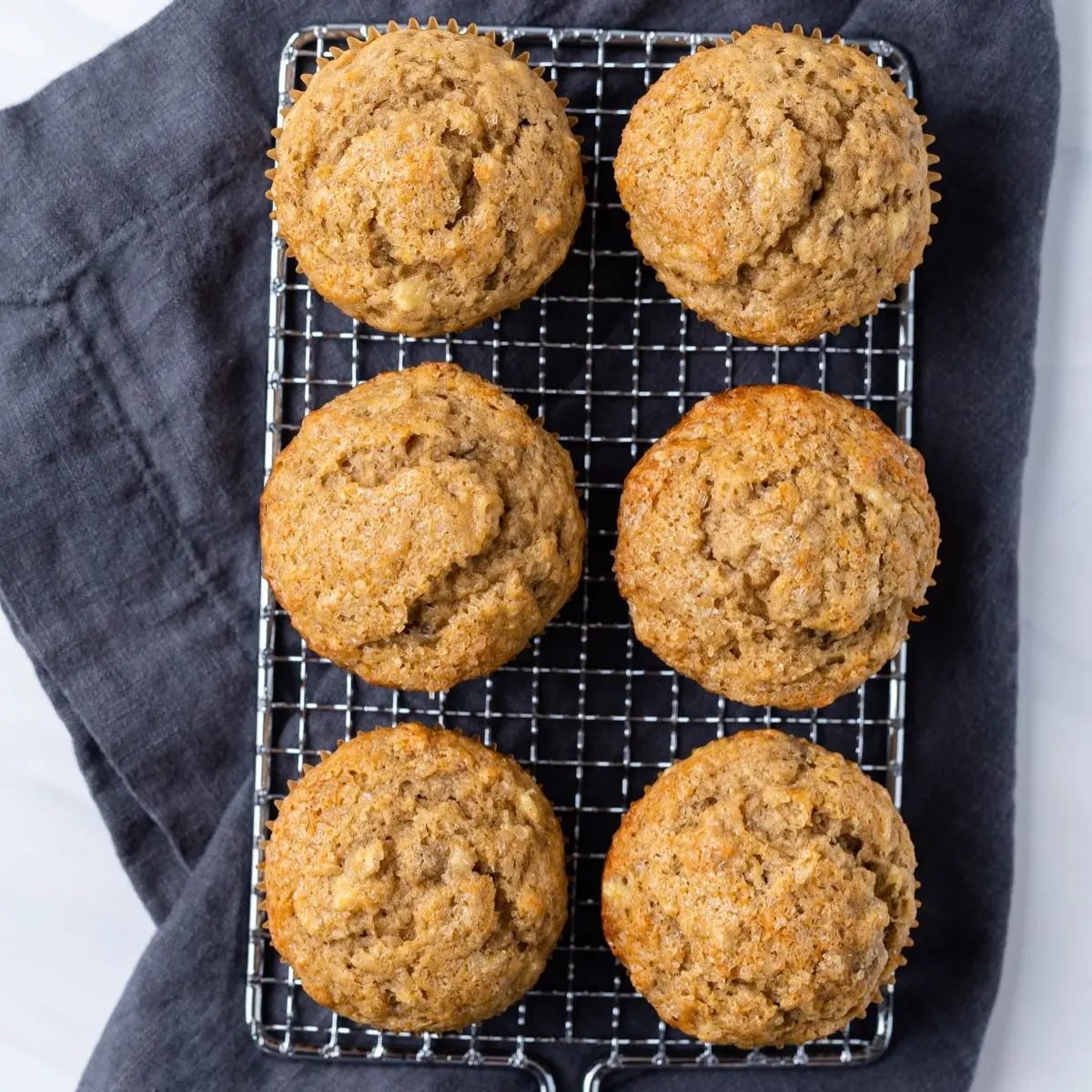 These muffins taste like the banana bread your grandma used to make, but in the form of fun, individual serving size muffins. Kids love the small, portable shape and the cupcake feeling of these muffins.
Everyone should try this delicious recipe at least once because it is seriously the best banana muffin recipe. It's so easy to see why it'll quickly become a favorite in your family. They're just as simple to make as banana nut bread cookies.
This recipe uses the muffin mixing method to combine ingredients.
In other words, the dry ingredients and the wet ingredients are mixed separately. Then, the two types of ingredients are joined together at the end to form the batter. Finally, you fold in the wet ingredients into the dry ingredients until just combined.
While using fresh, ripe bananas with heavy brown spots is ideal, you can, also, use thawed frozen bananas. This can be a real lifesaver for those in a time crunch or with limited shopping trips!
Stash those bananas away in the freezer at the peak ripeness to be used later. When you want to make muffins without waiting days for fresh bananas to be ready, you'll have them ready to thaw in the freezer.
The adaptability of this recipe makes it always seem fresh and new. You can make banana nut muffins by adding your favorite chopped nuts. If your kids are chocolate fans, you can stir in some semisweet chocolate chips to make banana chocolate chip muffins. For those with a more refined taste palate, fresh blueberries can be a nice add-in, too.
---
Why this recipe works
Extra ripe bananas make the muffins taste sweeter and extra flavorful.
Greek yogurt keeps the muffins moist and tender.
Oil also adds to the moisture, which leaves the muffins with a banana bread-like texture.
Nothing tastes as wonderful as warm muffins with amazing banana flavor made right in your own home for your family.
What you need
Making the best banana muffin recipe requires picking just the right bananas for the task at hand. Let's discuss just a few of the key ingredients:
Ingredients
This is a short overview of the ingredients I used and why I chose them. The full recipe can be found at the bottom of the post!
Bananas: Look for the extra spotty bananas. Generally, the riper the banana, the better tasting the muffins will be. Additionally, I recommend mashing your bananas with a fork or potato masher for the best results. Frozen bananas are also an option, but they have to be thawed before use in the recipe.
Fats: I used Greek yogurt in this recipe to add moisture to the muffins. You could also use regular yogurt, for instance, but I would recommend sticking with the whole fat varieties. Meanwhile, the oil keeps the muffins moist and tender. Similarly, eggs promote structure within this recipe's batter along with keeping the muffins moist.
Flour: All-purpose flour works best with this recipe. It comprises the majority of the dry ingredients. When leavening agents release their gases, this gluten framework from the flour traps the gas and keeps the muffins fluffy.
Leavening: Baking powder & baking soda act as leavening agents in this recipe. As they release carbon dioxide into the muffins, pockets of air are created. This results in that fluffy, airy texture we so love.
Sugar: This recipe is very forgiving when it comes to sugar specificity. You'll find that dark or light brown sugar work well. You can also choose to use granulated sugar or coconut sugar.
Additional flavoring: Cinnamon adds a warm, woodsy spice to the muffins. The vanilla adds a sweet aroma and so dramatically enhances the flavor profile. While it may sound funny, salt actually sharpens the other flavors, as well as, promoting even browning and preventing staleness.
Equipment
This is a list of tools I used to make the recipe. Some of the links are affiliate links.
Muffin pan: You'll need a muffin pan that can accommodate 16 muffins. Plan to use paper liners in the cups. This will save you time and energy by allowing the muffins to easily be removed from the pan after baking.
Scoop: I find that using a scoop makes it easy to portion batter into the muffin cups. It's important to get approximately the same amount of batter into each muffin cup. Uneven distribution could result in batter spilling over cups or some muffins cooking faster than others. No one wants burnt or undercooked muffins.
How to make banana muffins
I love the simplicity of this recipe. You'll notice the muffin mixing method highlighted in the recipe directions. It's quick and easy with only three steps: mash the bananas, make the batter and bake the muffins.
Step 1. Mash the bananas
To start, preheat your oven to 425°F. Then, spray 14 muffin cups with cooking spray. You could also line them with paper liners. Set aside.
Mash the bananas with a potato masher or the tines of a fork. Press down on the unpeeled banana repeatedly to achieve the appropriate texture. You are looking for a smooth texture with limited banana chunks.
Step 2. Mix the batter
This is the beginning of using the muffin mixing method in this recipe. In a large bowl, combine the flour, baking powder, baking soda, ground cinnamon and salt.
Whisk the dry ingredients together. Then, make a well in the center. Set this bowl aside for later. You'll need this again after mixing the wet ingredients.
Grab a separate bowl or large liquid measuring cup for the wet ingredients. Whisk the mashed banana, yogurt, sugar, oil, eggs and vanilla together.
Then, pour the wet ingredients into the center of the dry ingredients. You can use a silicone spatula to fold the batter together. Continue until dry ingredients are just moistened.
Step 3. Portion and bake
Then, spoon the batter into your prepared muffin pan. Fill each cup no fuller than ⅔ the way. Then, sprinkle coarse sugar over the tops. (This is optional.)
Then, bake for 5 minutes. After that, reduce heat to 350°F. Continue baking the banana muffins for 8-10 minutes or until a toothpick comes out clean.
After that, remove the muffins from the pan immediately. Please take care with this step as the muffins and the pan will be very hot. Let the muffins cool for 10 minutes prior to serving.
Storing & freezing
To store: The banana muffins keep for no more than 3 days when stored in an airtight container at room temperature. You can also store them in the fridge for up to 1 week.
To freeze: These will keep for up to 3 months in the freezer. You may thaw them overnight in the refrigerator. If you enjoy warm muffins, you can heat them in the microwave for 10-12 seconds. When you want a single serving, thaw a frozen muffin in the microwave for 40-60 seconds.
---
Frequently Asked Questions
Can I make these muffins with whole wheat flour?
You can swap up to 50% of the all-purpose flour for an equal amount of whole wheat flour. Or, I have a whole wheat banana muffin recipe you might like!
Can I bake the batter in a bread pan?
Yes! Spread prepared batter into a greased 9×5 inch loaf pan. Bake at 350°F for 40 to 50 minutes. Tent loosely with aluminum foil if the top is getting too brown during baking.
Can I use frozen bananas?
Certainly! Just thaw them in the refrigerator overnight or let them sit at room temperature. Then, use them immediately after thawing.
Jen's best tips
Avoid overmixing! After adding the dry ingredients, you'll mix just until the ingredients are moistened. However, overmixing will result in tough and chewy muffins.
Be careful substituting butter for oil. When I have made this recipe with butter instead of oil, the muffins have ended up stuck to the liners.
If you prefer to use butter, I would recommend using ½ cup melted butter. Then, bake in a greased pan, so that you will be able to easily free the muffins after baking. Forget the paper liners for this ingredient substitution.
More banana muffins to try
---
Video tutorial
Did you try this recipe? I would love for you to leave me a 5-star rating or comment. This way, I have a better understanding of which recipes you like and can create more of them.
Please take a moment to follow me on Instagram, Pinterest, Facebook, Youtube or sign up for my free newsletter to never miss the newest recipes and blog updates.
You can also shop my favorite baking tools. Thank you so much for your support!