Old-Fashioned Baked Donuts
This post may contain affiliate links. Read the full disclosure here.
These old-fashioned baked donuts will remind you just how delicious breakfast can taste! This simple recipe will give you familiar old-fashioneds without all the hassle of rolling, cutting, and frying the dough.
This baked donut recipe is perfectly sweet and cakey without being too sugary. The donuts make a great breakfast treat or delicious snack at any time of day!
I'm a sucker for a fresh hot donut. Coffee and donuts for breakfast are some of life's simplest pleasures. I can never pass up baked chocolate donuts with peanut butter frosting or strawberry donuts.
A few weeks ago, I had a major craving for old-fashioned donuts, but the idea of having to pull out the fryer and clean up grease splatters didn't appeal to me.
So, I went on a mission to find and perfect a baked version that tastes just like this classic cake donut.
Through my research, I discovered that there are two types of old-fashioned donuts. One uses sour cream and the other uses buttermilk.
I tested both during the development process and prefer buttermilk best in this baked version.
---
Why this recipe works
A lot of vanilla and nutmeg is what makes these donuts taste so darn good! Don't shy away from the full tablespoon of vanilla called for in the recipe.
The batter is mixed like a muffin batter. Some clumps of flour may be visible but this is okay and will give you tender donuts.
Apply the glaze while the donuts are still warm. This will cause the glaze to sort of melt and set in a thin layer just like true old-fashioned donuts.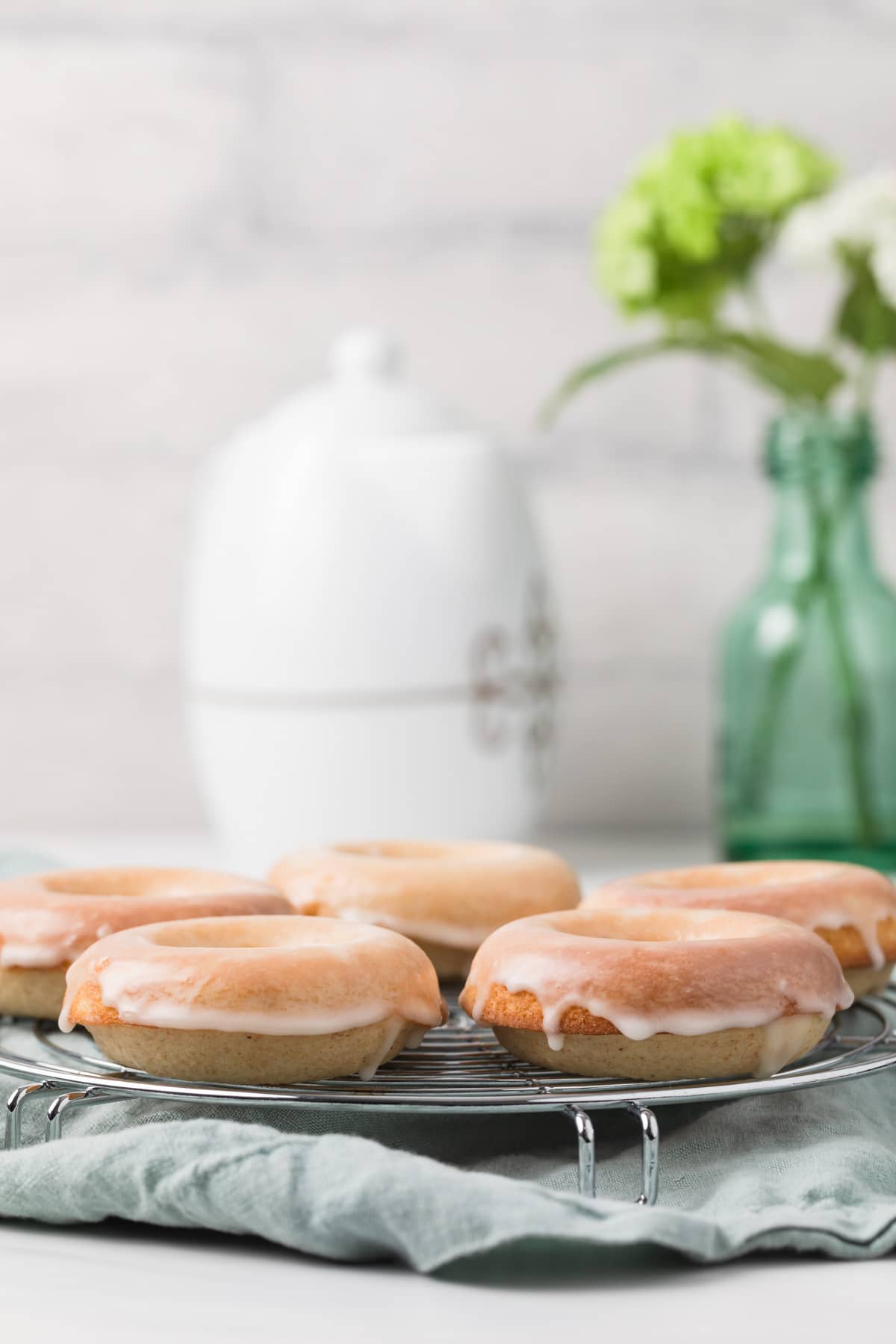 Baked donut recipe
It took several batches of failed donuts before I achieved exactly what I was looking for. The batter calls for simple ingredients that most people already have on hand.
I used melted butter and oil with the addition of buttermilk to keep the texture soft. Whole wheat flour combined with all-purpose flour keeps the donuts sturdy.
You don't have to chill and roll the dough because these donuts bake in a donut pan. You can mix this batter by hand, making the process much simpler.
The baked donuts are soft and cake-like without being overly sweet, while the vanilla glaze adds just the right amount of extra sweetness. You can also dust them with powdered sugar if you wish to omit the glaze.
---
Baked donut ingredients
The ingredients are pretty standard pantry items. More than likely, you already have them on hand.
Fats: You'll need unsalted butter, vegetable oil, and eggs to make the best baked donuts.
Sugar: Granulated sugar is used in the donut batter while powdered sugar is used for the glaze.
Vanilla: Using pure vanilla extract will give you the best flavor. It's in the donut and the glaze.
Flour: A combination of all-purpose flour and whole wheat flour is used for the donut. You won't taste the whole wheat flour. Only a little is used to help give the donuts structure.
Leavening: Both baking powder and baking soda help the donuts rise during baking.
Spices: Nutmeg and salt are the only necessary spices. Nutmeg will give the you that familiar flavor.
Buttermilk: Buttermilk is essential to this recipe! It keeps the donuts tender while offering a very slight tang. You can use sour cream but I don't prefer it.
Milk: Th glaze uses just a few tablespoons of milk.
To make baked donuts you'll need:
---
How to make baked donuts
It's super easy to make donuts at home! This recipe comes together in just a few short minutes.
The Batter – The batter is made by mixing the dry ingredients and wet ingredients separately. Then, combine the two and mix just until the dry ingredients are incorporated.
The Glaze – To make the glaze, mix powdered sugar, vanilla, and milk together until smooth.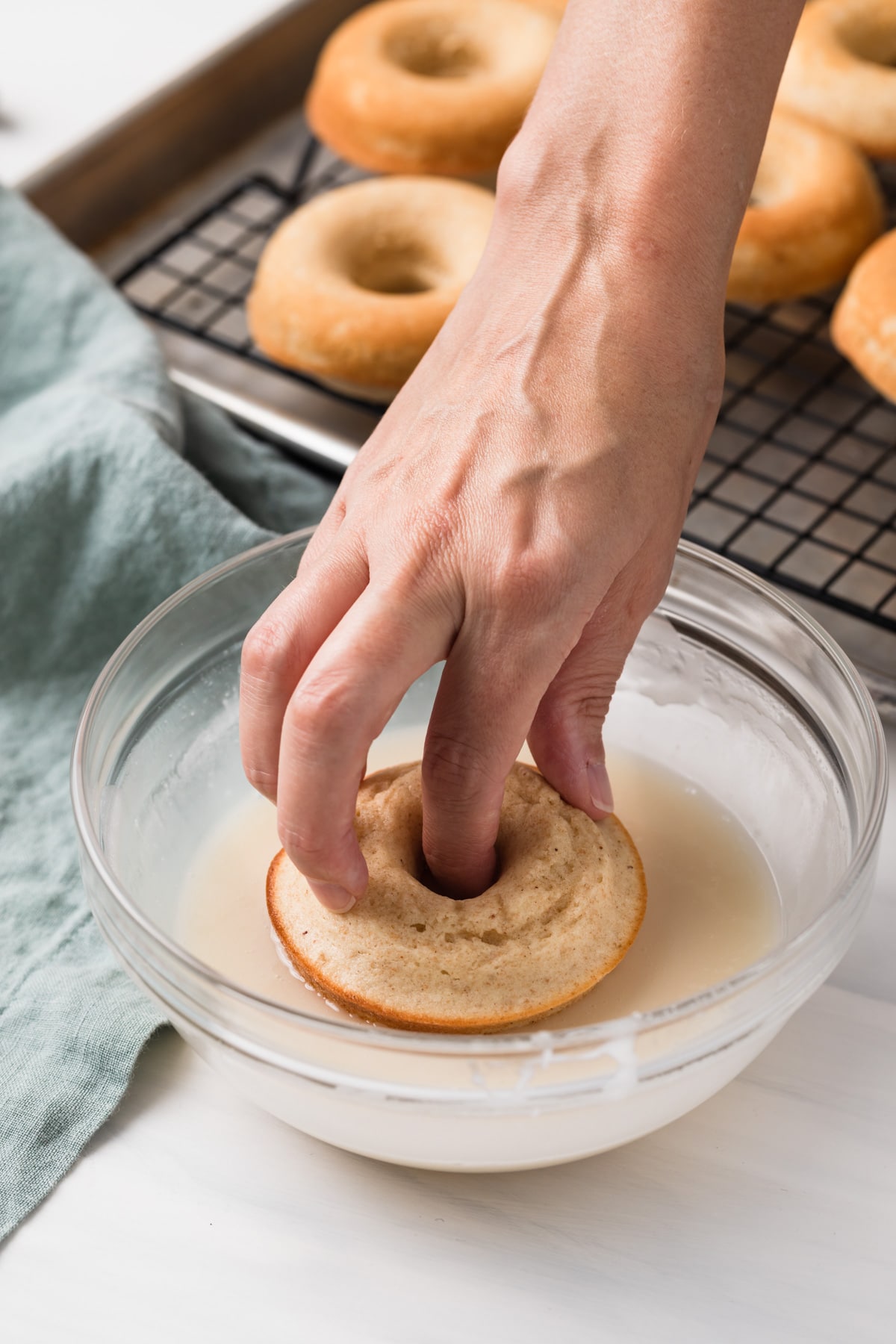 Step 1: Mix the batter
To make the donut batter, start by mixing the melted butter, oil, and sugar together in a large mixing bowl. You don't need a mixer for this. Just use a large whisk and mix until combined.
Whisk in the eggs and vanilla until they are well incorporated.
In a separate bowl, whisk the all-purpose flour, whole wheat flour, baking powder, baking soda, salt, and nutmeg together until very well combined.
Whisk half the flour mixture into the butter mixture just until almost fully incorporated. Add the buttermilk and remaining flour mixture then mix just until no dry streaks of dry flour are visible.
ⓘ Don't overmix the batter! It's okay if it's not perfectly smooth. Overmixing will cause the donuts to be tough.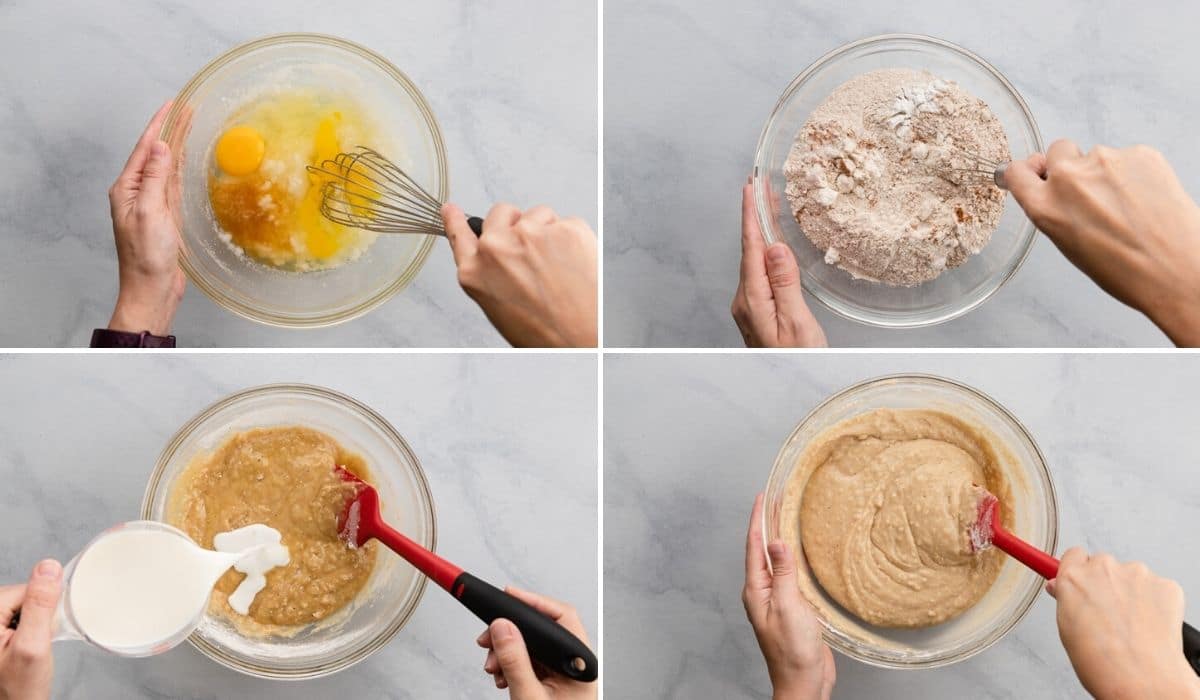 Step 2: Bake
Using a disposable piping bag, pipe the batter into greased donut pans. Fill each cavity about ⅔ to ¾ full.
Bake for 7 to 9 minutes or just until the donuts spring back when pressed lightly with your fingertip. Take care not to overbake or the donuts will be dry.
Transfer the donuts to a wire rack and immediately make the glaze.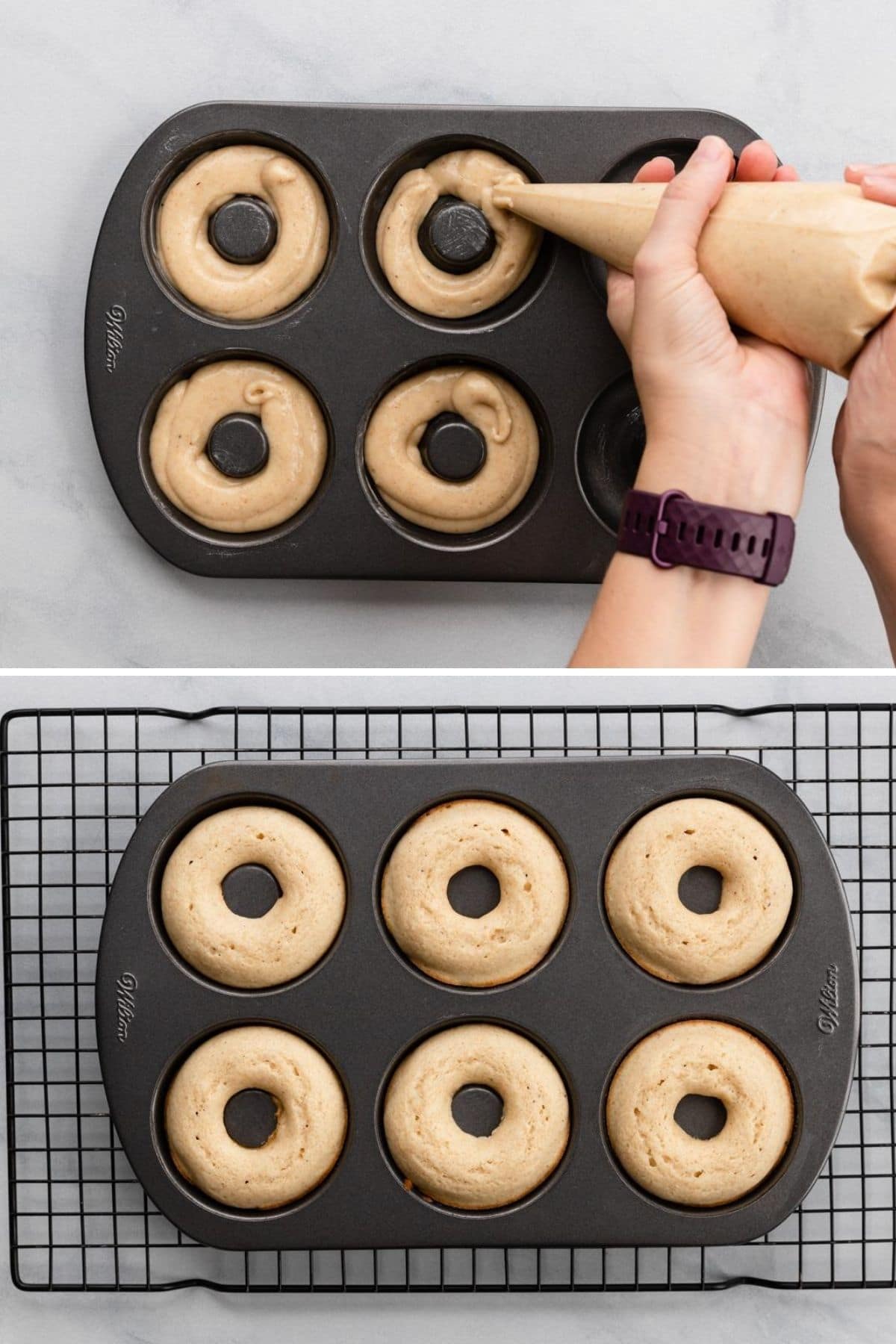 Step 3: Make the glaze
Combine powdered sugar, vanilla, and milk in a small bowl. Working with the warm donuts, dip the tops of each one into the glaze and return them to the wire rack.
You can enjoy the donuts while they are warm, or allow them to cool completely first. Once cooled, the glaze will set.
If you like this baked donut recipe, you'll love these other donut recipes:
Did you try this recipe? I would love for you to leave me a 5-star rating or comment. This way, I have a better understanding of which recipes you like and can create more of them.
Please take a moment to follow me on Instagram, Pinterest, Facebook, Youtube or sign up for my free newsletter to never miss the newest recipes and blog updates.
You can also shop my favorite baking tools. Thank you so much for your support!
Originally published August 2016. Post updated August 2020 with new photos, a video, and more details in the copy. No change to the recipe other than a bit more vanilla and nutmeg added.