The Ultimate Muffin Guide
This post may contain affiliate links. Read the full disclosure here.
This Ultimate Muffin Guide is the only resource you will need for making perfect muffins! I am talking about all the muffin flavors from sweet to savory, buttery, gluten-free, and beyond!
The Ultimate Muffin Guide
You will find recipes for not only breakfast muffins, but savory muffins, healthy, muffins, gluten-free muffins, and even fun creative ways to jazz up muffins.
I am all for muffins for breakfast. I love all muffins from fruity-filled to chocolate to healthier versions.
I hope that these muffins recipes will give you the inspiration you need to get creative when it comes to making homemade muffins on your own. Now you can skip the bakery and enjoy muffins fresh from your oven!
What are your biggest challenges when it comes to making muffins?
For me, it's getting that super tender texture that bakes up tall and fluffy. You know, just like the muffins you find in a high-end bakery. It's not always as simple as mixing ingredients together.
So I compiled an all-inclusive list to help guide you on your muffin baking journey. Try the recipes below and save your favorite ones to have on hand anytime you have a specific muffin craving.
Everything you need to know about making muffins at home is right here in one place – The Ultimate Muffin Guide!
Muffins are often the go-to breakfast options when you're busy. They take little time to prepare and bake up in just 25 minutes or less. But there are so many different ways you can flavor a muffin. And there are a couple of different techniques for making muffin batter.
There's a bread-like muffin batter that is made using the muffin method. This method calls for mixing all the wet ingredients in one bowl and all the dry ingredients in another before combining the two.
It's important not to overmix the batter because this will yield a tough muffin. When it comes to mixing muffin batter, a few lumps of dry flour are perfectly okay.
Then there's the cake-like muffin batter which is prepared the same way as making a cake. This is actually my personal favorite because the technique yields a soft cake-like crumb.
Below is the ultimate muffin guide filled with recipes for you to experiment with to see what you like best.
Muffins made using the "muffin method":
These muffins all use the muffin method for a bread-like muffin batter. This batter is assembled and baked in about 25 minutes. You need only two bowls to make them and remember not to overmix the batter.
Muffins made using the "creaming method":
These muffins all use the cake method for a cake-like muffin batter. The butter and sugar are creamed together. The eggs are mixed in and then the wet and dry ingredients are added alternately.
Basic Muffins by My Baking Recipes
Apple Streusel Muffins by Baked by an Introvert
Chocolate Muffins by Road to Pastry
Basic breakfast muffin recipes:
These are the most common breakfast muffins you can find in a bakery.
Whole wheat muffin recipes:
Whole Wheat is a healthy ingredient that a lot of people embrace during the early part of the year. I love the rich flavor if offers to muffins and the ultra-dense texture. It helps keep you full longer. I primarily use Bob's Red Mill Organic Whole Wheat Flour.
Whole Wheat Banana Muffins by Baked by an Introvert
Whole Wheat Muffin Recipe by NYTimes
Quick and Tender Whole Wheat Muffins by the Kitchn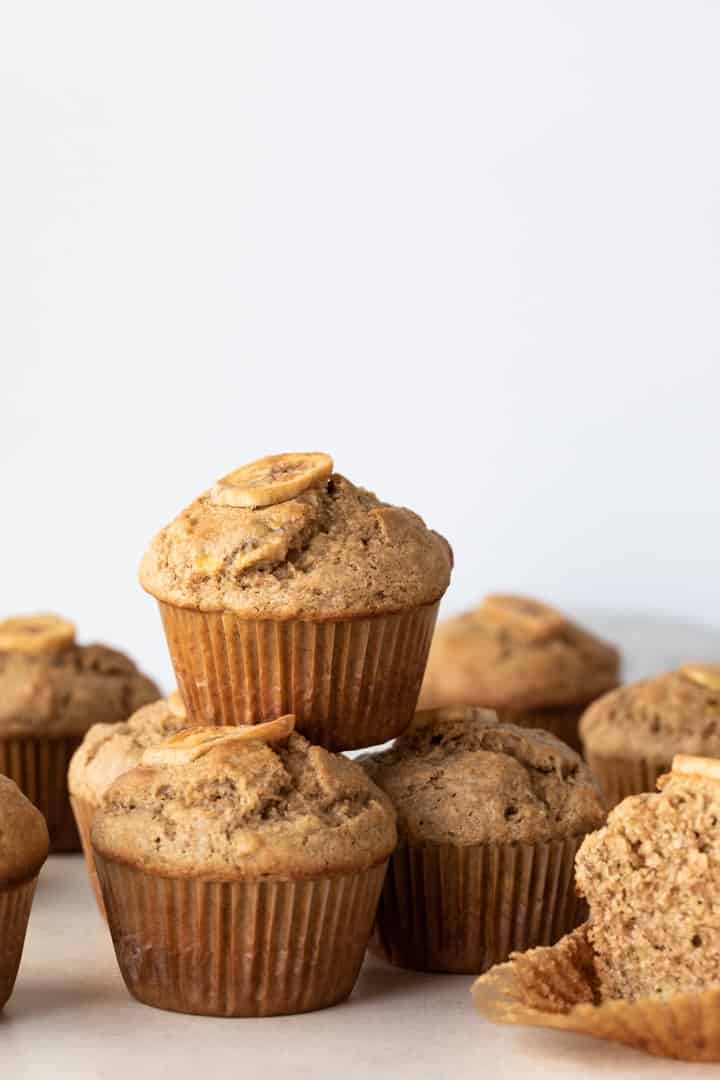 Other muffin recipes:
These are some other fun ideas for muffins.
Chocolate Raspberry Muffins by Baked by an Introvert
Chocolate Matcha Muffins by Simply Taralynn
Eggnog Banana Bread Muffins by Climbing Grier Mountain
Gluten-free muffin recipes:
Sometimes you want to enjoy a sweet bakery-style muffin but you can't due to a gluten intolerance. Here's are some really amazing muffin recipes that were made with you in mind. My favorite gluten-free flour is Bob's Red Mill Gluten Free 1 to 1 Baking Flour.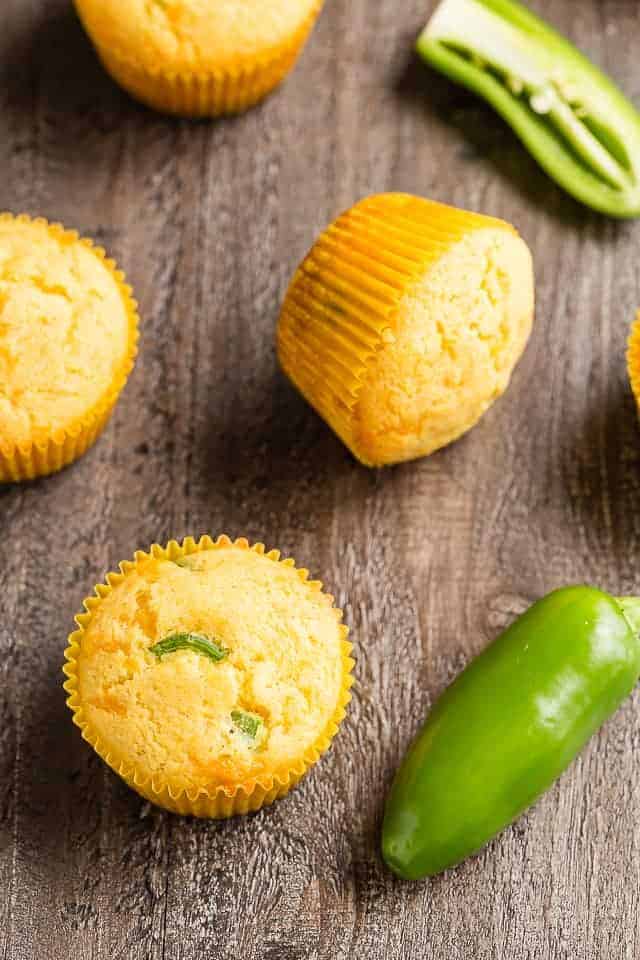 Savory muffin recipes:
Delicious muffins that are more on the savory side. With eggs, cheese, bacon, anything to suit your salty cravings. These muffins make wonderful additions to any meal or just as is for breakfast!
Streusel-topped muffin recipes:
Who loves a crunchy streusel topping? I know I sure do. These muffins combine an incredible texture contrast with a tender muffin and crunchy topping.
Pumpkin Muffins by Baked by an Introvert
Cranberry Orange Streusel Muffins by Bunsen Burner Bakery
Pumpkin Cream Cheese Muffins by Two Peas and their Pod
Butterscotch Muffins by Melanie Makes
Gluten-free Cinnamon Hazelnut Chocolate Chunk Muffins by Snixy Kitchen
Gluten Free Cinnamon Streusel Muffins by A Mind "Full" Mom
Blueberry Streusel Muffins by Kleinworth & Co.
Banana Chocolate Chip Streusel Muffins by Averie Cooks
Carrot Cake Muffins by Tutti Dolci
Fruity muffin recipes:
If you love fruit as much as I do, you'll love these fruit-filled muffins. Each one is bursting with the bright flavors of citrus, berries, apples, and so much more.
Blueberry Muffins by Baked by an Introvert
Cream Cheese Cranberry Muffins by Gather for Bread
Raspberry Peach Muffins by Baker by Nature
Strawberry Banana Muffins by Bakerita
Lemon Raspberry Muffins by Lemons for Lulu
Gingerbread Apple Muffins by Well Plated
Toasted Coconut Paleo Banana Bread Muffins by Cotter Crunch
Small-batch Orange Muffins by Baking Mischief
Oat muffin recipes:
If you're looking for a healthier muffin option, these oat muffins are the way to go. Muffins loaded with oats are nutritious and keep you feeling satisfied longer. My favorite oats to use in oat muffins is Bob's Red Mill Old Fashioned Oats.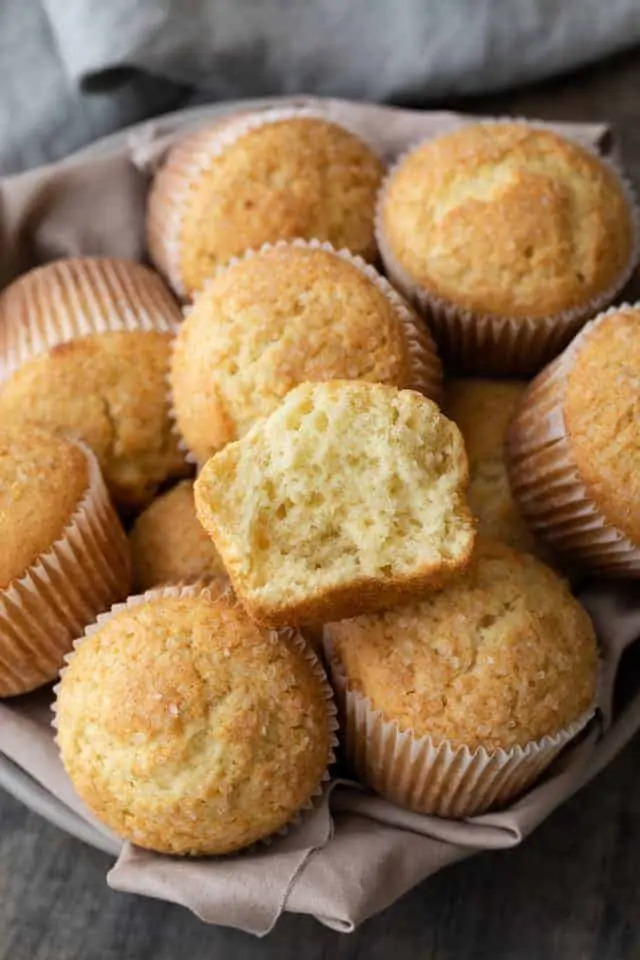 Cornmeal muffin recipes:
The crunch of cornmeal is a nice contrast to the delicious bits of fruit inside each of these muffins. Cornmeal muffins can be made sweet or savory. Try them all and tell me which one you like best. My favorite brand of cornmeal to use is Bob's Red Mill.
Cheddar Jalapeno Cornbread Muffins by Baked by an Introvert
Blueberry Cornmeal Muffins by 365 Days of Baking
Blueberry Basil Cornmeal Muffins by Recipe Runner
Persimmon Cornmeal Muffins by Gather and Dine
Blackberry Cornmeal Muffins by Minimalist Baker
Honey Cornbread Muffins by Jessica Gavin
As you can see the list of recipes in the ultimate muffin guide can go on and on. What are some of your favorite ways to enjoy homemade muffins? Do you have a tried and true basic recipe? And which technique do you prefer to use when you make muffins at home?