This post may contain affiliate links. Read the full disclosure here.
These Cheddar Jalapeño Cornbread Muffins are tender, moist, and dotted with fresh jalapeños and cheddar cheese. This recipe is so delicious!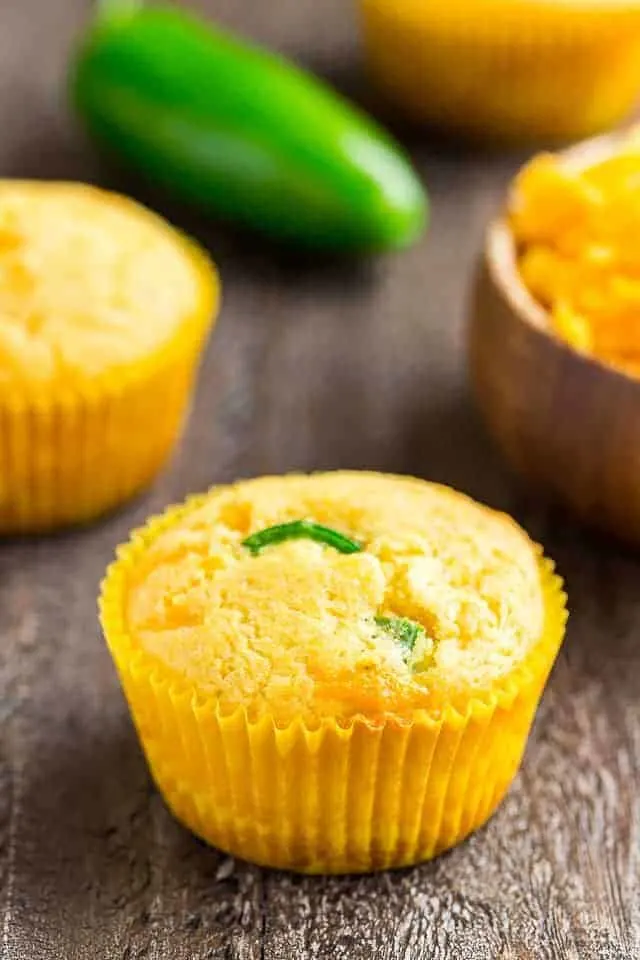 It seems that I bake more sweet than savory things. It just goes to show that I have a love for sweets. But hubs gets so tired of having sweets around the house and often asks me to bake something savory.
I'm not really that great when it comes to being creative with savory recipes. It's hard for me and I don't understand it.
But I tried…
And came up with something so simple and easy; Cheddar Jalapeño Cornbread Muffins!
Very creative, huh?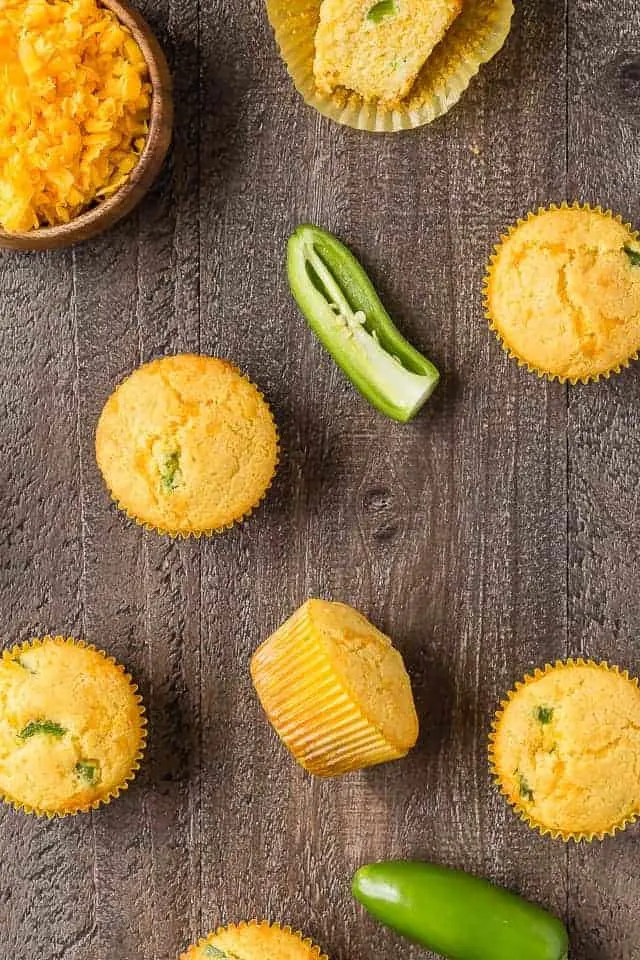 I loved this cheddar jalapeno buttermilk bread and southern cornbread, so I decided to turn those flavors into a muffin. It may not be very creative but they're darn delicious.
The muffins are made like your ordinary muffin. Mix the wet ingredients separate from the dry ingredients and then mix it all together. Don't over mix once you combine them. Just fold the batter together until the dry ingredients become moist.
The dry ingredients are no more than cornmeal, flour, sugar, leavening, and salt. Super duper simple.
For the wet ingredients, you need buttermilk, butter, eggs, and oil. All of these ingredients will make the muffins extremely moist. You won't need a huge glass of milk in order to swallow a bite from these guys.
I can't stand dry cornbread!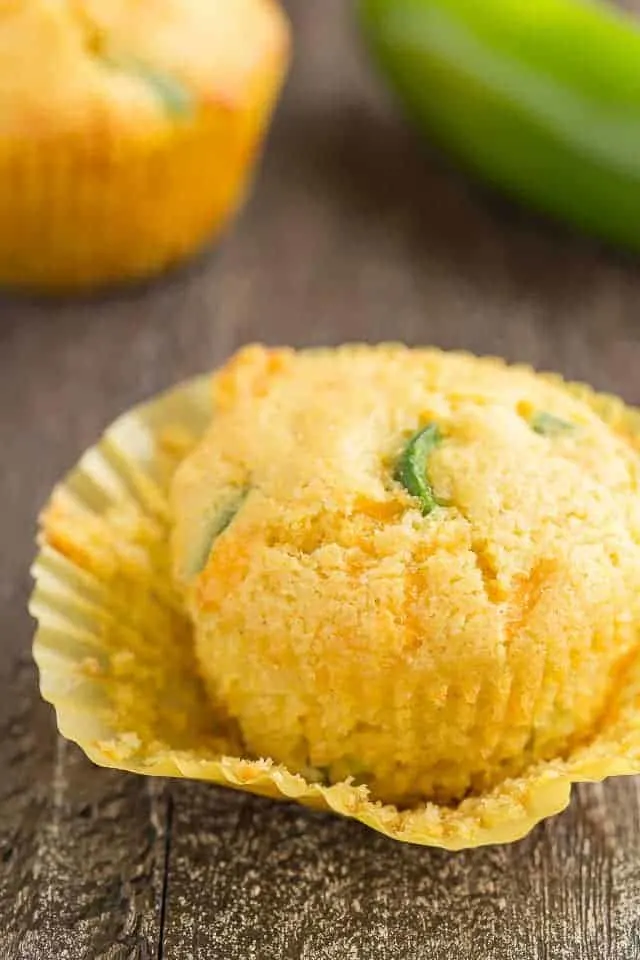 The final touch for these moist and tender muffins is, of course, the addition of freshly chopped jalapeños and shredded cheddar cheese. Gently fold these in after the dry ingredients are moistened.
Fill your muffin pan with the batter and bake for 5 minutes 425ºF. Then turn the heat down to 350ºF and bake for an additional 15 minutes. Watch the muffins closely and remove them as soon as they are done. Over baking will dry them out.
Take them out of the pan immediately once they are done. The bottoms will become soggy from condensation, otherwise. Let them cool for just a few minutes before serving.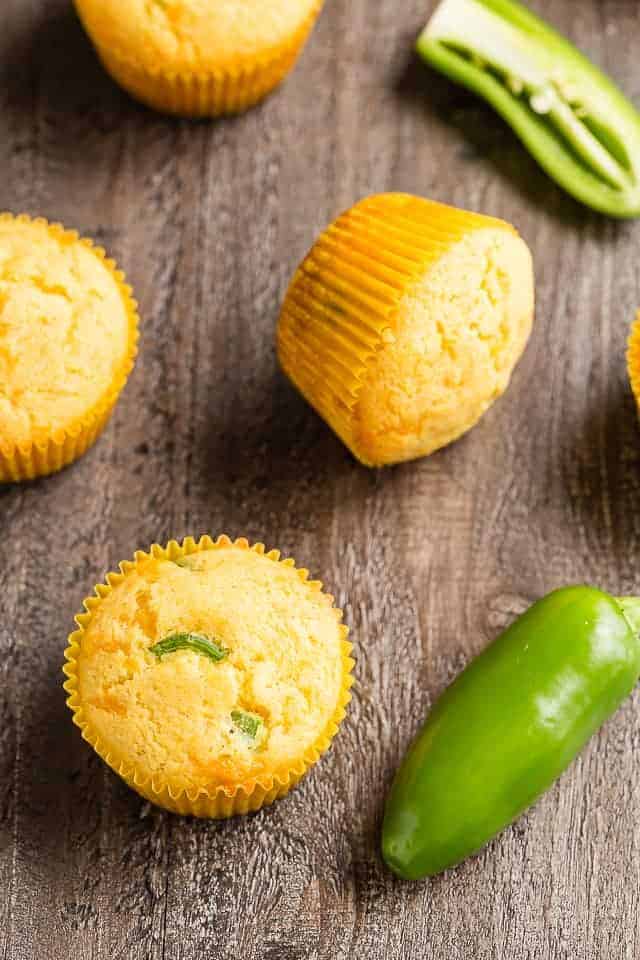 Enjoy these cheddar jalapeño cornbread muffins alone or on the side of your favorite dish. Chili maybe?
Did you try this recipe? I would love for you to leave me a 5-star rating or comment. This way, I have a better understanding of which recipes you like and can create more of them.
Please take a moment to follow me on Instagram, Pinterest, Facebook, Youtube or sign up for my free newsletter to never miss the newest recipes and blog updates.
You can also shop my favorite baking tools. Thank you so much for your support!