Chocolate Peanut Butter Oatmeal Balls with Coconut
This post may contain affiliate links. Read the full disclosure here.
These no-bake chocolate peanut butter oatmeal balls coated in coconut are made with only 5 ingredients. Enjoy this lighter alternative to sugar-laden sweets!
I know we've all sworn off sugar and are working hard at the gym to get our pre-holiday bodies back. But, this doesn't mean you have to give up all the sweets!
There are plenty of ways to curb that sweet tooth without overloading with sugar. Take these chocolate peanut butter oatmeal balls with coconut for example. There's NO ADDED SUGAR!
And they're amazingly delicious. Absolutely incredible!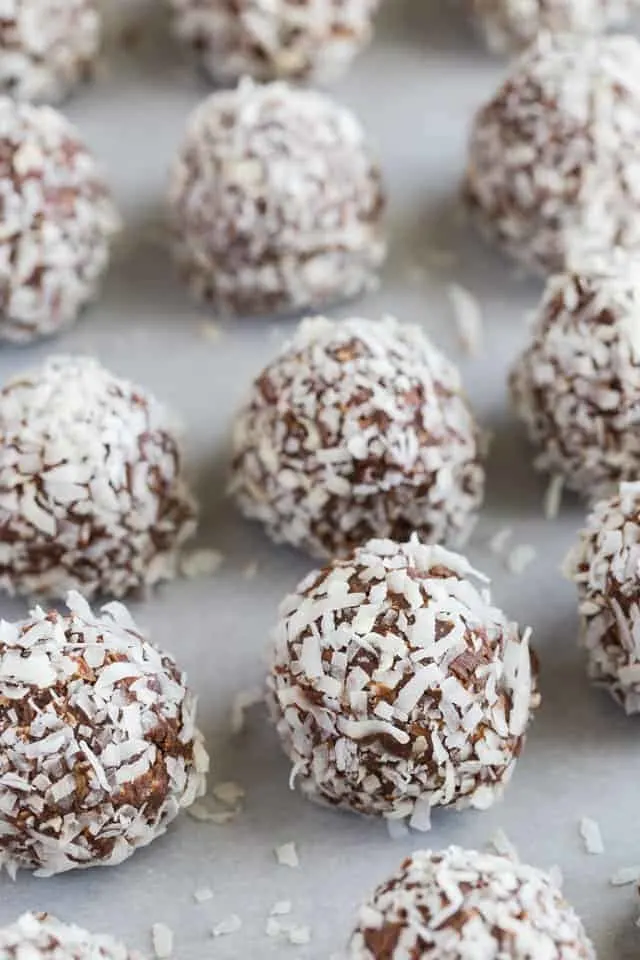 Trust me when I say these no-bake chocolate oatmeal balls come together in a snap. There's just a couple of steps and a little bit of downtime while you wait for the chocolate ganache to thicken.
But beyond that, there's really nothing to whipping up a batch of these to curb those sugar cravings.
The process is much like my vegan chocolate truffles.
Make a chocolate ganache and let it cool until it's thickened.
Then stir in peanut butter and oats.
Roll into balls.
Then coat the balls with toasted coconut.
I love how soft the texture is. Each ball is easy to bite into. They melt in your mouth yet have texture from the oats and coconut.
It's an absolute win when it comes to no-bake peanut butter oatmeal balls.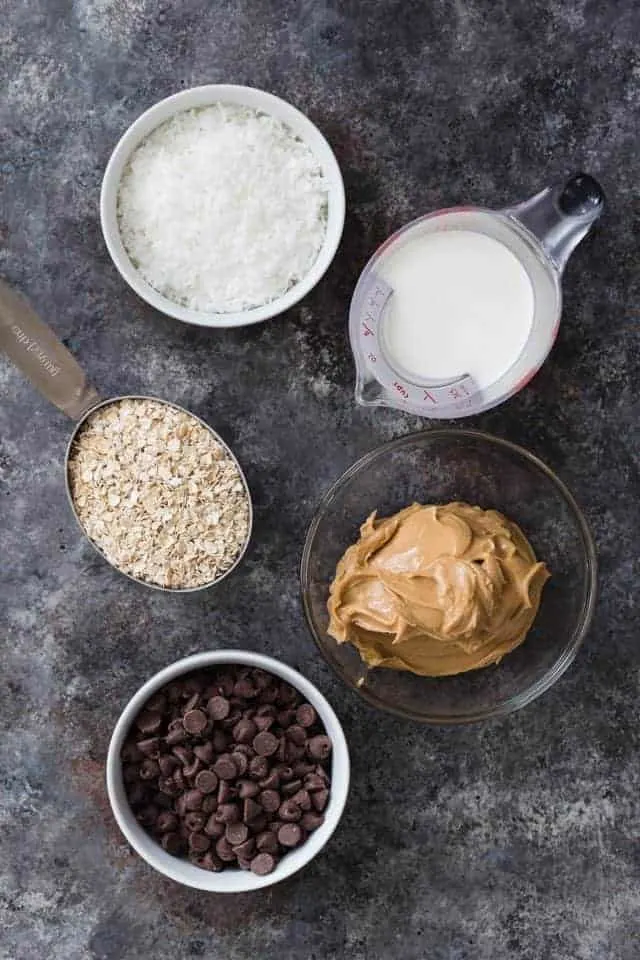 You need just 5 ingredients to make chocolate peanut butter oatmeal balls with coconut
semisweet chocolate chips
half and half
creamy peanut butter
quick-cooking oats
shredded sweetened coconut
You can stir the peanut butter and oats into the hot ganache and then let it chill or you can let the ganache firm up before you stir in the oats and peanut butter. It doesn't matter either way.
While the mixture is hanging out in the refrigerator, toast the coconut and let it cool completely.
Once the mixture for the base of the balls is firm enough to roll, scoop it out into 1 and ½ tablespoon-sized portions.
Drop each portion in a bowl with toasted coconut and roll it around until evenly coated.
The chocolate peanut butter oatmeal balls need to be refrigerated once again before they are firm enough to eat without making a mess. If you don't mind coconut crumbling everywhere, you can go ahead and enjoy them right away!
That's pretty much all there is to it. The rich taste and texture contrast is what I love most about these no-bake chocolate peanut butter oatmeal balls. This is my foolproof, go-to treat when I'm craving something sweet but don't want a ton of added sugar.
Did you try this recipe? I would love for you to leave me a 5-star rating or comment. This way, I have a better understanding of which recipes you like and can create more of them.
Please take a moment to follow me on Instagram, Pinterest, Facebook, Youtube or sign up for my free newsletter to never miss the newest recipes and blog updates.
You can also shop my favorite baking tools. Thank you so much for your support!