The Best Hawaiian Sweet Rolls
This post may contain affiliate links. Read the full disclosure here.
Hawaiian sweet rolls are some of my family's favorite. They are great for sandwiches, as a side with dinner, or alone with honey butter.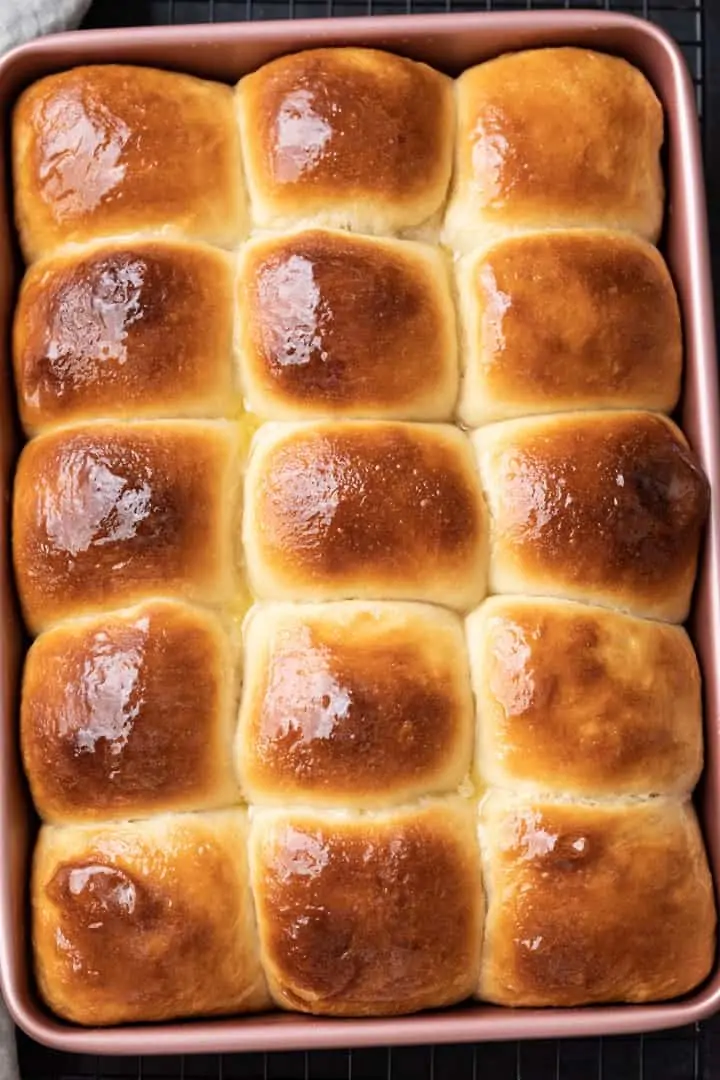 Hawaiian sweet rolls are my favorite dinner rolls. If we're having bread with dinner, it's going to be these rolls. They are made similar to my easy homemade dinner roll recipe but they're a lot sweeter.
I got hooked on this sweetly fragrant bread thanks to King's Hawaiian. That brand is an evil genius.
Because I love the bread so much, I just could not resist making some from scratch. And then I couldn't resist slathering them with honey butter.
These rolls really are the best and you are sure to agree!
Why this Hawaiian sweet rolls recipe works
This recipe yields the perfect texture, the right amount of sweetness, and it comes together easily.
Pineapple juice lends that familiar flavor of Hawaiian bread that we all love and gives the bread a subtle sweetness which is then enhanced with a touch of honey.
Honey butter offers extra sweetness that really takes the rolls to a new level.
Hawaiian sweet rolls ingredients
These rolls use very staple ingredients. Either Instant or rapid rise yeast can be used. I don't recommend using regular active dry yeast, though. I've tested it and it just doesn't work well with this recipe.
Pineapple juice: Pineapple juice is what gives the rolls a sweet and slightly tangy flavor.
Buttermilk: Also offers a slight tanginess. Be sure to use whole (full fat) buttermilk.
Butter: Is added to give the dough some richness.
Honey: Use a mild-honey like clover honey.
Flour: All-purpose flour is best for Hawaiian rolls.
Yeast: Use instant or rapid-rise yeast.
Salt: Added to help balance the sweetness.
Egg: Is also added for sweetness.
Vanilla extract: Adds a little extra flavor to the rolls.
---
How to Make the best Hawaiian sweet rolls
This homemade Hawaiian sweet roll is made with basic bread ingredients but there are a few extras to give the bread that distinct flavor of Hawaiian bread. I use half buttermilk and half pineapple juice for moisture and flavor. The two combined have a lovely sweet and tangy profile.
The Dough – The bread needs to rise twice. Each rise is about 1 to 1 and ½ hours. So make sure you plan ahead for this.
The first rise happens once the dough is mixed together and kneaded. The second rise is after you've portioned and shaped the dough into individual rolls.
Step 1: Combine the wet ingredients
Mix the pineapple juice, buttermilk, butter, and honey together in a microwave-safe bowl or large liquid measuring cup. Then microwave the mixture in 30-second intervals until it reaches 110°F.
It may appear curdled at this point. That's perfectly normal so don't fret.
Step 2: Make the dough
A stand mixer will be your best friend with this recipe or any yeast bread recipe. It makes the process so much easier!
Fit the stand mixer with the dough hook. Add the flour, yeast, and salt to the bowl. Mix on low speed for a few seconds to get everything combined.
Leave the mixer on low speed and slowly pour in the warm pineapple juice mixture. Then add the egg and vanilla. Let the mixer run on low for about 2 minutes until dough starts to form a ball.
Increase the speed to medium-low and continue to mix for 7 minutes. The dough will stick to the bottom of the bowl but should pull away from the sides.
It's a soft dough that will be slightly tacky. Avoid adding excess flour.
Step 3: Let the dough rise
Very lightly flour your work surface and turn the dough out. Knead it briefly and shape it into a ball. Place the dough in a bowl that has been lightly greased and cover with plastic wrap.
Set the bowl in a warm place to rise for 1 and ½ hours. I like to have my oven preheating and use the microwave right above it as the warm environment.
If you do not have a microwave above the stove, you can heat your oven on the lowest temperature setting then turn the oven off and set the dough inside with the door slightly cracked open.
Step 4: Shape the dough and rise again
Once the dough has doubled in volume, gently punch it down to release some of the gas. Turn the tough out onto your work surface and divide it into 15 equal-sized pieces.
Shape each piece into a ball by pulling the edges under so the top of the dough is smooth.
Lightly grease a 9×13-inch pan and arrange the dough balls in 5 rows of 3. Cover with plastic wrap and let the dough rise again until doubled in size. This can take up to another 1 and ½ hours.
The rolls should be almost as tall as the top of the pan.
Step 5: Bake
Brush the tops of the rolls with melted honey butter and bake until golden brown. The honey butter will help give the rolls a rich golden color.
Use an instant-read thermometer to check the internal temperature of the rolls. They are done when they reach 190°F.
Brush the tops with more melted honey butter and let the rolls cool for about 10 minutes. Slide the rolls out of the pan onto a cooling rack and let them cool for another 20 minutes.
The rolls are best served warm on the day they are made.
Homemade honey butter
Homemade honey butter complements the sweet bread perfectly and can easily be whipped up in a matter of minutes.
You don't even need a recipe for honey butter. Just take some unsalted butter, let it soften to room temperature, beat it with an electric mixer until is smooth and creamy, and slowly beat in some honey. Use as little or as much honey as you prefer.
You can store any leftover honey butter in the refrigerator and use it on toast or English muffins for breakfast!
More delicious yeast bread and rolls to try:
Did you try this recipe? I would love for you to leave me a 5-star rating or comment. This way, I have a better understanding of which recipes you like and can create more of them.
Please take a moment to follow me on Instagram, Pinterest, Facebook, Youtube or sign up for my free newsletter to never miss the newest recipes and blog updates.
You can also shop my favorite baking tools. Thank you so much for your support!
Recipe adapted from Cooks Country.