This post may contain affiliate links. Read the full disclosure here.
These creamy peanut butter balls coated in chocolate are the ultimate holiday candy. They are quick and easy to make, taste delicious, and are everyone's favorite no-bake treat.
Here it is – the candy recipe that you have all been waiting for. I love a good cookie exchange box. Fill it with holiday favorites like thumbprint cookies, peppermint meringue cookies, chewy gingersnaps, and iced sugar cookies.
But let's face it, the two items that always disappear first are peanut butter blossoms and these peanut butter balls. And is it any wonder why? Peanut butter and chocolate are a long-time favorite flavor combination.
In this recipe for peanut butter balls, the creamy peanut butter filling is rolled, chilled, and then dipped in a milk chocolate or dark chocolate coating. The resulting bite-size candy is entirely delicious.
Even though these candies are made from a few simple ingredients and are easy to make, there are a few tricks you can use to ensure success.
Natural peanut butter, while delicious, can be a little too oily for this recipe. The oils can make the filling too soft to hold together. So, go for a sugar-free peanut butter, but a non-natural one… and make sure it is salted, for better flavor.
Confectioners', or powdered sugar, is what you need for this recipe. Regular granulated sugar will give a gritty taste to the filling.
Also, the confectioners' sugar makes the filling creamy and thickens it up. If after you have mixed the ingredients together, the filling still feels too soft or sticky, just add a little more powdered sugar to thicken it up.
The best part about these candies is that they can be stored in the freezer for up to two months. So get a head start on your holiday cookie boxes now, before your to-do list gets too complicated!
Give these no bake peanut butter balls a try – they'll disappear as quickly in your house as they will in mine. These will thrill the Reeses fan in your house. Or really anyone.
---
Recipe Snapshot
TASTE: Peanut butter and chocolate – the perfect flavor combination
TEXTURE: Creamy and delicious.
EASE: Super easy
TIME: A little over an hour, including chilling time.
---
What You'll Need
Ingredients
Sugar-free creamy peanut butter – Add the sugar, but make sure the peanut butter is salted.
Butter – Sweet cream unsalted butter, softened
Vanilla extract – make your own vanilla extract or use the highest quality you can find.
Confectioners' sugar – This will all have creamy sweetness with no texture.
Chocolate melting wafers – For the coating.
Recommended Tools
Parchment paper will help you from making a mess after you have rolled the balls in the chocolate.
How to Make Peanut Butter Balls
This peanut butter balls recipe requires a little chilling time, but otherwise it is quick and easy to make.
Cream butter and peanut butter. In a large bowl, beat the peanut butter and butter with an electric mixer until smooth and creamy.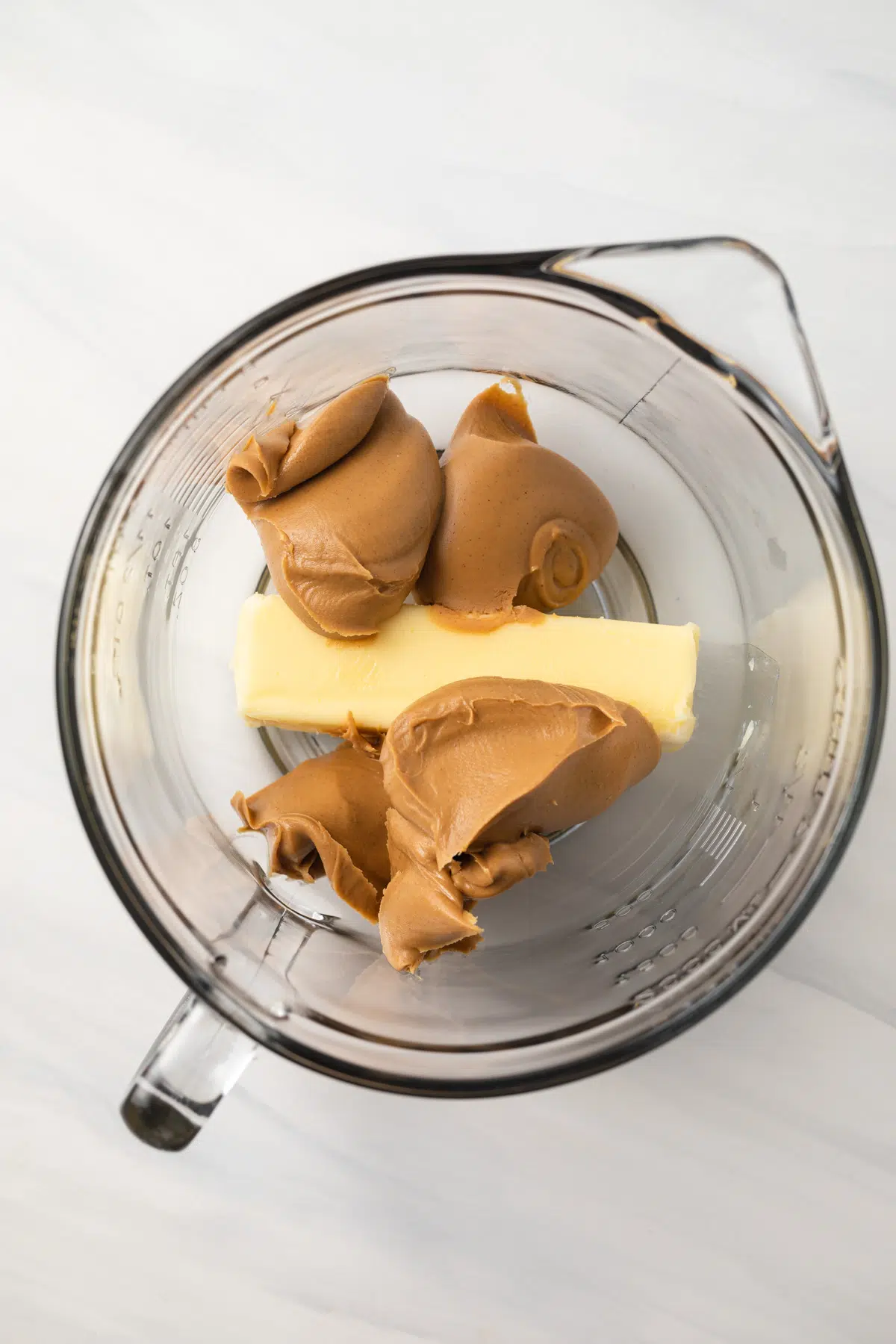 Mix in powdered sugar. Add vanilla and powdered sugar and mix until combined. the dough will look thick like cookie dough but shouldn't be sticky.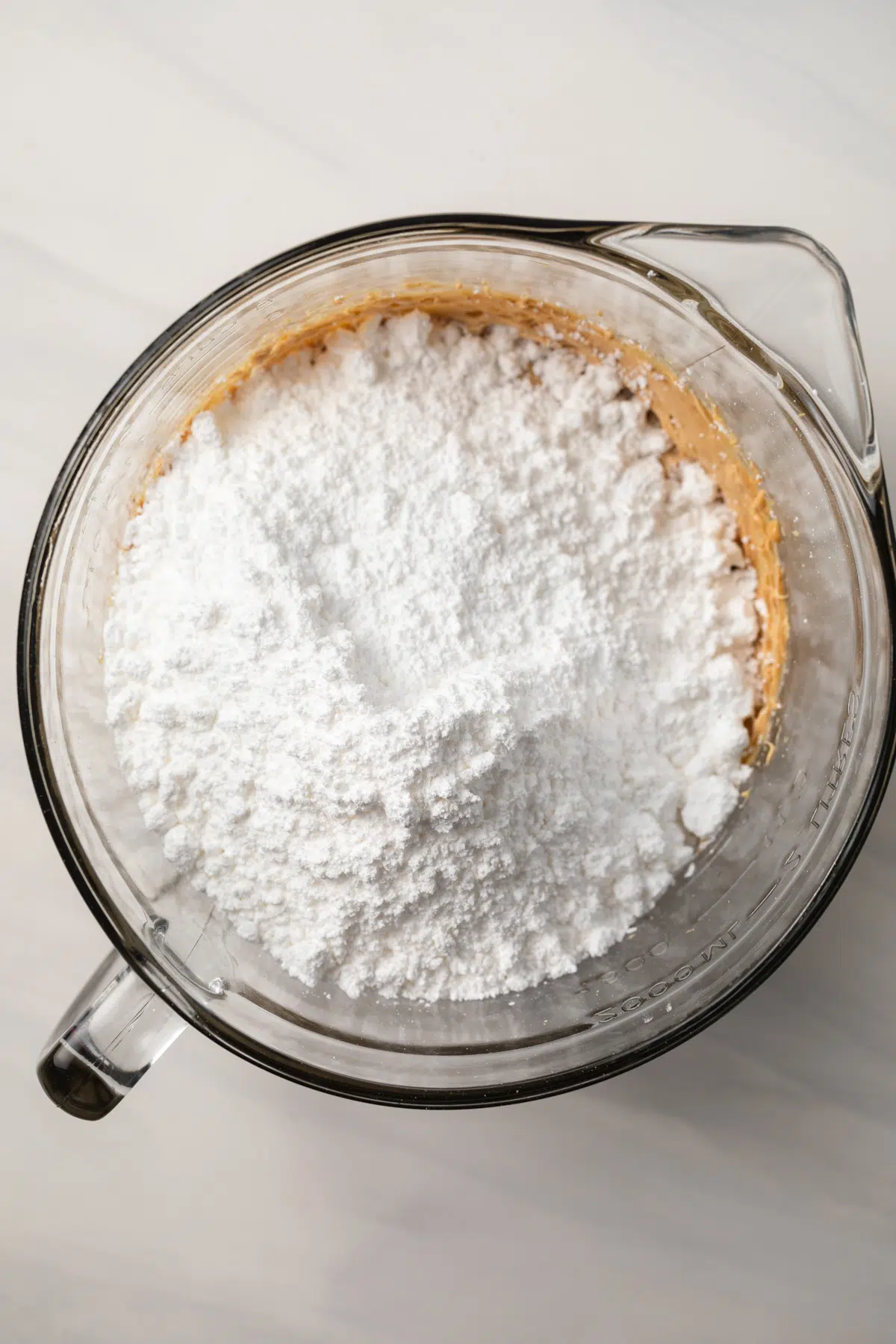 Roll the dough. Roll the dough into 1.5 tablespoon-sized balls – you can scoop them out with a small cookie scoop. Place on a parchment-lined baking sheet and freeze for 30 minutes.
Dip the peanut butter balls. Dip each ball into melted chocolate and return to the baking sheet. Refrigerate for 30 minutes until hardened.
Handy tip: Use a scale
If at all possible, weigh the ingredients. It's important to use precise measurements so the consistency of the peanut butter dough comes out properly. If it feels too soft and sticky, add more powdered sugar.
Tips For Success
Peanut butter: For the best results, use a commercial brand of peanut butter that is salted but unsweetened. Natural peanut butter can be too oily resulting peanut butter balls that are too soft to hold shape.
Confectioners' sugar: It's important to use powdered sugar. This thickens the dough so it can be shaped. Other sugars won't work the same way and will leave a gritty mouth feel.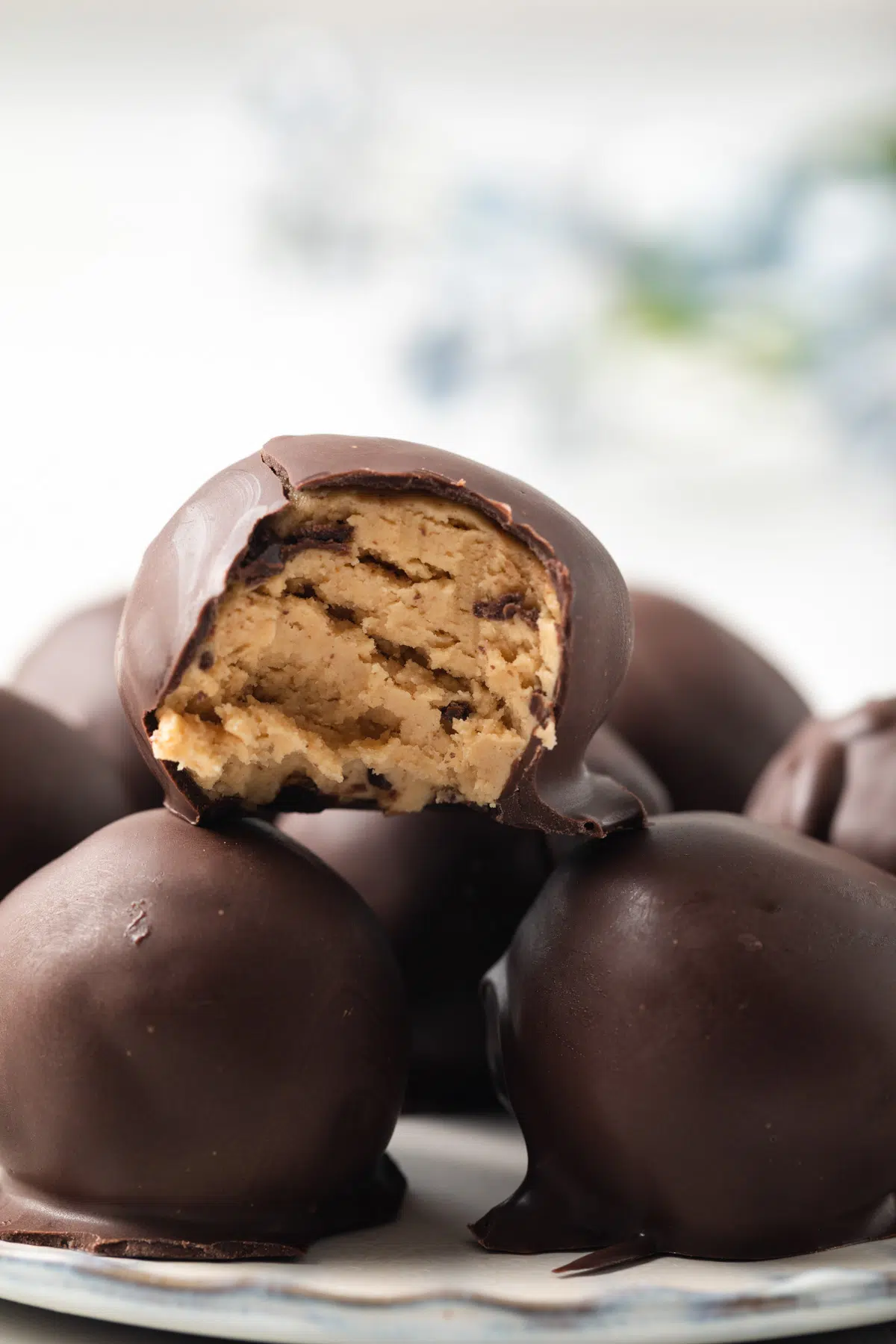 Storage & Freezing
Keep them tightly covered and store in the refrigerator for up to 2 weeks.
They also freeze well for up to 2 months. First, freeze the peanut butter balls on the baking sheet for 1 hour then transfer to a ziptop freezer bag.
With the holidays on the horizon, it's time to think about holiday candies to add to your cookie boxes. Here are some of my favorites.
Did you try this recipe? I would love for you to leave me a 5-star rating or comment. This way, I have a better understanding of which recipes you like and can create more of them.
Please take a moment to follow me on Instagram, Pinterest, Facebook, Youtube or sign up for my free newsletter to never miss the newest recipes and blog updates.
You can also shop my favorite baking tools. Thank you so much for your support!
Printable Recipe