This post may contain affiliate links. Read the full disclosure here.
Soft and Chewy Gingersnap Cookies infused with molasses, cinnamon, and cloves. These will make the perfect edible gift this holiday!
Old-fashioned chewy gingersnap cookies
Gingersnaps are one of my favorite cookies to make around the holidays. Every year I whip up a batch and ship them off to family.
You really can't go wrong with a ginger cookie. Like with these molasses cookies and salted caramel ginger macarons, they're so good!
Growing up I would look forward to my godmother's old-fashioned gingersnap cookies. They were the absolute best!
She would bake them every year for the holidays.
Sometimes she'd wait for me to visit and we'd make them together. I always enjoyed spending time in the kitchen with her.
I've made her recipe countless times over the years and it never fails to bring back sweet childhood memories.
The soft chewy texture is exactly what I love most when it comes to cookies and these chewy gingersnaps are exactly that.
They are flavored with molasses, cinnamon, ginger, cloves, and brown sugar. The spices are perfectly balanced.
Chewy ginger cookies
There are a couple of factors that aid the chewy texture of today's cookies.
A combination of white and brown sugar is used and we all know brown sugar is amazing for creating a chewy texture.
It also adds more molasses flavor which is a bonus. The white sugar isn't moist like brown sugar so adding some of that helps create a crispness on the outside of the cookie.
Molasses is also a culprit in the chewy factor. I used ¼ of a cup which is just enough liquid to make the cookies spread a bit.
Shortening! My beloved shortening. I am known for adding shortening to my cookie recipes to help keep them soft. I've used it in classic snickerdoodle cookies and the results were phenomenal.
However, it works a bit differently in today's cookies. Yes, they are still soft in the center but the shortening works with molasses to create chewiness.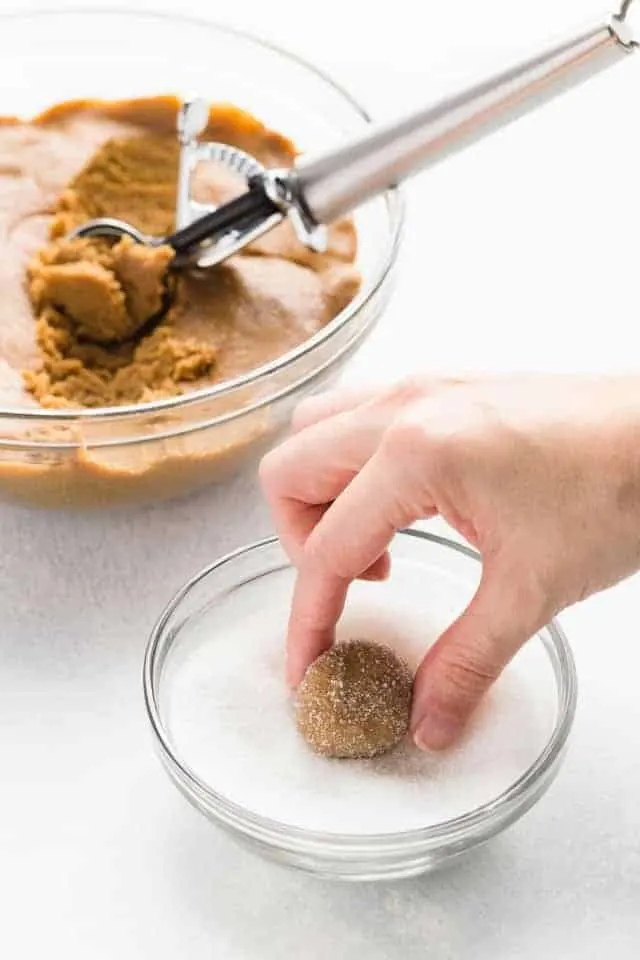 I roll my gingersnaps in granulated sugar before baking. This will add to the crispiness of the exterior but does nothing for the soft, chewy center.
I'm all for contrasting textures but you can skip the sugar rolling if you want. Or you can roll them in coarse sugar for more of a crunch!
The great thing about these cookies is they retain their chewy texture for several days so they perfect for giving away as holiday gifts.
The outer appearance of today's chewy gingersnap cookies reminds me a lot of crackle cookies.
The cracking happens during baking. The cookies will puff up then begin to spread which results in a crackly top.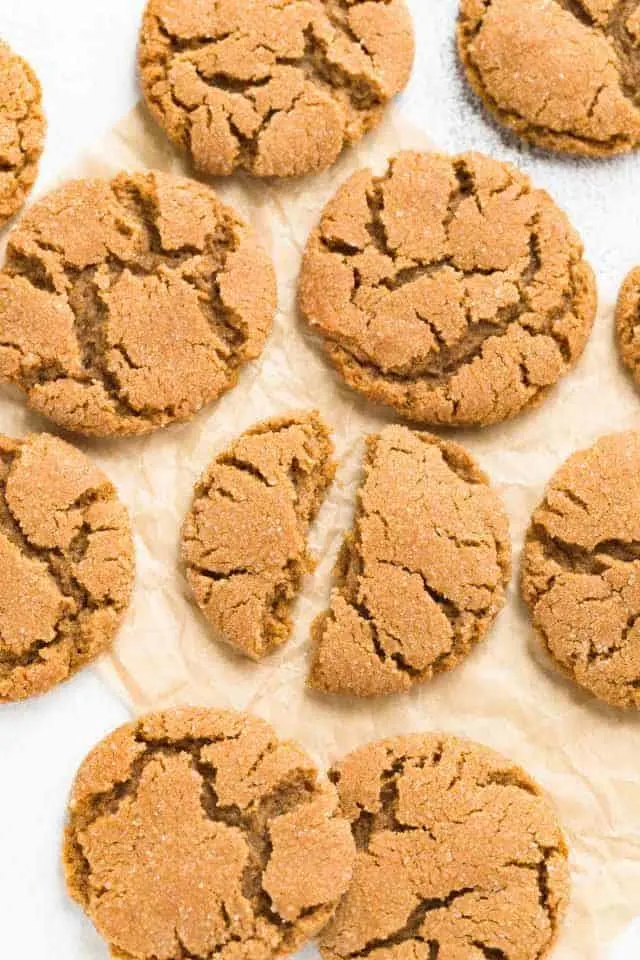 I'll never stop making these chewy gingersnap cookies loaded with ginger, cinnamon, and molasses. They'll remain close to my heart.
More holiday cookie recipes you'll love
Did you try this recipe? I would love for you to leave me a 5-star rating or comment. This way, I have a better understanding of which recipes you like and can create more of them.
Please take a moment to follow me on Instagram, Pinterest, Facebook, Youtube or sign up for my free newsletter to never miss the newest recipes and blog updates.
You can also shop my favorite baking tools. Thank you so much for your support!