Homemade Millionaire's Shortbread
This post may contain affiliate links. Read the full disclosure here.
This millionaire's shortbread recipe makes a rich bar cookie with gooey caramel nestled over a buttery shortbread crust and topped with rich chocolate ganache. Whether you are a millionaire or just like to eat like one, you'll adore these cookies.
If you have been a follower for any length of time, you know I love a good dessert platter. When choosing a single dessert is just too difficult, a plate of assorted bite-sized treats is the perfect solution. And nothing adds a touch of elegance to a dessert platter like this Millionaire Shortbread recipe!
A perfectly balanced cookie or dessert platter would include the following for me: lemon bars for their citrusy kick, double chocolate brownies, just because, strawberry cupcakes, maybe mini if you prefer, chocolate espresso spoons , slices of pound cake, chocolate dipped strawberries, and this millionaire shortbread.
This recipe for millionaire shortbread bars gets its name, not surprisingly, from the richness of the cookie. They are like a Twix bar in cookie bar form. A crisp layer of buttery shortbread is topped with a layer of gooey caramel and finished off with a rich chocolatey ganache.
Millionaires shortbread takes a little bit of patience when making. It is essentially baked in three steps. The first involves making and cooling the shortbread crust. It's important to make sure the crust is completely cooled before spreading the caramel layer on top so it doesn't melt.
The caramel layer is a creamy dreamy sweet layer. It is made even sweeter with a can of sweetened condensed milk. Make sure you read the label on the can carefully – sweetened condensed milk and evaporated milk are often right on the same shelf in the market, but are very different products.
The trick with making caramel is to watch it carefully when it is boiling. I monitor it with a candy thermometer because I have never been great at eyeing it – but it is possible to just keep an eye on it for when it gets thick and creamy.
The final layer is a thick and rich chocolate ganache layer made with heavy cream and chocolate chips. The end result is every bit as decadent as it sounds. Whether you are a millionaire or want to just eat like one, enjoy these delicious and decadent sweet dessert bars.
---
Recipe Snapshot
TASTE: Like a million bucks (couldn't resist)!
TEXTURE: Creamy caramel over crisp shortbread.
EASE: Requires a little attention but not difficult.
TIME: About an hour plus chilling time.
---
What You'll Need
Ingredients
Butter– Unsalted butter, at room temperature, is used in the shortbread and caramel layers.
Sugar – Granulated sugar adds sweetness to the shortbread layer, and brown sugar adds sweetness and rich flavor to the caramel.
Egg– The shortbread uses one egg yolk to hold everything together.
All-purpose flour – For the crisp shortbread crust.
Salt – Kosher salt is my salt of choice. It's used in the crust and the caramel. Flaky sea salt is sprinkled over the chocolate layer.
Sweetened condensed milk – This makes the best caramel!
Corn syrup – light or dark to add sweetness and texture to the caramel.
Vanilla extract – Make your own using this recipe, or use a high quality natural extract.
Semisweet chocolate chips – For the chocolate layer.
Heavy cream – The heavy cream mixes with the chocolate chips to make the ganache.
Recommended Tools
Candy thermometer
Cake pan
How to Make Millionaire's Shortbread
Millionaire's shortbread requires a few steps, but it's so worth it. Pre-heat oven to 325°F degrees. Line a 9-inch square baking pan with parchment paper, leaving a 2-inch overhang on two sides.
Be sure to check out the full recipe and ingredient list below
Make the Shortbread Layer
Cream the butter and sugar. In a large bowl, beat together the butter and sugar with an electric mixer on medium until fluffy, about 2 minutes. Add the egg yolk and mix until combined.
Add dry ingredients. Add flour and salt, and beat on low speed just until the mixture is evenly combined.
Bake. Transfer the mixture to the prepared pan, and press down firmly into an even layer. Bake until the top is dry and light golden brown, 30 to 35 minutes. Set on a rack to cool.
Make the Caramel Layer
Combine ingredients. Combine the sweetened condensed milk, butter, brown sugar, corn syrup, and salt in a medium saucepan.
Cook. Cook over medium heat, stirring constantly until the butter is melted. Continue to stir until it comes to a boil. Once boiling, reduce the heat to low and simmer while stirring constantly for 10-15 minutes, until the mixture turns a rich caramel color and has thickened. If using a candy thermometer, the temperature should read 225°F.
Pour over crust. Immediately remove from the heat and stir in the vanilla extract. Pour over the shortbread crust and use an offset spatula to spread in an even layer.
Cool. Cool to room temperature for several hours or place in the refrigerator for about 1 hour.
Make the Chocolate Topping
Melt chocolate. Combine the chocolate chips and heavy cream in a microwave-safe bowl. Heat in 30-second intervals, stirring in between until the chocolate is melted and smooth.
Pour over caramel. Pour the chocolate ganache over the caramel and use an offset spatula to smooth it into an even layer. Sprinkle with sea salt if desired.
Chill. Refrigerate until the chocolate is set, about 30 minutes. Lift out of the pan by the parchment overhang and slice into squares.
Handy tip:
Make sure to chill the caramel layer before adding the chocolate or there's a chance they will mix together and you won't have separate layers.
Tips For Success
Candy thermometer: A candy thermometer is helpful for making caramel but it isn't essential.
Caramel: When making the caramel make sure to stir it constantly so it doesn't burn on the bottom.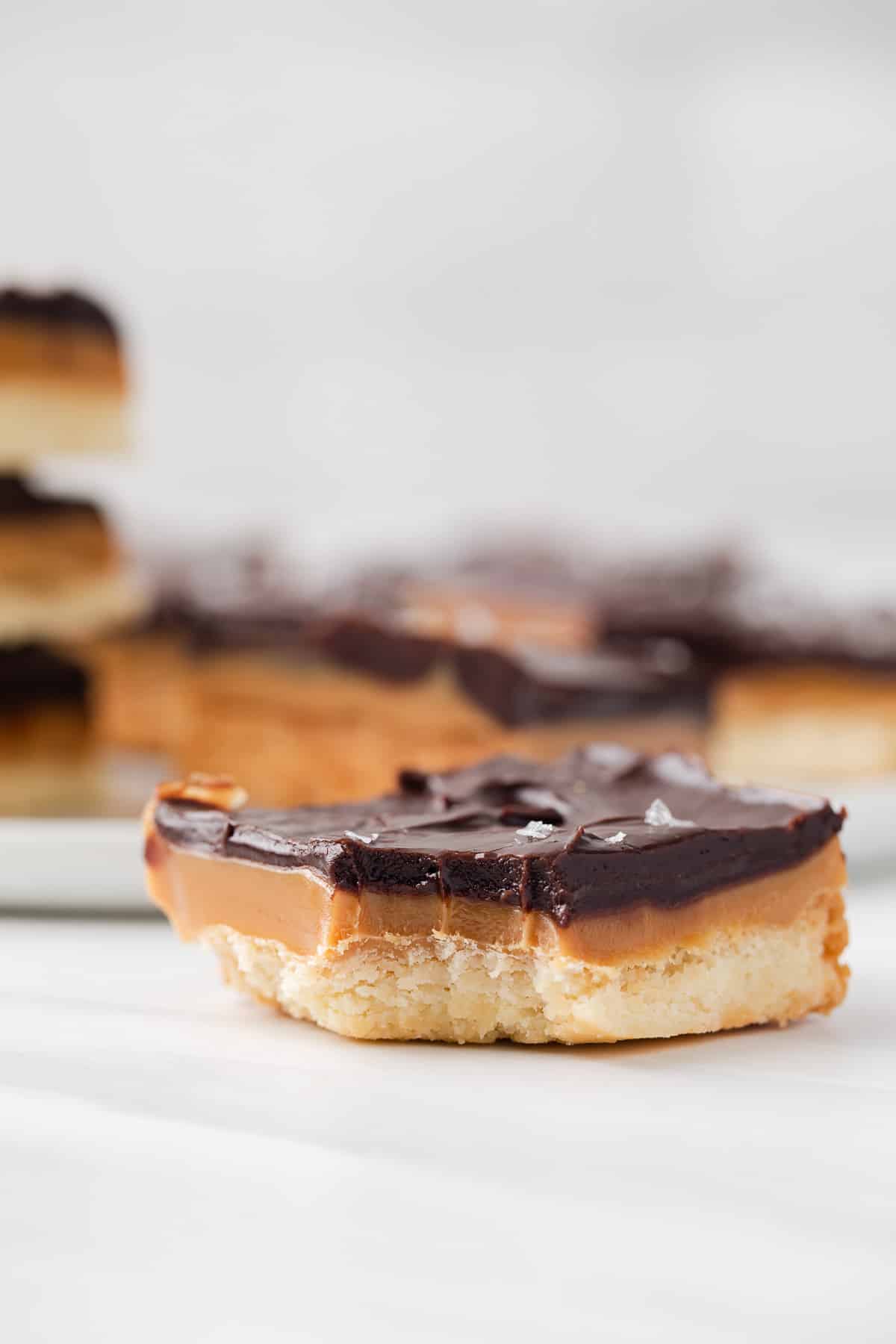 Storage & Freezing
Store the squares in an airtight container at room temperature or in the refrigerator. They'll keep well for up to 5 days.
Brookies, brownies, bars… I love them all. So will you if you try some of these favorite recipes.
Did you try this recipe? I would love for you to leave me a 5-star rating or comment. This way, I have a better understanding of which recipes you like and can create more of them.
Please take a moment to follow me on Instagram, Pinterest, Facebook, Youtube or sign up for my free newsletter to never miss the newest recipes and blog updates.
You can also shop my favorite baking tools. Thank you so much for your support!
Printable Recipe