Chocolate Chip Cookie Dough Truffles
This post may contain affiliate links. Read the full disclosure here.
This simple Chocolate Chip Cookie Dough Truffles recipe allows you to enjoy raw cookie dough without the worry of getting sick. Everyone loves to enjoy raw cookie dough, so why not enjoy it safely!
Chocolate Chip Cookie Dough Truffles
These no-bake cookie dough truffles are such a great snack. They make a great snack anytime you are craving something sweet.
The best thing about edible cookie dough is you don't have to be afraid of consuming raw dough. Raw cookie dough has the potential to make you sick. Raw eggs can carry salmonella poisoning and raw flour can carry E. coli.
You don't have to fear any of that with these no-bake cookie dough truffles. I used my edible cookie dough recipe to make these truffles so you can indulge whenever the mood strikes.
These chocolate chip cookie dough truffles are purely divine. Sweet cookie dough is speckled with mini chocolate chips then rolled into balls and coated with a rich chocolate shell. You are going to be stoked at how incredible they are.
If you enjoy these, then you'll adore my oreo balls.
Why this recipe works
The cookie dough doesn't contain raw eggs or raw flour so you can enjoy the truffles without worrying.
The truffles are rolled small so they make perfect bite-sized snacks.
You can use any chocolate you prefer so the truffles suit your taste.
Chocolate chip cookie dough truffles recipe
This recipe is very simple and straightforward. Mix all of the ingredients together and then shape the dough into truffles. This chocolate chip cookie dough doesn't require egg and it is made with heat-treated flour. This makes it completely safe to eat.
Shape the dough into one tablespoon-size sized balls and dip them in melted chocolate. They are so simple, it's dangerous. These no-bake cookie dough truffles that take less than 45 minutes to make.
---
Cookie dough truffle ingredients
You only need a handful of ingredients to make these truffles. You can easily double ingredients for a larger batch. Let's go over what they are:
Butter: Melted butter works best for edible cookie dough.
Sugar: Use a combination of white and brown sugar for the classic chocolate chip cookie taste.
Vanilla extract: For flavor.
Flour: Heat treat the flour before using.
Salt: Added to balance the flavors.
Mini chocolate chips: I like the mini chips because they make the truffles easier to eat.
Chocolate: I used semisweet chocolate for the coating but you can use any chocolate you prefer.
---
How to make cookie dough truffles
It's incredibly easy to make chocolate chip cookie dough truffles. It takes just a few minutes to whip up the dough and shape it into balls. Each truffle is coated in melted chocolate. This is the easiest indulgent treat you'll ever make.
Step 1: Make the cookie dough
Making the cookie dough is simple. Mix the butter with both sugars until well combined.
Mix in the vanilla and salt followed by the flour. Make sure you heat treat the flour first!
Stir in the chocolate chips of your choice.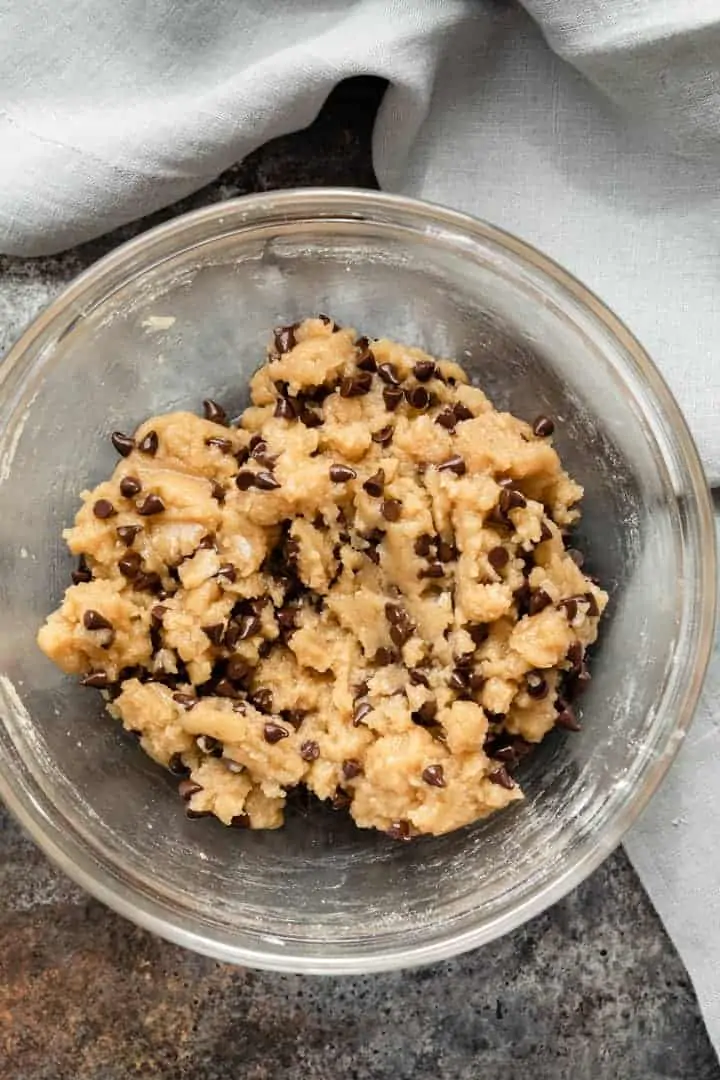 Step 2: Shape the cookie dough
Scoop the dough out into 1 tablespoon-sized portions. Roll each portion into a ball.
Place the cookie dough balls on a baking sheet lined with parchment paper. Refrigerate them for 20-30 minutes until they are firm.
Step 3: Coat in chocolate
Place the chocolate in a heatproof bowl set over a pot of barely simmering water. Stir the chocolate constantly until it is completely melted and smooth.
Dip one cookie dough ball at a time in the chocolate using a candy dipper or the tines of a fork. Tap off the excess chocolate and place the balls back on the baking sheet.
Place the chocolate-coated cookie dough balls back into the refrigerator until the chocolate is set. This may take about 10 minutes.
See the recipe card below for full details on how to make these chocolate chip cookie dough truffles.
I'm pretty sure you already have the ingredients in your pantry. I encourage you to stop what you are doing and go whip up a batch.
If you enjoyed these chocolate chip cookie dough truffles, you might also like:
Did you try this recipe? I would love for you to leave me a 5-star rating or comment. This way, I have a better understanding of which recipes you like and can create more of them.
Please take a moment to follow me on Instagram, Pinterest, Facebook, Youtube or sign up for my free newsletter to never miss the newest recipes and blog updates.
You can also shop my favorite baking tools. Thank you so much for your support!