Old Fashioned Oatmeal Raisin Cookies
This post may contain affiliate links. Read the full disclosure here.
These oatmeal raisin cookies are super simple to make and they take just 20 minutes. Each cookie is supremely chewy with a softness that lasts for days.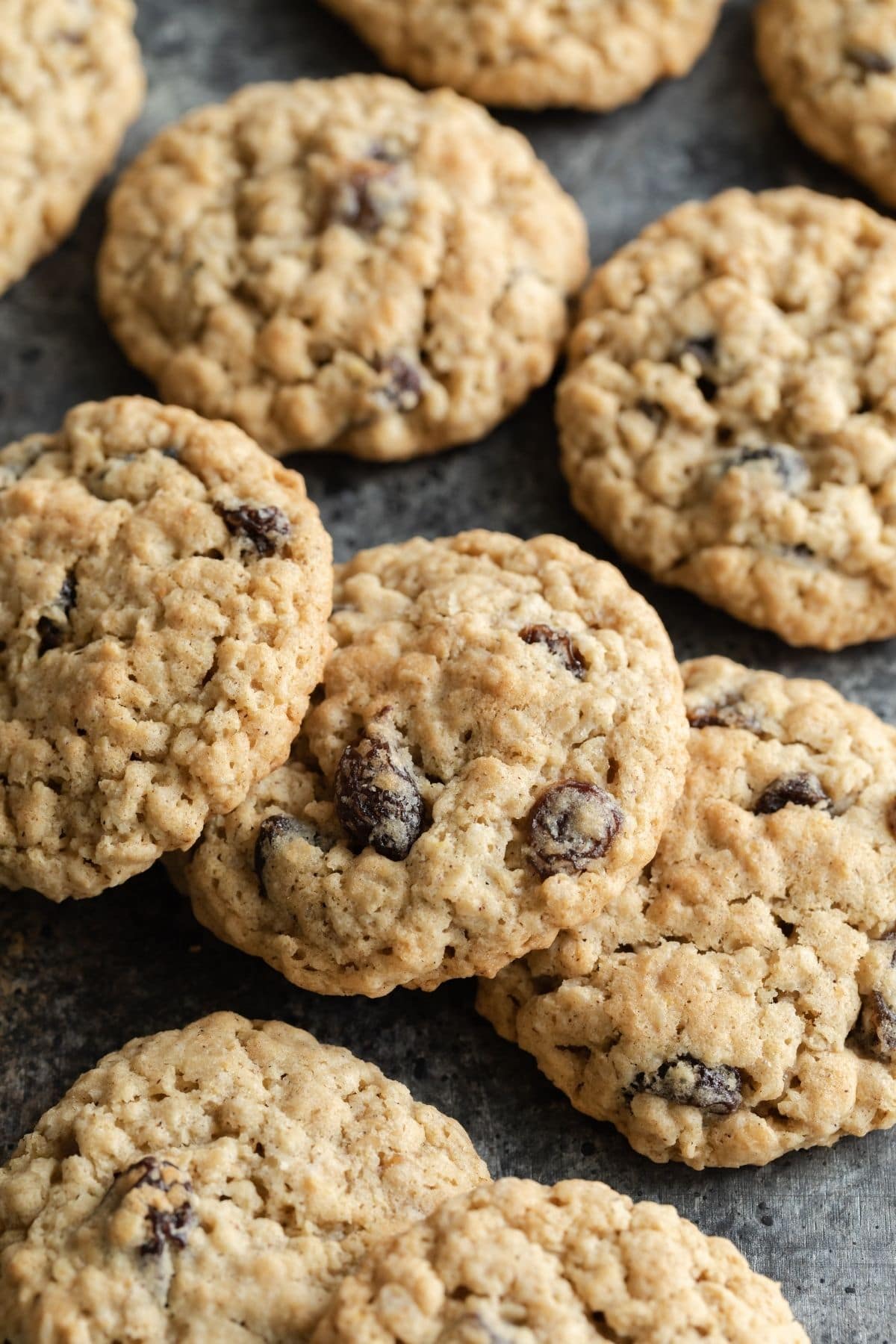 Do you remember these cranberry white chocolate oatmeal cookies? Those cookies were thick and soft. Exactly how I love my oatmeal cookies.
If you also enjoy a soft-baked cookie, you will absolutely love today's cookie! This warm cinnamon, raisin-packed, soft oatmeal cookie is out of this world.
It's hands down the best oatmeal raisin cookies I've ever tried. It rivals my apple oatmeal cookies, iced oatmeal cookies and oatmeal scotchies!
---
Why this recipe works
The cookie dough uses the perfect ratio of ingredients so the dough doesn't need to be chilled. This saves so much time when making cookies!
Quick-oats are milled finer than old-fashioned oats. This means they'll absorb less liquid so the cookies will not be dry.
The cookie base works with more than just raisins! Try adding chocolate chips or another dried fruit.
Oatmeal raisin cookies recipe
This recipe calls for double the amount of brown sugar than white sugar. Brown sugar is white sugar mixed with molasses and it's moist. The moisture from the brown sugar will produce a chewier cookie.
Then there's a secret ingredient to keep the cookies soft because there's nothing worse than a chewy cookie that almost breaks a tooth.
Also, the cookie dough doesn't need to be refrigerated. It can go straight into the oven. I like to use a cookie scoop to portion the dough out and roll it into a ball so that the cookies will bake up nice and round.
This recipe is so fantastic that I even turned the cookies into oatmeal cream pies! Let's go over how to make these easy oatmeal raisin cookies. Or you can scroll right to the bottom for the full, printable recipe!
---
Ingredients
To make these soft and chewy oatmeal raisin cookies, you will need:
Fat: I used a combination of butter and shortening plus eggs to give the cookies flavor and the perfect texture.
Sugar: Use both brown sugar and white sugar for the very best results.
Corn syrup: My secret ingredient for keeping cookies soft for several days after they've been baked. Don't skip it!
Vanilla: Use the best quality vanilla you can get your hands on. Pure vanilla is also recommended over the imitation stuff.
Flour: Regular all-purpose flour is preferred and make sure to properly measure the flour.
Oats: Quick cook oats are best for oatmeal cookies. Don't try to use old-fashioned rolled oats; it will ruin the texture.
Baking soda: Neede for a bit of rise.
Spices: Salt and cinnamon are what I prefer.
Raisins: I use dark raisins but golden raisins would be a great option as well.
These are the supplies you need to get started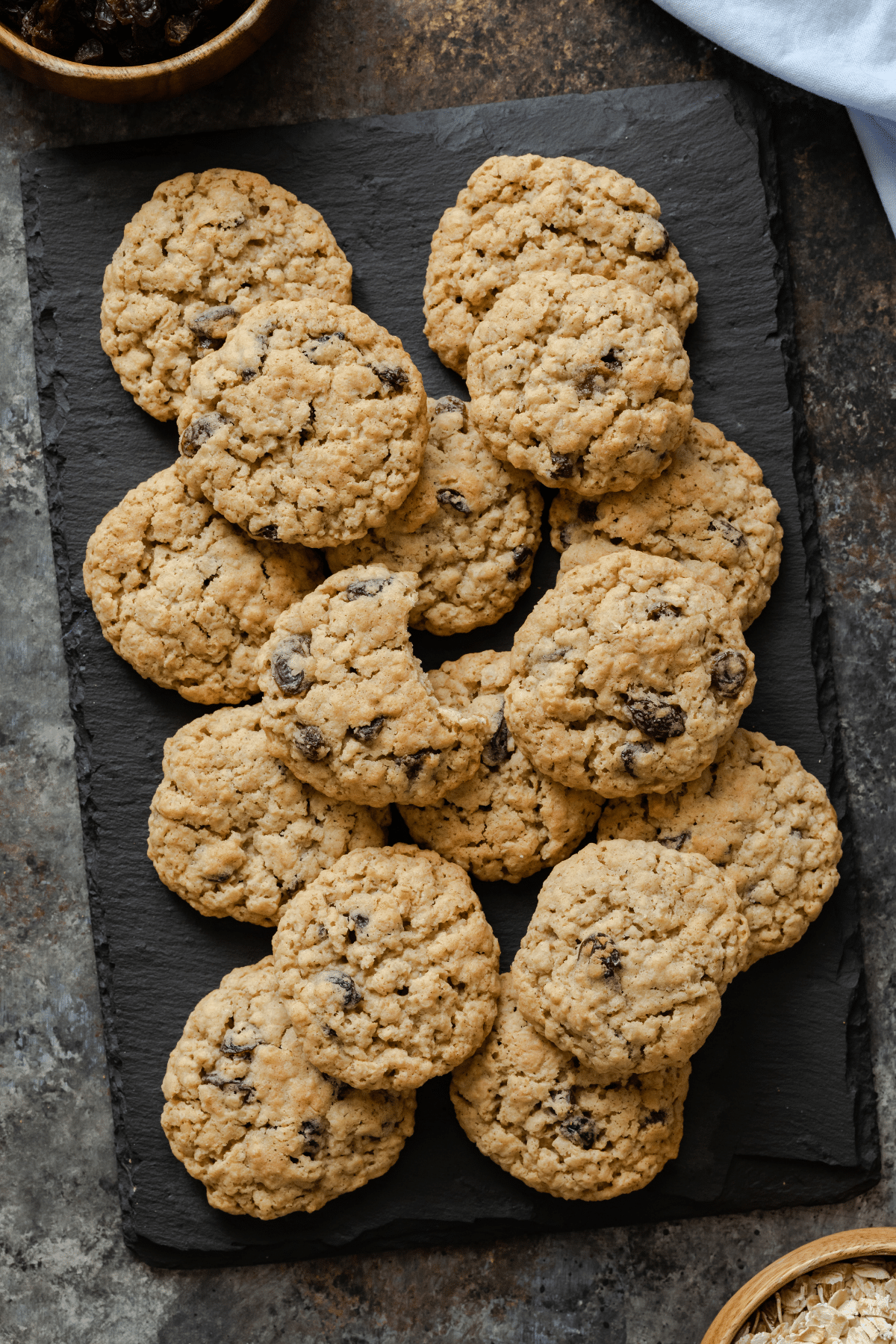 How to make oatmeal raisin cookies
I'll walk you through exactly how to make the best oatmeal raisin cookies. Let's go! Remember, you can keep scrolling for the full recipe at the bottom of the page.
Combine the wet ingredients. Beat the butter and shortening together then beat in the sugars, eggs, corn syrup, and vanilla.
Combine the dry ingredients. Add the flour, baking soda, cinnamon, and salt to a bowl and whisk them until well combined.
Combine the wet and dry ingredients. Add the flour mixture to the butter mixture and beat them together just until almost all of the flour is incorporated.
Add the oats and raisins. Fold the oats and raisins into the batter until well incorporated.
Bake. Place 1 tablespoon size balls of cookie dough on baking sheets lined with parchment paper. Bake the cookies for 8-10 minutes.
My secret to soft, chewy oatmeal raisin cookies:
There are two ingredients I like to add that helps keep cookies soft and chewy:
Corn syrup – I recently began adding corn syrup to my cookie dough. It's a little tip that I picked up from Better Homes and Gardens and first used it for these chocolate chunk apricot cookies. One tablespoon is all you need. It will leave your cookies soft for days after they are made. It's wonderful; don't leave it out.
Shortening – I have also begun to experiment with shortening and have found that it does wonders for the texture of a cookie. Shortening will make the cookies impeccably soft. I loved it in my chewy ginger snap cookies and so did you.
Storing & Freezing
To store: Keep the cooled cookies in an airtight container with a slice of bread or tortilla. Store at room temperature for up to 3 days.
To freeze: Freeze cookies in an airtight freezer bag for up to 3 months. Thaw overnight in the refrigerator.
Unbaked cookie dough can be shaped into balls and frozen for up to 3 months. Freeze individually on a baking sheet until firm, then transfer to an airtight freezer-safe container.
Frozen cookie dough balls can be baked straight from the freezer, with no need to thaw. Add a minute or two to the baking time.
Did you try this recipe? I would love for you to leave me a 5-star rating or comment. This way, I have a better understanding of which recipes you like and can create more of them.
Please take a moment to follow me on Instagram, Pinterest, Facebook, Youtube or sign up for my free newsletter to never miss the newest recipes and blog updates.
You can also shop my favorite baking tools. Thank you so much for your support!