This post may contain affiliate links. Read the full disclosure here.
This pineapple carrot cake recipe features a moist carrot cake speckled with bits of pineapple. It's spiced with warm cinnamon, ginger, and nutmeg. Cream cheese frosting with orange zest is slathered over the cake for the ultimate treat.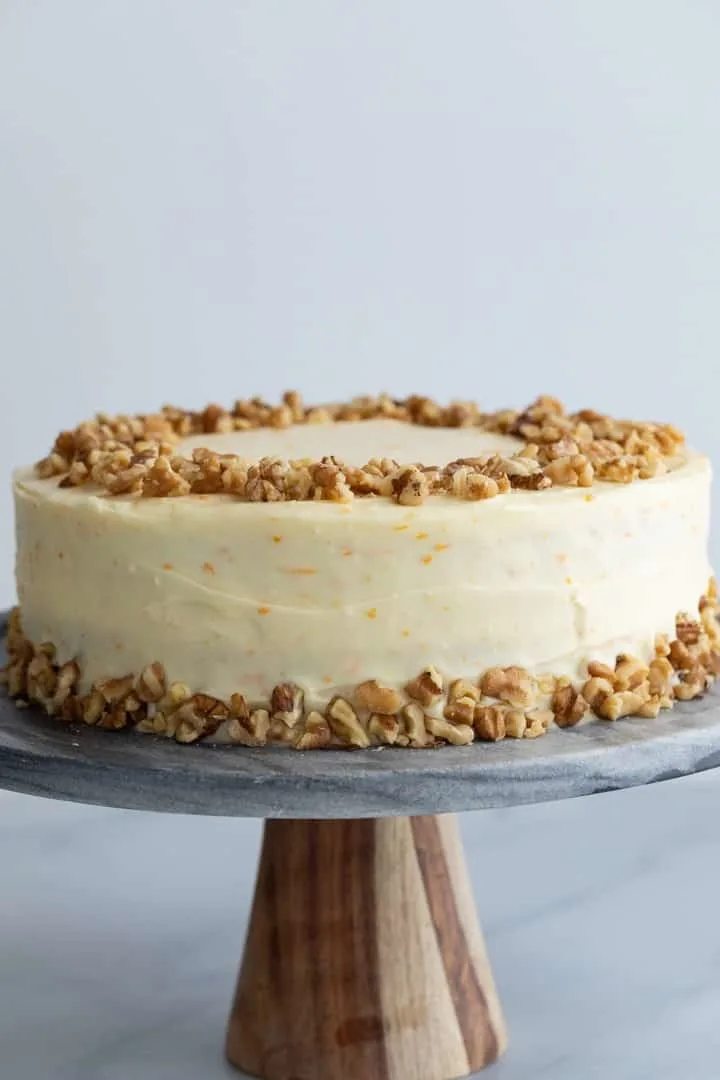 Pineapple carrot cake is well-loved. It's my preference over regular carrot cake any day!
But, I am partial to carrot cake scones or carrot cake cupcakes and will almost always choose those over cake. You're in for a real treat if you are here because you love carrot cake!
If you are not a fan of bland carrot cakes, you have come to the right place. This one is loaded with spices and the lush orange cream cheese frosting goes so well with the cake. I'm fairly certain you are going to declare this recipe a hit!
Why this Pineapple Carrot Cake recipe works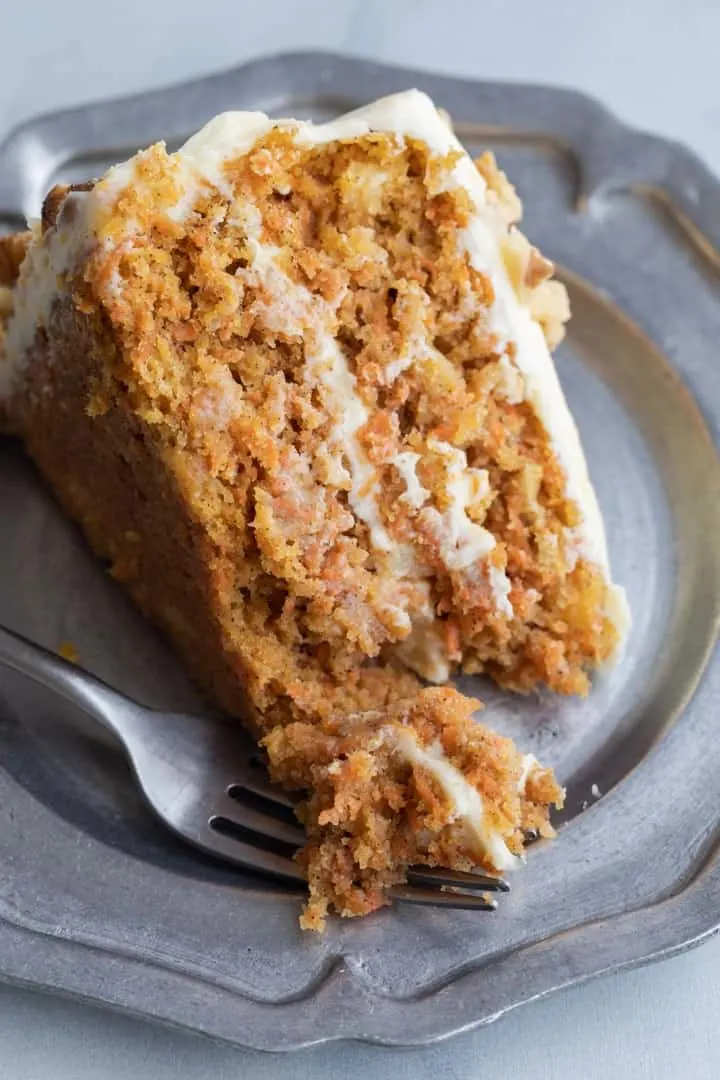 Pineapple Carrot Cake Ingredients
The cake is slightly adapted from my moist carrot cake. I changed the spices, reduced the amount of carrot, and added crushed pineapple.
The frosting is my favorite cream cheese recipe with the addition of orange zest. I garnished the top and sides with a few coarsely chopped walnuts. Here is an overview of the ingredients: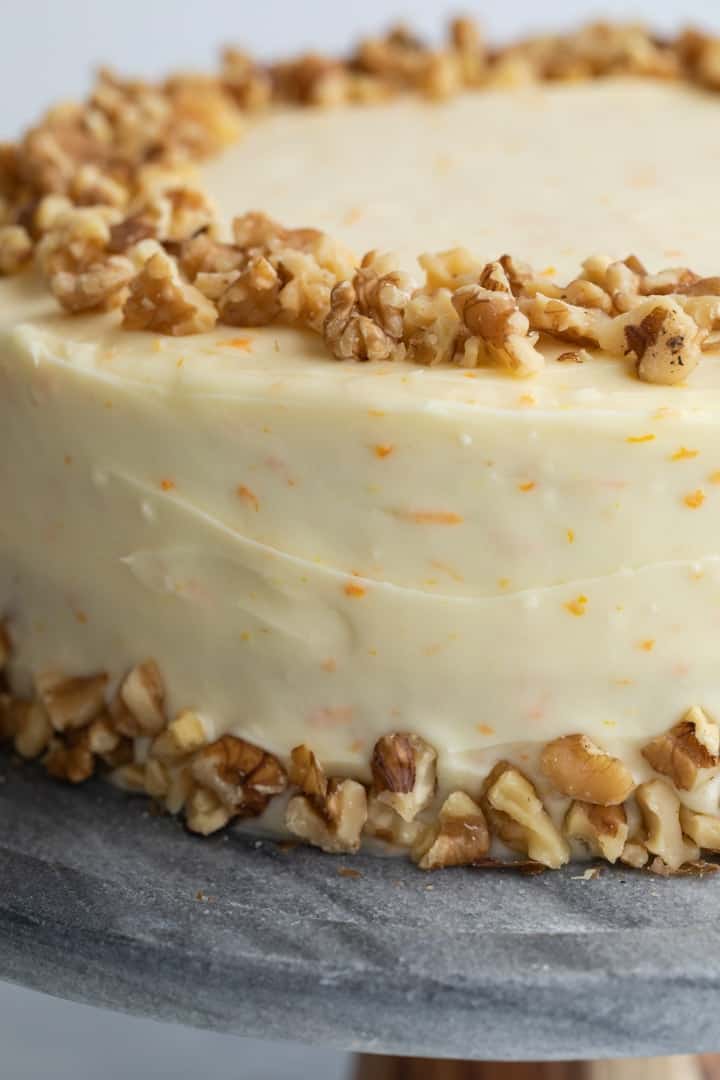 How to make pineapple carrot cake
The cake batter is simple to put together and requires only a bowl, whisk, and silicone spatula.
The wet ingredients are mixed together first then the dry ingredients are sifted in and everything is folded together.
Here's how to put it together…
Prep the pans. Lightly grease and flour two 9-inch round cake pans. Line the bottom of the pan with parchment paper that has been cut into a circle to fit.
Make the batter. Whisk both sugars, oil, eggs, and vanilla together in a large bowl. Stir in the carrots and pineapple.
Using a fine-mesh sieve, sift the flour, baking powder, baking soda, cinnamon, salt, ginger, and nutmeg into the wet ingredients. Fold until everything is well combined.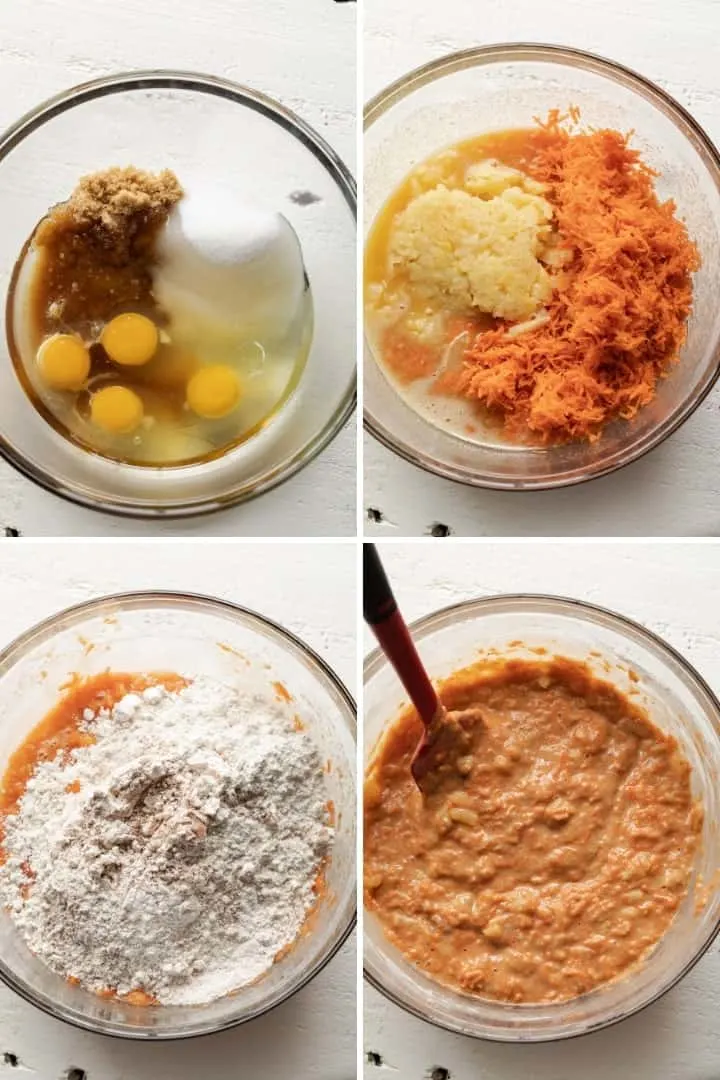 Bake. Divide the batter evenly between both pans and bake at 350°F for 20-25 minutes.
Cool the cakes. Cool the cakes in the pans for 5 minutes then invert onto a wire rack and let them cool completely.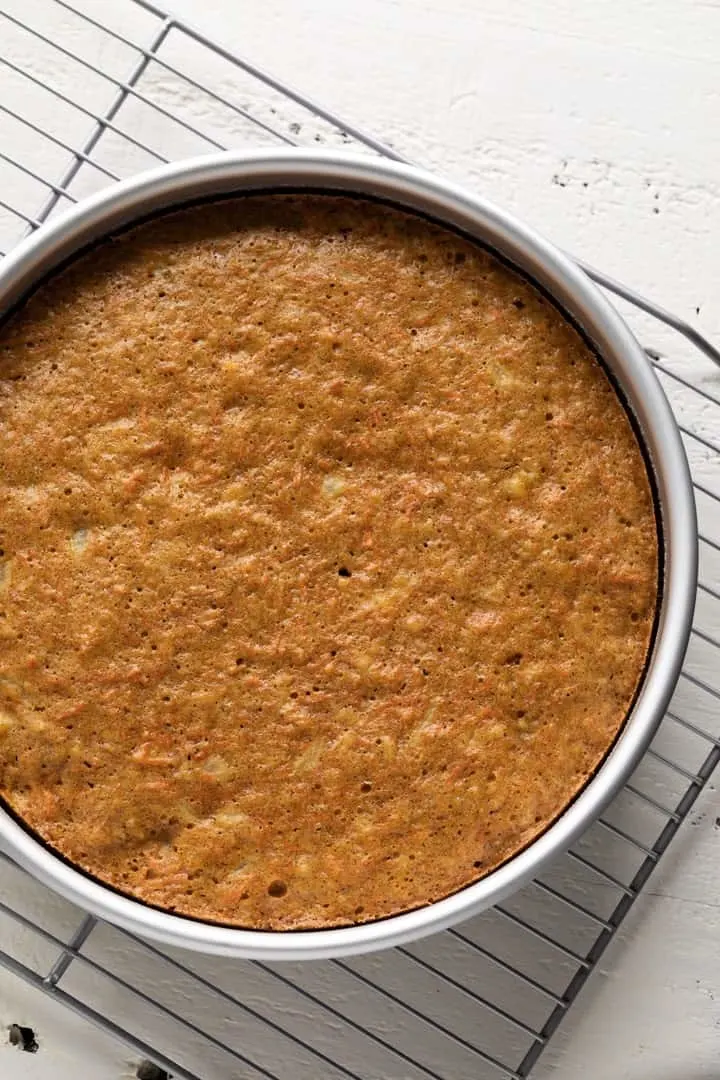 Make the orange cream cheese frosting
The frosting is made with butter, brick-style cream cheese, confectioners' sugar, meringue powder, vanilla, orange zest, and salt.
Meringue powder is used to thicken the frosting and keep it stable. If you don't have access to meringue powder, simply leave it out.
Beat the butter and cream cheese together until smooth. Sift in the confectioners' sugar, meringue powder, and salt. Then mix until well combined. Add the vanilla and orange zest and mix until well combined.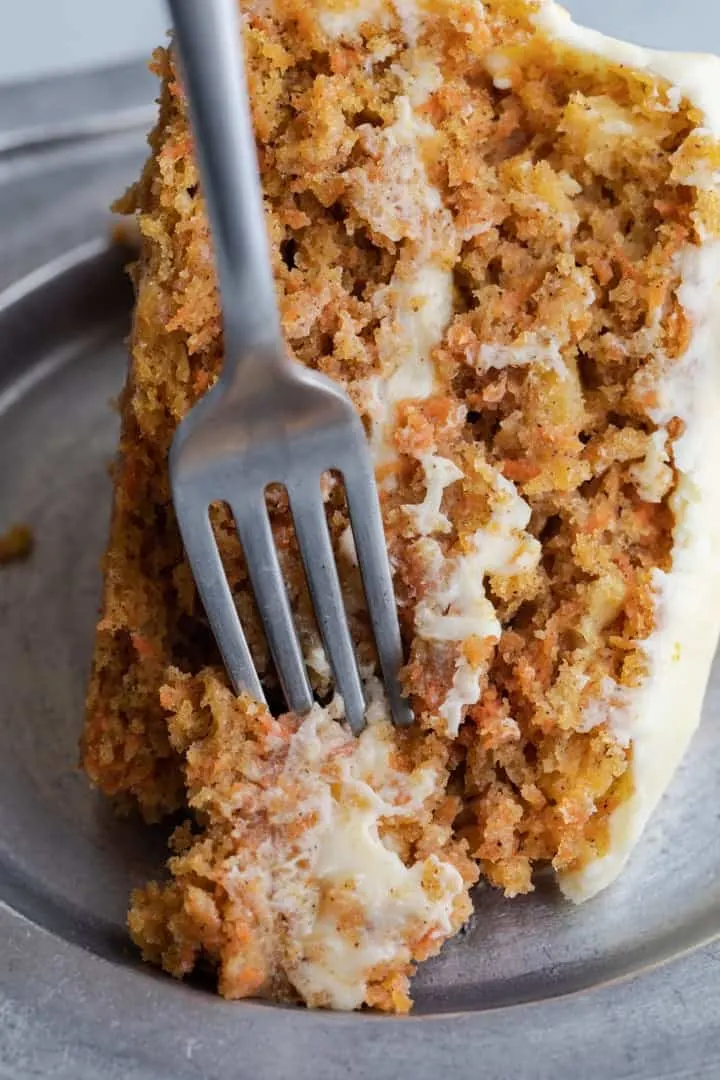 Assemble the cake by placing one layer on a serving platter. Spread about ⅓ of the frosting over the top. Place the second layer on top and spread the remaining frosting over the entire cake.
Garnish the cake with coarsely chopped walnuts if you wish.
---
Tips for pineapple carrot cake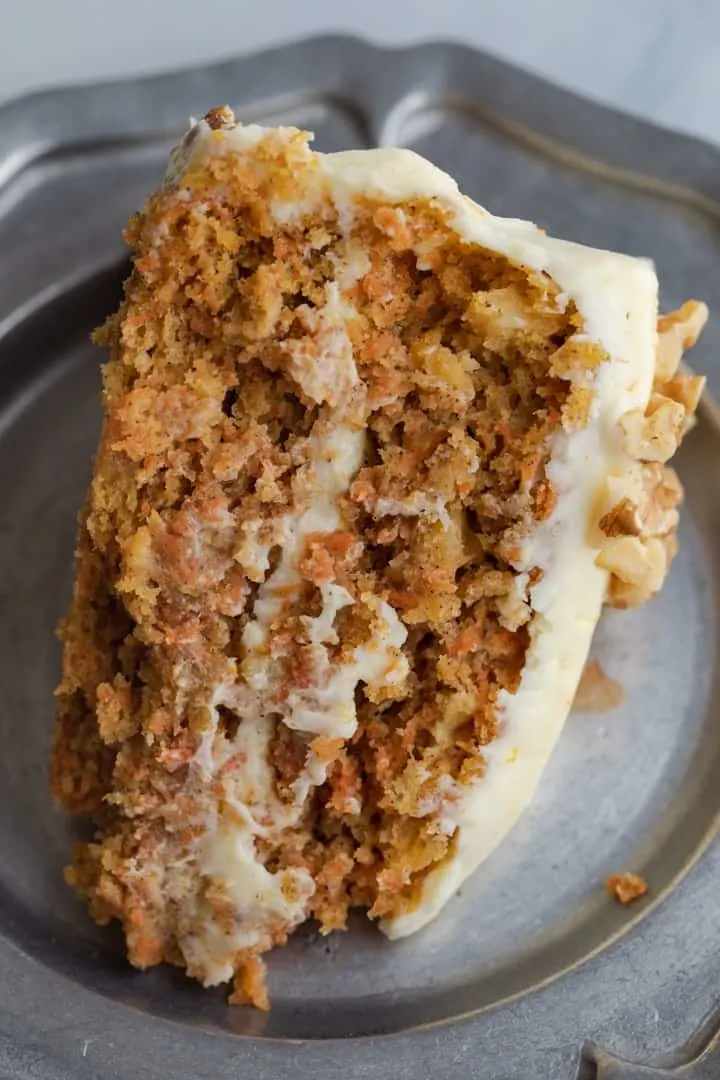 If you like this recipe, try my other fun Easter recipes:
Did you try this recipe? I would love for you to leave me a 5-star rating or comment. This way, I have a better understanding of which recipes you like and can create more of them.
Please take a moment to follow me on Instagram, Pinterest, Facebook, Youtube or sign up for my free newsletter to never miss the newest recipes and blog updates.
You can also shop my favorite baking tools. Thank you so much for your support!