Peanut Butter and Jelly Bars
This post may contain affiliate links. Read the full disclosure here.
Peanut Butter and Jelly Bars are a fun spin on the classic PB&J sandwich. You will be amazed at how easy these bars are to make and how delicious they taste.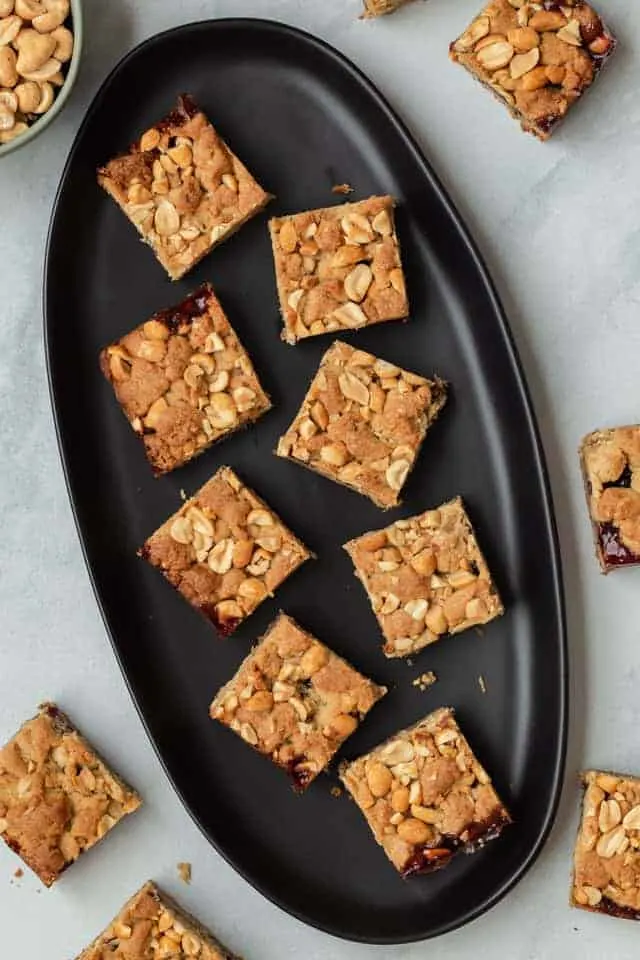 Peanut butter and jelly bars
Peanut butter desserts are loved by everyone. Soft peanut butter cookies, peanut butter pie, and chocolate peanut butter cheesecake are often my go-to recipes when I'm craving peanut butter. That is until I made these bars!
These peanut butter and jelly bars are similar to my fudge-filled peanut butter cookie bars from my eCookbook. There's a chewy peanut butter crust layer, jelly layer, and crunchy topping. This recipe is for those of you who prefer fruity desserts over chocolate.
The filling is nothing more than jelly or jam from a jar. Choose any flavor you want. It doesn't have to be grape. Maybe you're a strawberry lover. Or apricot lover. If you make your own jellies and jams, you can use that too!
You need just a few ingredients to make these bars and I'm fairly certain you already have them on hand. Or most of them at least.
There are no special trick or long periods of wait time with these bars. Mix the ingredients, layer them in an 8×8 pan, and bake. Too simple.
Use room temperature ingredients to make theses pb & j bars
Make sure your ingredients are at room temperature so everything mixes together easily. This rule applies to all baking unless the directions specifically call for cold ingredients.
---
Main ingredients for peanut butter and jelly bars
Crunchy peanut butter – I used crunchy peanut butter because I like the texture but feel free to use creamy peanut butter if you'd like.
Jelly – Grape jelly is classic for a pb & j but other flavors work well. Give strawberry or apricot a try!
---
How to make peanut butter and jelly bars
Step 1: Combine the wet ingredients
Cream the peanut butter, butter, and brown sugar together then mix in the egg and vanilla.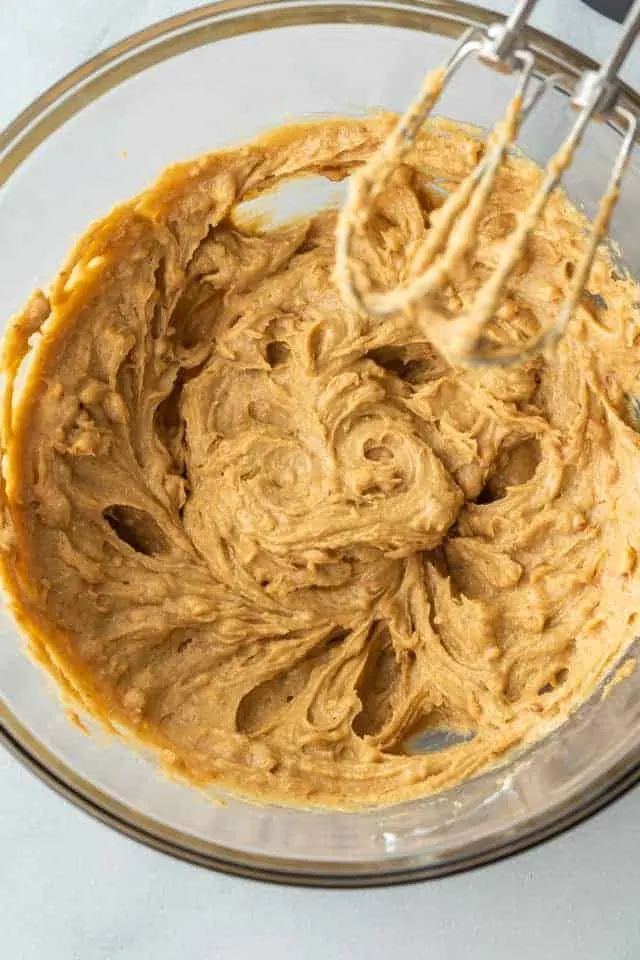 Step 2: Add the dry ingredients
Combine flour, salt, and baking powder then fold it into the wet ingredients just until combined. Take care not to overmix or the bars will come out tough.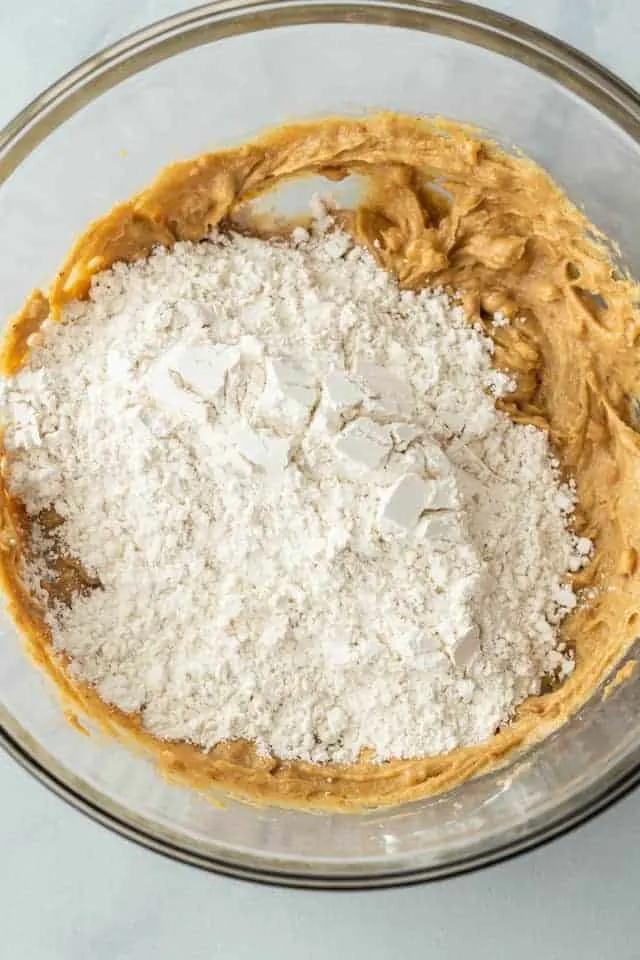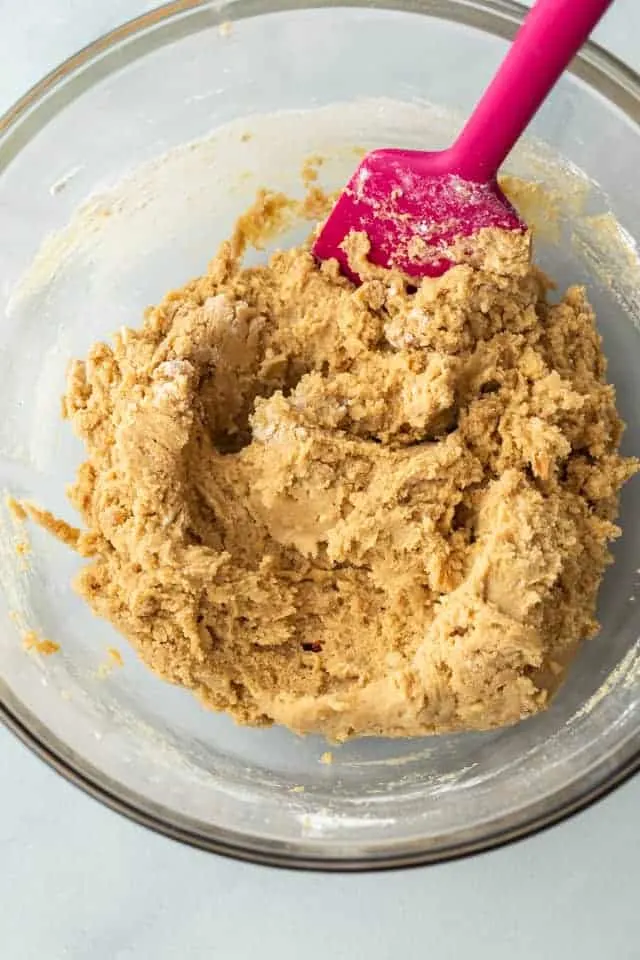 Step 3: Layer the batter with jelly and bake
Press ⅔ of the batter into the bottom of an 8-inch square baking pan. Spread jelly evenly over the batter. Crumble the remaining batter over the jelly and top with chopped peanuts.
Bake the bars in a 350°F oven for 30-35 minutes.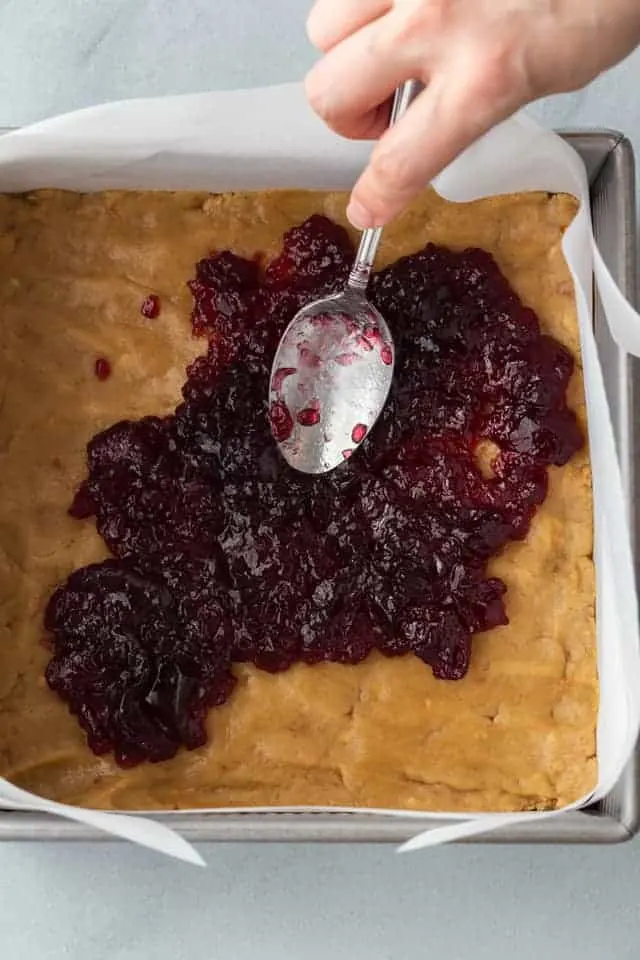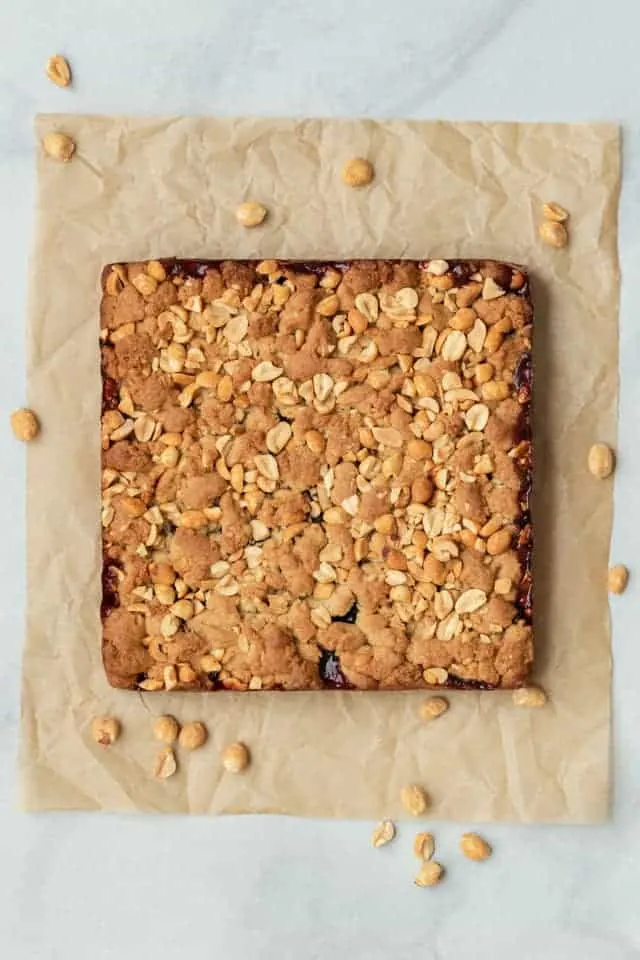 Tips for making this peanut butter and jelly bars recipe
Use room temperature ingredients. This will make mixing everything together so much easier.
Use your favorite jelly!
Crunchy peanut butter adds a lovely texture contrast to the base of the bars but you don't have to use it. Creamy peanut butter works just as well in this recipe.
Did you try this recipe? I would love for you to leave me a 5-star rating or comment. This way, I have a better understanding of which recipes you like and can create more of them.
Please take a moment to follow me on Instagram, Pinterest, Facebook, Youtube or sign up for my free newsletter to never miss the newest recipes and blog updates.
You can also shop my favorite baking tools. Thank you so much for your support!
Adapted from Martha Stewart