This post may contain affiliate links. Read the full disclosure here.
Don't just drink your pina colada! Enjoy it in the form of a cupcake. These moist pineapple cupcakes with coconut frosting will make you feel like you are on a tropical island.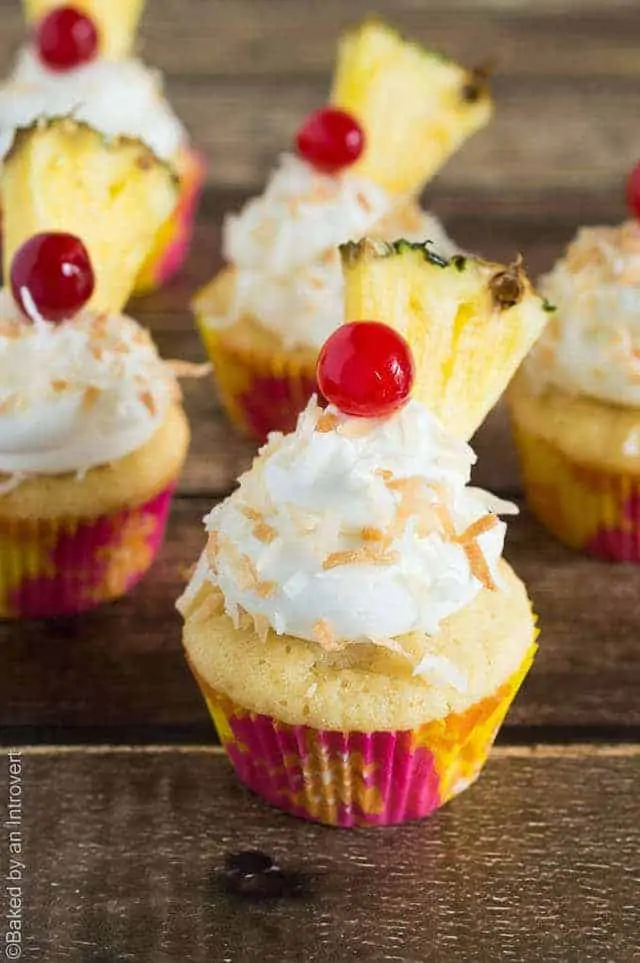 These cupcakes may seem familiar. Not long ago I shared an amazing recipe for pineapple cupcakes with coconut frosting. They have been a huge hit! It has been said more than once that the combination is similar to a pina colada.
So today's cupcakes are just that, pina colada cupcakes. I made a few tweaks to each recipe and the result is phenomenal. A summery, beachy beverage in the form of a cupcake.
The recipe for the cupcake is the same as my pineapple cupcake recipe, with the addition of rum extract. The extract amps up the pineapple flavor in this sweet cupcake. Making it more like the favorited tropical drink.
The frosting I use to top the pina colada cupcakes is similar to the coconut frosting I mentioned above. While I do love the light coconut flavor in that frosting, I wanted the frosting for today's cupcakes to be potent with coconut flavor. To achieve this, I altered the butter to sugar ratio just a tad. I also used less coconut milk and added a touch of coconut extract.
If you can't find coconut extract or you prefer a lighter coconut flavor, you can follow the recipe for my whipped coconut frosting instead. It has a lighter, more natural coconut flavor and a silkier texture.
Did you try this recipe? I would love for you to leave me a 5-star rating or comment. This way, I have a better understanding of which recipes you like and can create more of them.
Please take a moment to follow me on Instagram, Pinterest, Facebook, Youtube or sign up for my free newsletter to never miss the newest recipes and blog updates.
You can also shop my favorite baking tools. Thank you so much for your support!