Orange Ricotta Tart with Chocolate Ganache
This post may contain affiliate links. Read the full disclosure here.
Ultra-creamy, orange infused ricotta cheese topped with a rich chocolate ganache. All on top of a buttery, flaky pie crust.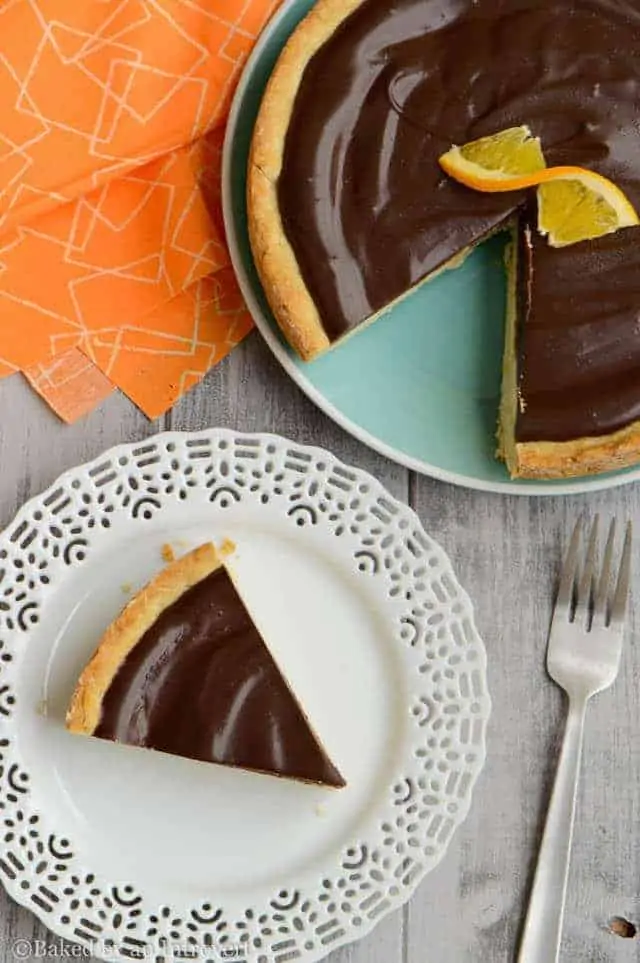 This is one gorgeous tart.
If you hadn't noticed, I am obsessed with orange. Seriously, it seems like every other recipe I make is an orange something or other. There were cranberry orange biscotti, then gingerbread cupcakes with orange mascarpone frosting, and now this lovely orange ricotta tart.
I'm hooked!
This tart seriously needs to come with an award-winning title. First of all, it's beautiful. The ricotta cheese filling is so creamy, the crust is buttery and flaky, and that luscious chocolate ganache is silky rich. You will not be able to eat just one slice. The tart is dangerous!
I hear a lot of people say that homemade pie crusts are tedious and finicky. Typically you would cut cold butter or shortening into a mixture of flour, sugar, salt and then moisten with a bit of water. Certainly, this could turn out wrong if you work too slow and the butter warms up. That is why today I'm sharing a fail-proof flakey crust to rest this magnificent tart on. You don't have to rush so that the butter stays cold. For this recipe, we are using room temperature butter and adding in an egg. Once the dough comes together it needs to be refrigerated for at least an hour.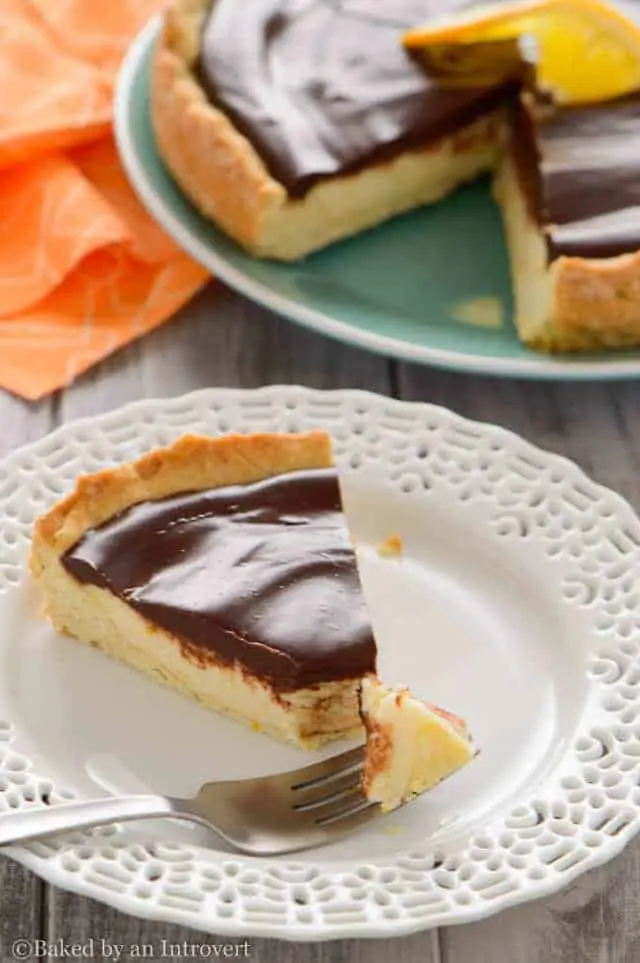 The ricotta cheese filling is similar to that of a cheesecake. The only difference is I didn't use any eggs in the filling. I decided to thicken it with a tad bit of flour instead. And the result was perfect. The filling is thick, creamy, and oh so delicious.
And since chocolate pairs so well with orange, I simply couldn't resist topping the tart with a rich ganache. I refrained from sweetening the ganache too much. I only added in two tablespoons of light corn syrup to one-fourth cup of semisweet chocolate chips. The balance was spot on.
You have to try it! So grab your stretchy pants and ready yourself for this indulgent dessert.