This post may contain affiliate links. Read the full disclosure here.
Tender and flaky with tart cranberries in every bite, these cranberry orange scones are the best fall scones you'll ever have. They're perfect for enjoying with a cup of coffee on a chilly morning!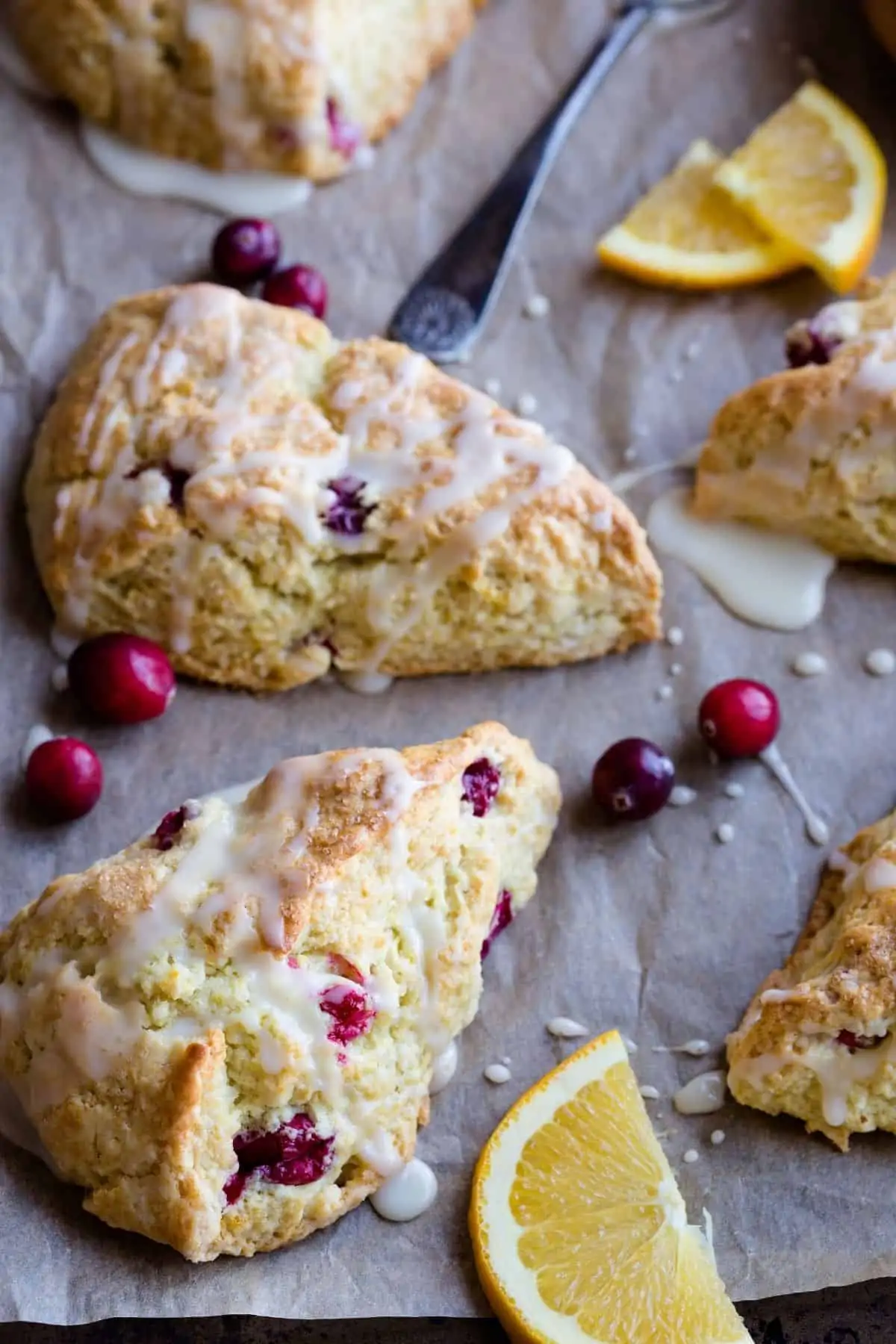 Easy holiday sconess
With lots of orange flavors and each bite speckled with tart fresh cranberries, these scones are perfect for breakfast, served with a hot cup of coffee on a chilly morning. Or enjoy them in the afternoon as a pick-me-up or for dessert.
The important thing is to just take the time to enjoy them, no matter how busy the season gets!
Several months ago I made these peach almond scones. They had become my favorite summer scone. Now that the season has changed, I felt I needed a new flavor to get through the fall and winter.
I used my blueberry buttermilk scones recipe as a starting point and made a few changes to achieve the desired results for these cranberry orange scones.
Cranberry orange scones recipe
Thanks to the cold butter used, these orange scones are light and airy. The butter releases steam, which creates little pockets of air as it melts in the oven, leading to a fluffy inside while the outside is crisp and flaky.
Then to take these holiday scones up a notch, I topped these scones with a sweet orange glaze that enhances the orange deliciousness throughout.
The coarse sugar added before baking adds a slight crunch to the tops, offering a great contrast in texture with the glaze.
Like my other scone recipes, these are fairly easy to make and a great scone recipe for beginners. Once you make these, you'll be serving them up all winter long!
---
What you'll need
For these orange cranberry scones, you'll need just a few pantry staples, plus fresh cranberries and oranges.
Ingredient notes & substitions
All-purpose flour – 2 ¾ cups of all purpose flour is needed to make these wonderfully tall and thick scones.
Granulated sugar – ⅓ cup is all I use and find it adds a light sweetness to the dough.
Baking powder & baking soda – Using both leavening agents helps achieve the perfect texture and rise from the scones.
Salt & Vanilla – Enhances flavor.
Orange zest – Adds the orange flavor in every bite.
Unsalted butter – It's essential to use cold butter and cut into small pieces.
Cranberries – Fresh cranberries are best for this recipe.
Fresh orange juice – Chill the orange juice before using.
Whole milk – I don't recommend substituting the milk. It must be cold as well.
Heavy cream – You can also use milk. This is brushed over the top of the scones just before baking to provide a golden color.
Coarse sugar – Sprinkled on top to create a little crunch.
How to Make Cranberry Orange Scones
Scones are a surprisingly easy breakfast to make, though you do need to take the time to follow the directions carefully to ensure they rise properly.
Make the pastry dough. Whisk together the dry ingredients and orange zest in a large bowl. Cut in the butter, until the mixture looks like coarse crumbs. Gently fold in the cranberries.
Add the wet ingredients. Whisk the orange juice, milk, and vanilla together. Gradually mix into the flour mixture, until the dough comes together. If you don't need all of the mixture, that's okay. Do not overmix the dough.
Cut the dough into scones. Transfer to a lightly floured surface and gently knead, then pat into a 7-inch circle. Cut the circle into 8 equal parts. Place them on a baking sheet lined with parchment paper and freeze for 30 minutes.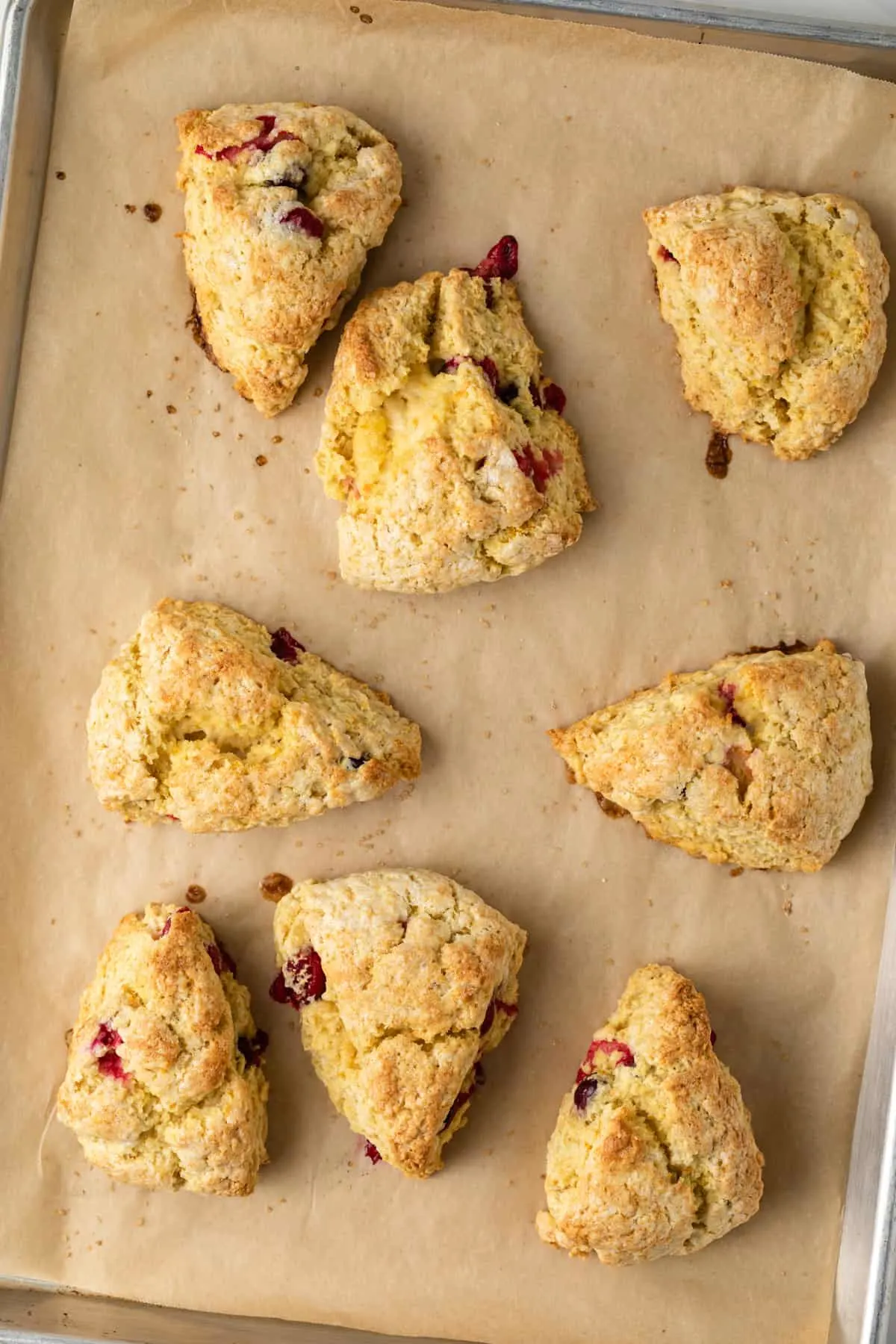 Bake. Brush the tops of the scones with heavy cream then sprinkle with coarse sugar. Bake for 15-20 minutes in the center of the oven, until golden brown.
Add the glaze. Combine the glaze ingredients in a bowl, whisk until smooth, and drizzle over cooled orange scones.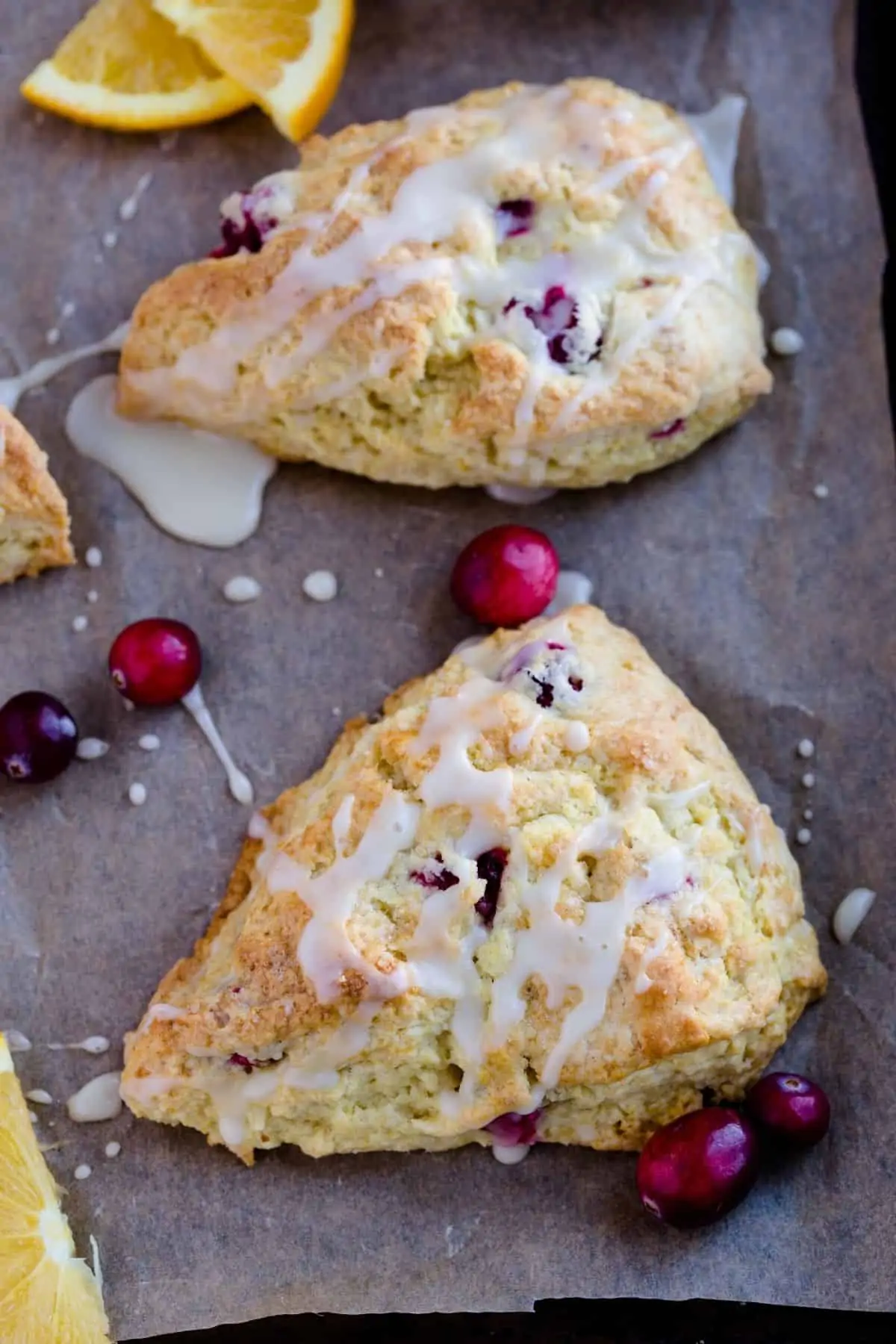 Tips for success
I've made so many variations of scones that I'm confident I've discovered the best tips and tricks to making perfect scones, these cranberry orange scones included!
Use fresh cranberries if possible. I like fresh cranberries best because they're dry and don't stain the dough. You can use packaged, frozen, and thawed cranberries but keep in mind they may be wet and stain the dough. If you have fresh cranberries that have been frozen, these will work beautifully.
Keep the dough cold until it goes into the oven. This is one of the most important things to note when working with scones and why it's essential that all liquids added should be chilled. Placing the shaped dough into the freezer for 30 minutes ensures the scones will bake up light and fluffy. Alternatively, you can place the scone dough in the refrigerator for at least 2 hours.
Handle the dough as little as possible. Avoid overworking the dough when mixing the ingredients together. You only want to mix until the mixture begins to stick together.
Knead the dough just a few times. If you over-knead, gluten will develop. Gluten will make the scones tough. No one likes tough scones.
You may not need all the orange juice mixture. Add a little at a time until the dough is moist but not too wet. Do not over mix the dough or the scones will be tough.
Serving suggestions
Like most scones, these cranberry scones are best enjoyed the day they are baked. If you can, enjoy them while slightly warm or room temperature out of the oven – just let them cool enough to add the glaze first.
You can enjoy these with a cup of coffee or tea. They're the perfect dessert for a cozy winter night or you can even enjoy them as a breakfast pastry!
---
How to make ahead & store
How to store unbaked scones. You can store the unbaked scones in the fridge overnight or in the freezer for up a month. If baking directly from the freezer, add 2 minutes to the baking time.
How to store baked scones. Baked scones (without glaze) can be frozen for up to 3 months. Thaw overnight then reheat in the oven until warmed through. Glaze before serving.
How to store & reheat leftovers. Leftover scones can be stored for up to 2 days in the fridge. Reheat in the oven for 5 minutes or so until warmed through.
---
More scone recipes you'll love
Did you try this recipe? I would love for you to leave me a 5-star rating or comment. This way, I have a better understanding of which recipes you like and can create more of them.
Please take a moment to follow me on Instagram, Pinterest, Facebook, Youtube or sign up for my free newsletter to never miss the newest recipes and blog updates.
You can also shop my favorite baking tools. Thank you so much for your support!