This post may contain affiliate links. Read the full disclosure here.
Homemade bbq chicken pizza on made from scratch dough topped with barbecue sauce, chopped chicken, onions, and tons of cheese. Our family's favorite pizza!
It has been a while since I made pizza. I must say there's nothing quite like a cheesy, soft and crispy, loaded with your favorite toppings, homemade pizza.
Do you have a favorite? I often crave my cheesy and spicy buffalo chicken pizza. This BBQ chicken pizza has become a high priority around here. Sweet and spicy barbecue sauce or your favorite, chopped chicken, sliced onions, and freshly grated mozzarella cheese.
It is amazing!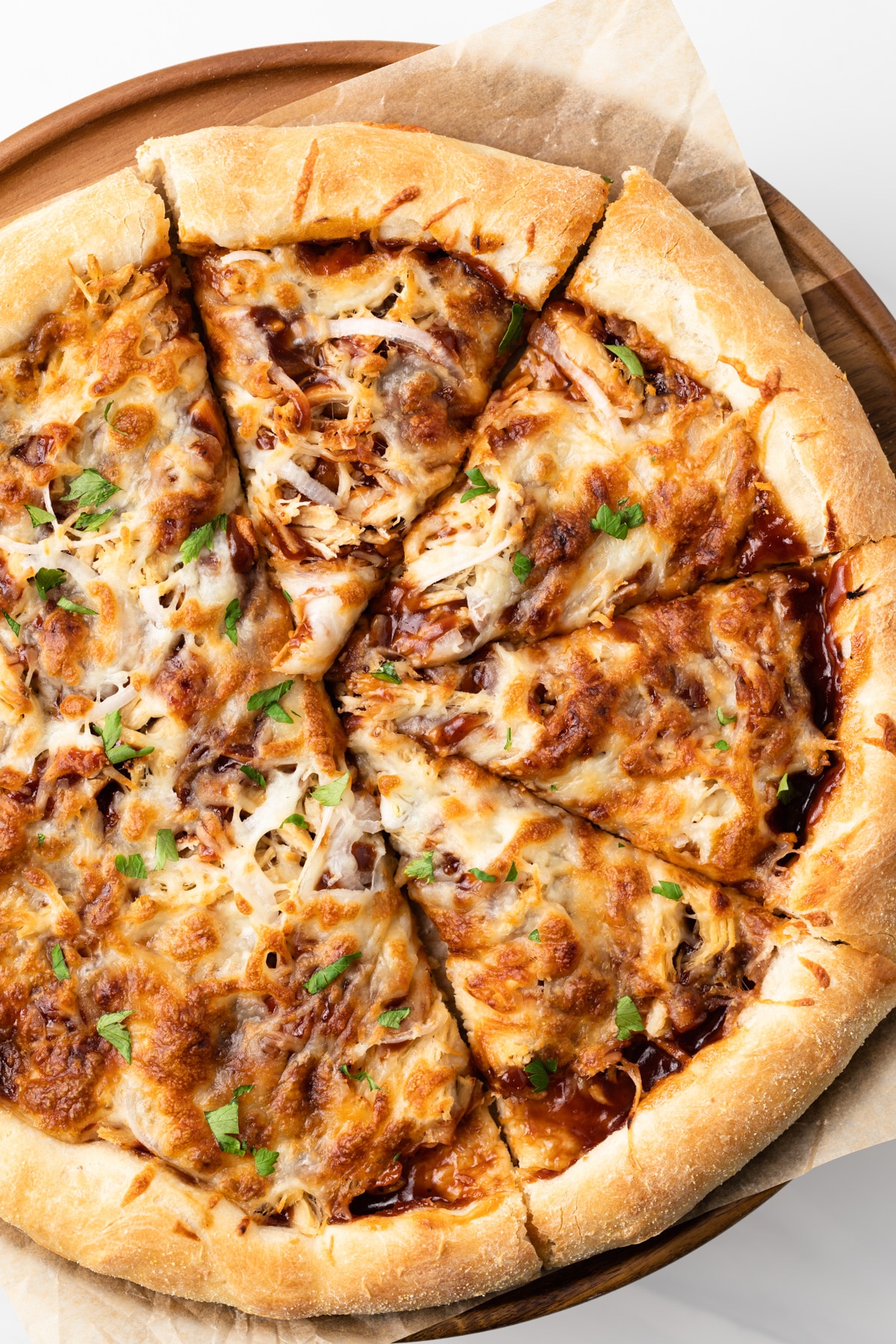 Why this recipe works
The dough is easy and comes together quickly. Storebought dough can be used if you are in a time crunch.
This pizza is the perfect vessel for leftovers chicken.
Freshly grated cheese is smooth and creamy and melts evenly.
BBq chicken pizza recipe
Pizza is such a fun and easy weeknight meal.
For the chicken, you can easily use a leftover rotisserie. I love to make use of our leftovers this way. If you don't have any on hand just cook up a large chicken breast.
I recommend simmering it in a pot of salted water until cooked through. Remove it from the water and let it cool completely before shredding.
The chicken will be super tender and moist and it will remain that way once heated again on the pizza.
---
Ingredients
Pizza crust: I prefer my homemade pizza crust. It's simple to make and tastes so much better than storebought.
Barbecue sauce: Sweet Baby Ray's Sweet and Spicy Barbecue Sauce is my absolute favorite. It works so well with the pizza. But honestly, any brand/flavor you prefer will work.
Chicken: Boil chicken breast and shred it or use a leftover rotisserie. Just avoid adding raw chicken to the pizza; it won't cook through before the pizza is done.
Onion: It is completely optional. Leave it off, use red onion instead of white, or use a sweet onion even.
Mozzarella: Freshly shredded mozzarella is going to work best for pizza. It melts creamier and tastes best.
Cilantro: Adds a bit of freshness and pop of color to the pizza. It's only meant to be a garnish and is completely optional.
Other tasty toppings to try
Bacon
Smoked Gouda
Jalapenos
Pineapple
Green onion
Ranch dressing
To make this pizza you'll need:
Pizza pan: I prefer to use this pizza pan because it's easy to transport the pizza to and from the oven. It also has holes in the bottom that promotes a crispy crust.
Pizza stone: Optionally you can bake the pizza on a pizza stone and use a pizza peel to transfer it to and from the oven.
Pizza cutter: This pizza cutter works great and makes it easy to get neat slices.
---
How to make bbq chicken pizza
This pizza has an incredible flavor, especially when you're using your favorite barbecue sauce. You will fall in love with it! Forget takeout tonight and enjoy a homemade bbq chicken pizza instead.
Step 1: Make the crust
Start with my favorite homemade pizza crust. I wrote a post a while back about how to make homemade pizza dough. You will find a lot of helpful tips to help you along the way.
Once the dough is made and proofed, stretch it out onto a pizza pan.
Step 2: Top the pizza
Top the dough with your favorite BBQ sauce, shredded chicken, and thinly sliced onion. I use about ½ cup barbecue sauce and I like to layer it on so that it doesn't make the crust soggy.
Spread half over the crust and the other half over the chicken just before you add the cheese. You get sauce in each bite while the crust stays soft and crisp.
I used fresh mozzarella cheese that I grated myself. The soft silkiness of fresh cheese is unbeatable. I feel like they melt better and simply taste better.
But this is not a must-have. If all you have in your fridge is a package of shredded mozzarella cheese, it will work just fine.
Step 3: Bake and enjoy
Bake it for 15-17 minutes at 475°F. Make sure the rack is set to the lower-third position so the crust bakes up crisp.
Rotate the pizza halfway through to promote even cooking.
Tips for success
When it comes to making my homemade pizza dough, be sure to weigh the flour.
Don't use raw chicken! Pizzas take very little time to cook and raw chicken may not fully cook through in time.
Toss the shredded chicken in bbq sauce for additional flavor. See recipe notes.
If you wish to have a spicier onion flavor, use red onions. For mild flavor, use sweet or yellow onion.
Storing & Freezing
To store: Wrap baked and cooled pizza tightly in plastic wrap. Store it in the refrigerator for up to 3 days. Reheat before serving.
To Freeze: Baked and cooled pizza slices can be wrapped tightly and stored in the freezer for up to 3 months.
Did you try this recipe? I would love for you to leave me a 5-star rating or comment. This way, I have a better understanding of which recipes you like and can create more of them.
Please take a moment to follow me on Instagram, Pinterest, Facebook, Youtube or sign up for my free newsletter to never miss the newest recipes and blog updates.
You can also shop my favorite baking tools. Thank you so much for your support!
Originally published January 2015. Post updated January 2021 with fresh copy and new photos.