This post may contain affiliate links. Read the full disclosure here.
This recipe for basic butter cookies is so versatile. It can be scooped, rolled, sliced, pressed, or cut out with cookie cutters!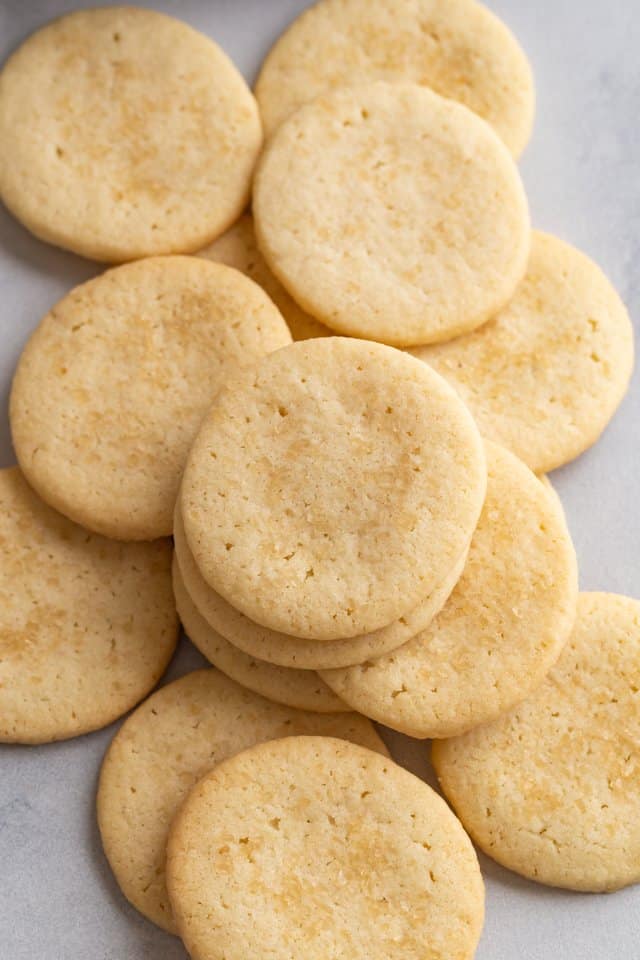 Butter cookies are one of those classic recipes that show up every holiday season along with peanut butter blossoms and cardamom cookies. I remember getting them in a blue tin and each cookie was shaped slightly different.
Did you get those too? Some had sparkling sugar sprinkled over them. Some were piped and some were cut out.
The cookies were buttery, crisp, and melted in your mouth. They were my favorite cookies and I looked forward to them every year.
Today, I'm finally sharing with you my favorite recipe for these delectable cookies. And the best thing about this recipe is it can be used in a multitude of ways.
The dough is soft and can be scooped and dropped, rolled into balls, or used in a cookie press. It can also be rolled into a log then chilled and sliced. Or you can roll the dough out and use cookie cutters to cut out shapes.
Whichever way you decide to use it, I'm sure you are going to be smitten with this buttery rich cookie!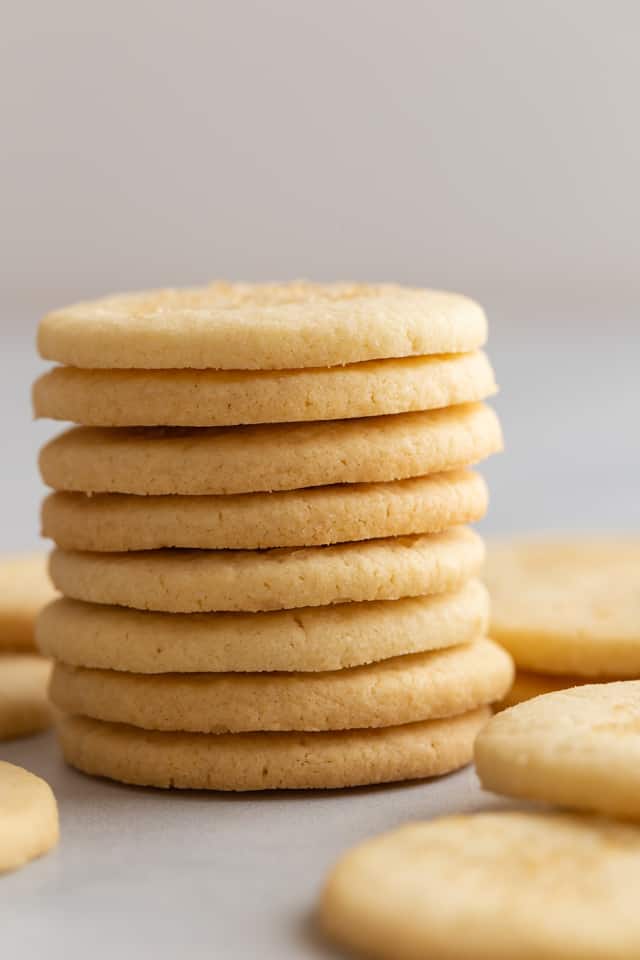 Are butter cookies and shortbread cookies the same?
Butter cookies are actually better than shortbread cookies! The main difference between the two is the amount of sugar and the baking temperature.
Butter cookies have more sugar and bake at a higher temperature than shortbread cookies. They don't crumble and the dough is extremely versatile.
---
How to make butter cookies?
Step 1: Make the dough
This is my favorite cookie dough! It's soft and so buttery.
It starts by creaming the butter and sugar together. Don't cream it as long as you would for a cake but do make sure it's well mixed together and looks creamy.
Then you'll add the vanilla, salt, and egg yolk. They can all go in at the same time and just mix until everything is combined.
Add the flour then mix it in just until you see no visible streaks of dry flour in the batter.
The dough needs to be chilled for 1 to 2 hours then it's ready to use for piped cookies, cookie press cookies, or scooped and dropped cookies.
If you want slice and bake cookies, you'll need to shape the dough into a log and wrap in plastic wrap before chilling.
I'll leave instructions for each in the notes of the recipe down below!
Step 2: Cut out the dough
Roll the dough between two sheets of parchment paper. Aim for ⅛-inch thickness. Use 2 to 3-inch cookie cutters to cut out shapes.
I find it best to dip the cookie cutters in flour so they don't stick to the dough.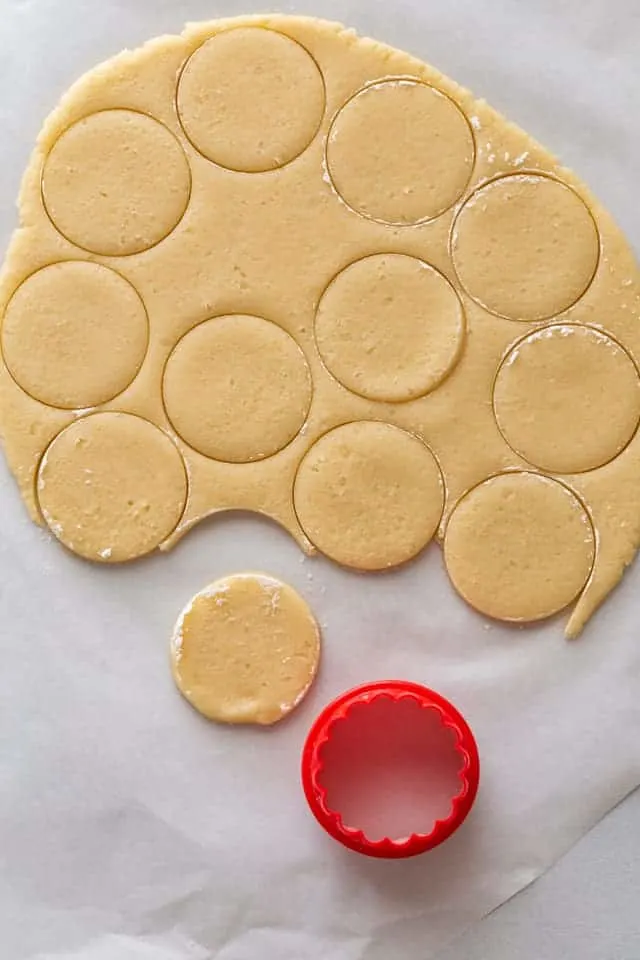 Step 3: Bake the cookies
Before baking the cookies I like to sprinkle coarse sugar over the top. You can also use colored sugar to make them festive for any occasion.
Bake them just until they are beginning to turn golden brown around the edges then let them rest on the baking sheet for 5 minutes.
The cookies will continue cooking for those few minutes and they'll set up enough for you to slide a spatula underneath to move them to a wire rack.
Let them cool completely before serving or storing.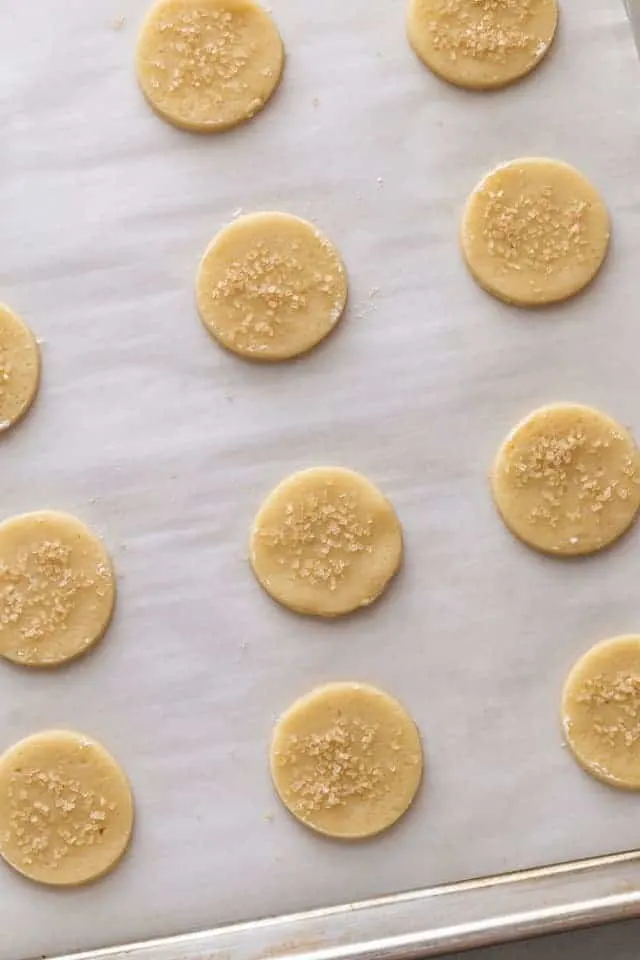 These butter cookies were a huge hit with my taste testers. The first thing they thought of was the holiday cookies I mentioned above.
They are crisp and tender with rich butter flavor. The coarse sugar caramelized on the top resulting in a wonderful crunchy texture.
This is my go-to Christmas cookie and I'm sure it will become yours too!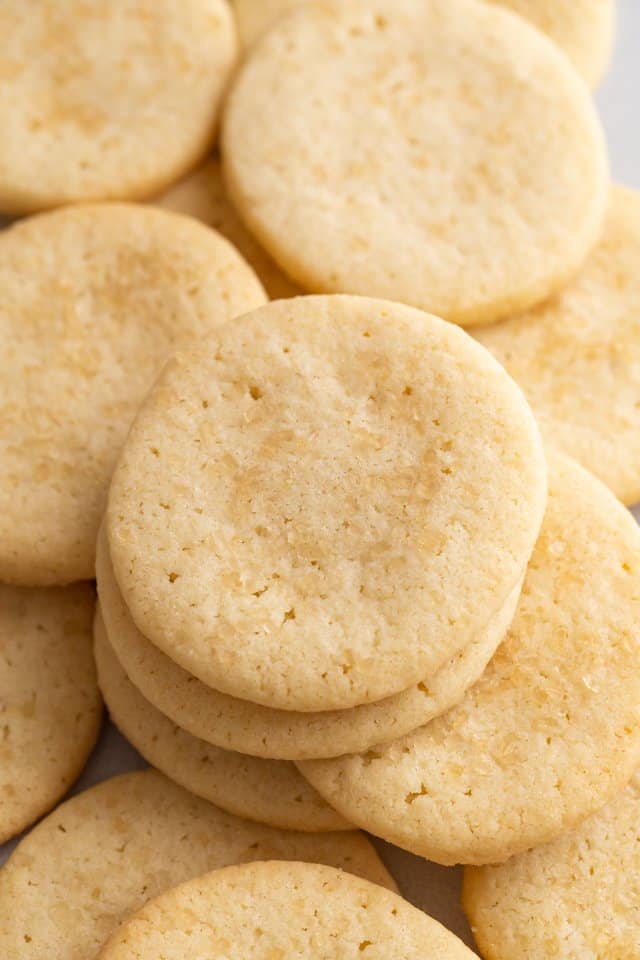 Tips for making butter cookies
Make sure you measure the flour correctly. Using too much flour will have a negative effect on the cookie's texture.
I highly recommend using a high-quality butter. The buttery flavor really shines through in this recipe so the better the butter, the better the flavor.
Also, use high-quality vanilla and be sure it's pure vanilla. The imitation stuff just isn't the same when it comes to flavor.
---
More cookie recipes you'll love
Did you try this recipe? I would love for you to leave me a 5-star rating or comment. This way, I have a better understanding of which recipes you like and can create more of them.
Please take a moment to follow me on Instagram, Pinterest, Facebook, Youtube or sign up for my free newsletter to never miss the newest recipes and blog updates.
You can also shop my favorite baking tools. Thank you so much for your support!