This post may contain affiliate links. Read the full disclosure here.
This classic peanut brittle recipe is easy to make, full of buttery peanut flavor, and is great for packaging up as holiday gifts.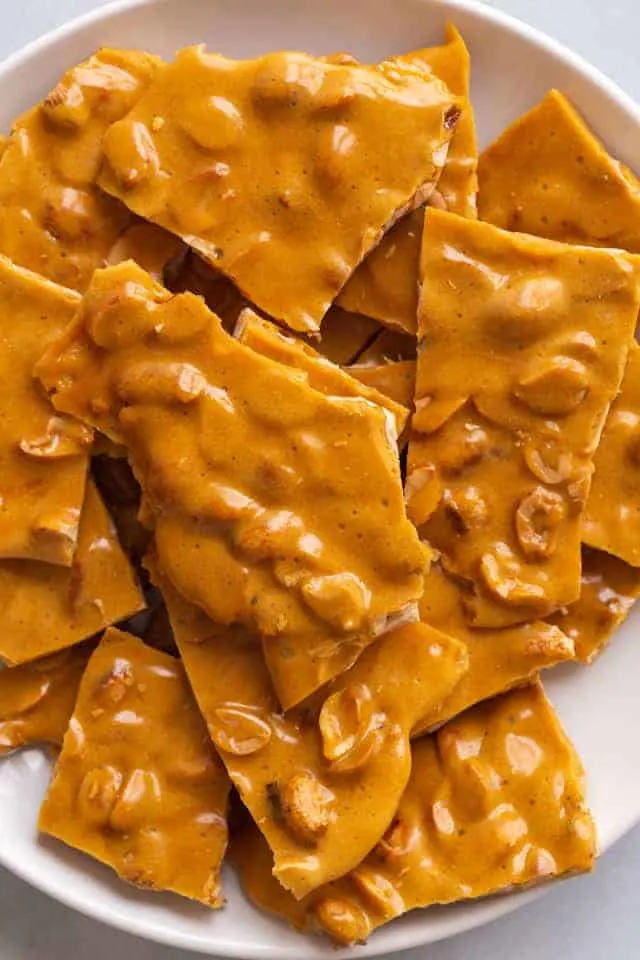 Peanut Brittle
One of the best things about the holidays is biting into a crunchy, butter shard of peanut brittle.
It's such a classic treat around this time of year. One that my family has enjoyed for decades.
I love making edible gifts for the holidays! Chocolate espresso spoons are often my go-to choice along with chocolate truffles, praline pecans, and peanut brittle.
There are, in fact. many variations of brittle all around the world! This old-fashioned recipe for brittle comes from the United States and uses very basic ingredients like sugar, corn syrup, salt, peanuts, butter, baking soda, and vanilla.
There's a good amount of corn syrup in this recipe to prevent the sugar from crystallizing so the brittle isn't grainy.
The end result is shiny shards of sugary brittle that dissolve on your tongue with crunchy peanuts that are toasty and flavorful.
It is so good and anyone would be happy to receive this edible gift for Christmas!
Peanut brittle ingredients
The ingredient list for peanut brittle is very basic. To make this old-fashioned peanut brittle, you will need:
Water – Needed to dissolve the sugar
Sugar – Granulated white sugar is best for making brittle
Corn syrup – To help prevent the sugar from crystallizing as it melts
Salt – I like to add a little to help balance the sweetness
Peanuts – I like to use unsalted, dry roasted peanuts for the best flavor
Butter – Adds a buttery richness that peanut brittle is known for
Baking soda – Needed to create little air bubbles so the brittle isn't so hard it breaks a tooth
Vanilla – Use a high-quality vanilla extract so you get the best flavor
How to make peanut brittle?
You will be so surprised at how easy homemade peanut brittle is to make!
1) Start by having all the ingredients measured out beforehand. You need to work fast when making brittle and won't have time to measure as you go.
2) Grease a large baking sheet with nonstick spray or line it with a silicone mat.
3) Cook the water, sugar, corn syrup, and salt in a heavy bottom pot over medium heat until it begins to boil.
4) Insert a candy thermometer and boil without stirring until the mixture reaches the soft ball stage, 238°F.
5) Stir in the peanuts and continue to boil until the mixture reaches the hard crack stage, 300°F. The syrup will begin to turn golden brown. (It's important to note that once you add the peanuts, keep stirring so they don't stick to the bottom of the pot and burn.)
6) Remove the pot from the heat as soon as it reaches 300°F. Immediately stir in the butter, baking soda, and vanilla. The mixture will bubble rapidly and steam up so take care when mixing.
7) Quickly pour the mixture onto the prepared baking sheet and spread it into a thin layer using the back of a wooden spoon.
It takes about 10-15 for the brittle to cool completely. Once it has cooled, you can gently shimmy a spatula underneath it to loosen it from the pan and break it into pieces.
Can you pour peanut brittle on parchment paper?
If you want to line your baking sheet with parchment paper, that will work also. But I suggest lightly misting the paper with nonstick spray just as an extra precaution to prevent the paper from sticking to the bottom of the brittle.
How long will peanut brittle last?
Peanut brittle will keep for well up to 2 months if it is stored correctly.
How to store peanut brittle?
Place the peanut brittle in zip-top bags, jar or containers with tight-fitting lids and store in a dark and dry location that stays fairly cool.
The brittle must remain completely dry so refrain from putting in a humid environment like next to the stove or in direct sunlight. It's also best not to store it in the refrigerator.
Fun edible gifts for the holidays
This peanut brittle is perfect for packing up as Christmas gifts. Other fun gifts to pair with brittle are candied orange slices and Mexican hot chocolate fudge bites.
Did you try this recipe? I would love for you to leave me a 5-star rating or comment. This way, I have a better understanding of which recipes you like and can create more of them.
Please take a moment to follow me on Instagram, Pinterest, Facebook, Youtube or sign up for my free newsletter to never miss the newest recipes and blog updates.
You can also shop my favorite baking tools. Thank you so much for your support!