You'll love these light and fluffy lemon blueberry muffins made with simple, fresh ingredients and easy to follow instructions.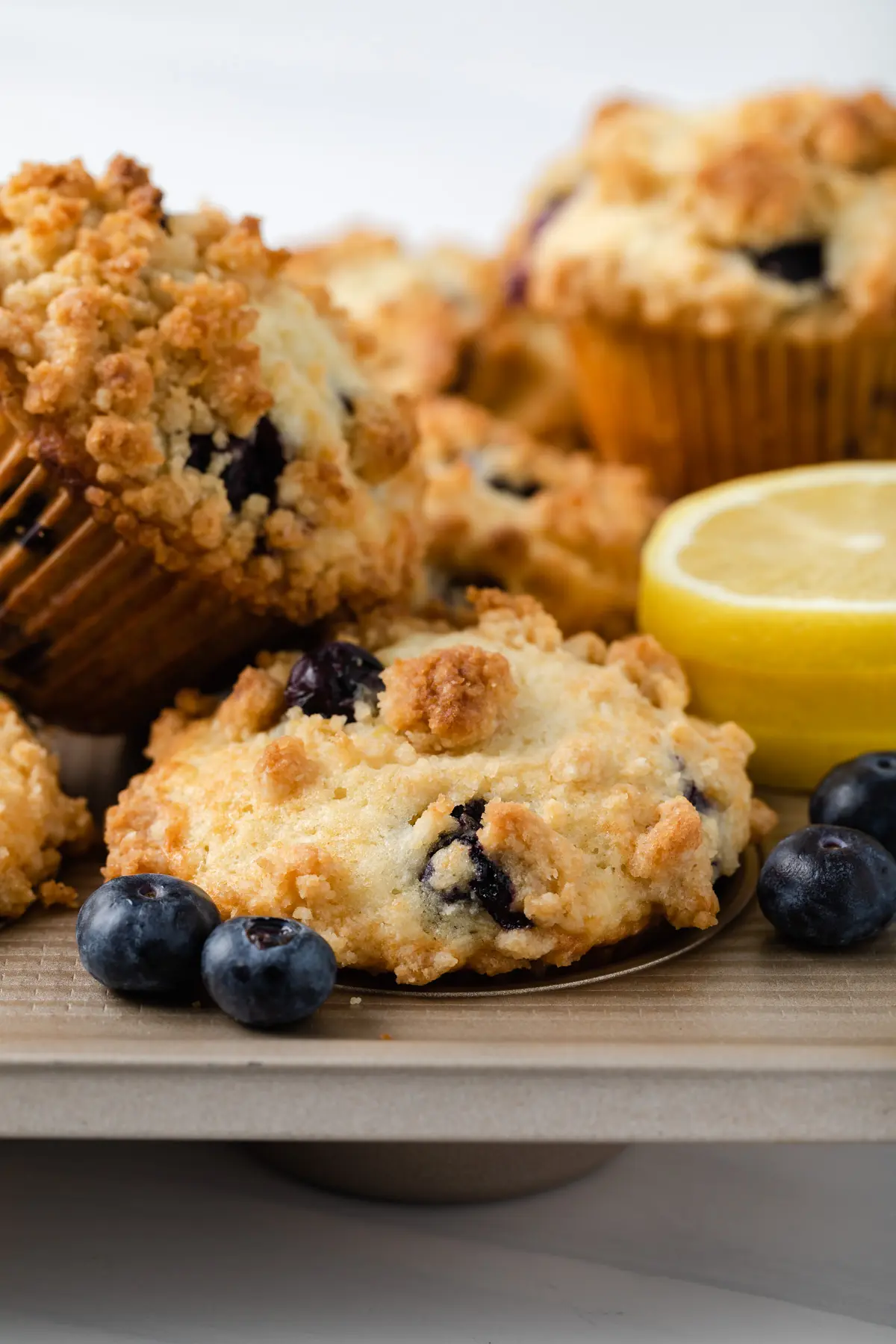 These fast and easy lemon blueberry muffins are packed with blueberries and lemon flavor! They are simply perfect for breakfast on the go, a lunchbox treat, or even breakfast in bed. It'll make you feel like you are in your favorite coffee shop no matter where your day takes you.
I adapted these delicious muffins from my blueberry muffin recipe on the blog. You make them exactly the same, but with the addition of fresh lemon zest, fresh lemon juice, and lemon streusel topping. The lemon flavor is unparalleled. Fresh ingredients make all the difference when it comes to flavor.
The creaming method used in this recipe creates the light, fluffy and tender muffin texture. The butter and sugar are creamed together until light, fluffy and pale in color. You'll recognize this method from its abundant use in cakes.

---
Why this recipe works
Lemon zest and lemon juice added to the muffin batter offer a vibrant flavor profile.
The streusel topping made with lemon zest enhances the lemony flavor.
Fresh blueberries are studded throughout each muffin so there's tons of flavor in every bite.
Greek yogurt is the secret ingredient to extra tender muffins.
These muffins are a fun and easy pick-me-up treat for long days at home or at the office. They are a great starter recipe for kids or beginning bakers.
What you need
Fresh ingredients make all the difference in this lemon blueberry muffin recipe. Let's discuss just a few of the key ingredients:
Ingredients
This is a short overview of the ingredients I used and why I chose them. The full recipe can be found at the bottom of the post!
Fats: These types of ingredients, including, butter, eggs, and Greek yogurt, add flavor depth and moisture to the recipe. Many people think that Greek and regular yogurt are the same. However, this recipe relies on the much thicker texture of Greek yogurt to achieve the proper final result for these muffins.
Sugar: This recipe calls for brown sugar as the sweetener. Not only does it add depth to the flavor, but it also adds moisture to the muffins.
Lemon & blueberries: Fresh lemon and fresh blueberries work best in this recipe, but you can also use frozen blueberries. However, you don't want purple muffin batter, so you will need to keep the blueberries frozen. Separate the blueberries and toss them with 2 tablespoons of flour before adding them to the batter. You may need to extend the baking time by a few minutes.
Flour & leavening: The baking soda and baking powder in the recipe act as leavening agents in the flour mixture. All-purpose flour works best with this recipe.
Equipment
This is a list of tools I used to make the recipe. Some of the links are affiliate links.
Muffin pan: You'll need a 12-cup muffin pan for this recipe.
Scoop: I find that when I use a scoop, it makes it tremendously easier to portion the batter.
Paper liners: If you don't want your muffins to stick, I highly recommend using paper liners in your muffin pan.
Mixer: Using a stand mixer with a paddle attachment works well for this recipe. However, you'll have equal success with a hand-held mixer.
Microplane: I prefer to use a microplane when I zest citrus fruits, such as lemons.
How to make lemon blueberry muffins
These muffins are so easy to make to indulge your muffin cravings. The three basic steps make this recipe easy to follow. You just need to make the topping, make the batter and bake the muffins.
Step 1. Make the topping
To start, preheat your oven to 400°F. Line your muffin pan with paper liners.
Grab a medium bowl. Then, stir the flour, brown sugar, lemon zest and melted butter together with a fork until well combined. However, it is normal for the mixture to be coarse and lumpy. Set this aside for later.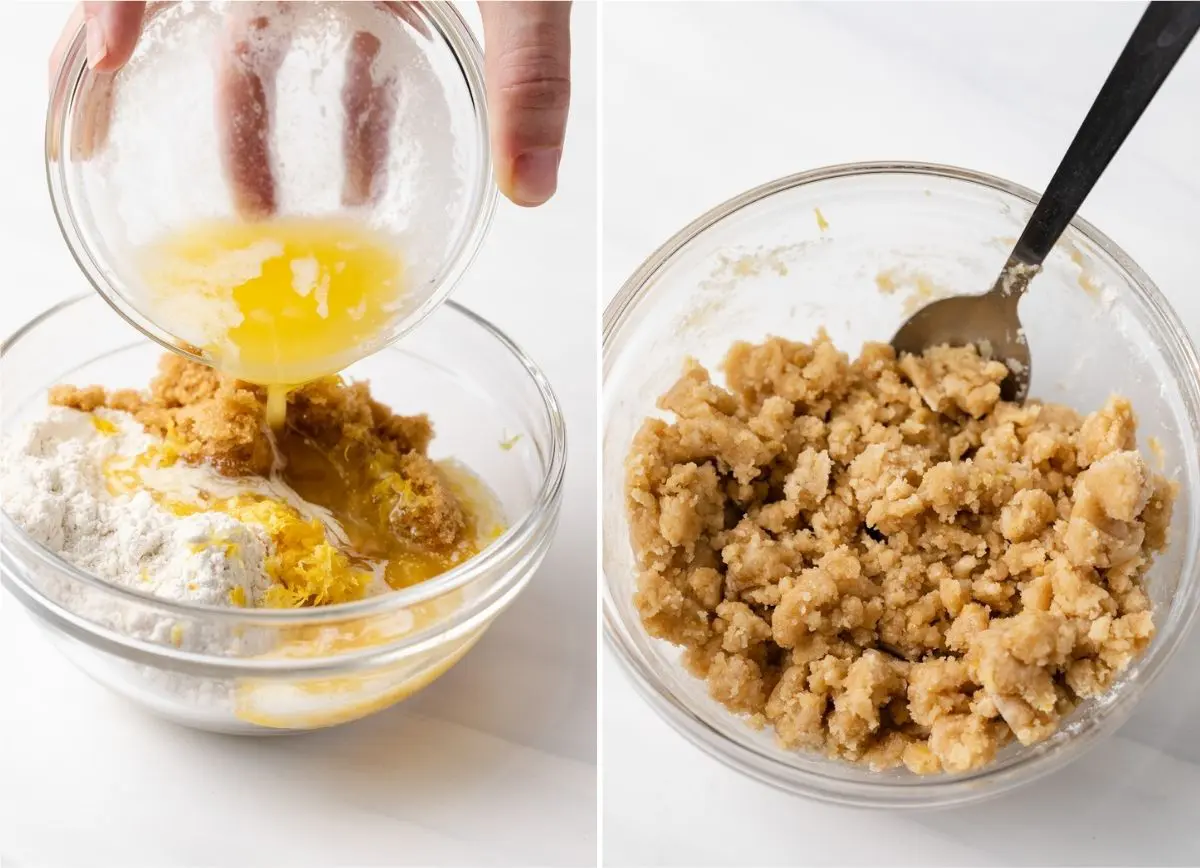 Step 2. Make the batter
You'll need a stand mixer fitted with a paddle attachment. Otherwise, an electric hand-held mixer can be used to cream the butter and sugar. Beat the butter and sugar on medium speed until the mixture becomes light and fluffy.
Then, turn the speed down to low and beat in the eggs, one at a time. After that, beat in the yogurt, lemon juice, lemon zest and vanilla. Before adding your dry ingredients, make sure that the zest is not clumping together in the batter.
Now, in a separate bowl, whisk together flour, baking powder, baking soda and salt. Then, add the flour mixture into the butter mixture. You'll want to use a silicone spatula to mix until just combined. Finally, gently fold in the blueberries.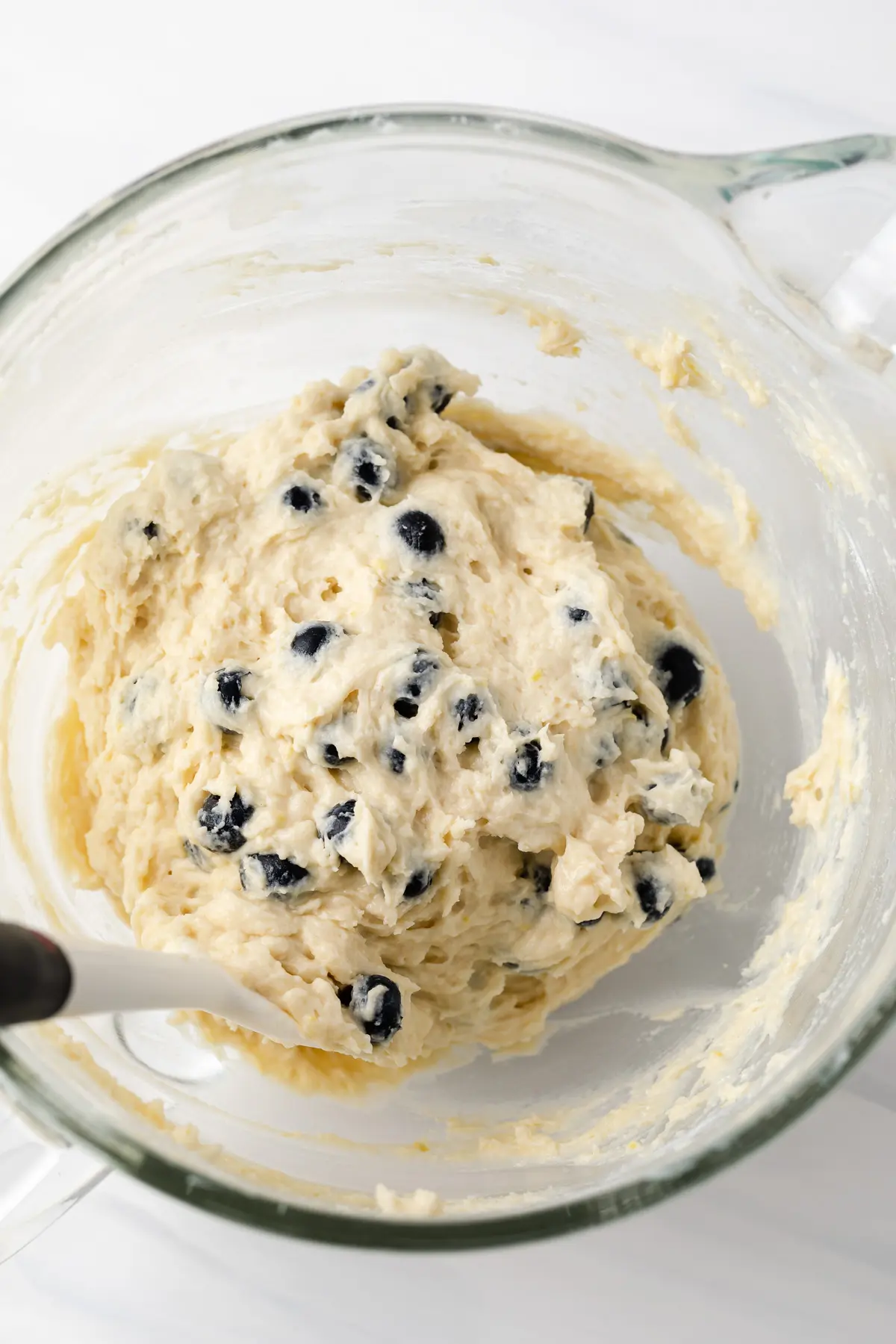 Step 3. Portion and bake
Let's start baking the lemon blueberry muffins. Divide your batter evenly among the muffin liners. Then, crumble equal amounts of topping on each muffin cup. Make sure to press the topping into the batter.
Then, bake for 12-15 minutes at 400°F. You can use the toothpick test on these. When a toothpick inserted into the center comes out with few moist crumbs, the muffins will be done.
Finally, remove the muffins from the pan immediately. Transfer them to a wire rack to cool completely. Please be careful while doing this as the muffins and the pan will be very hot.
Storing & freezing
To store: You'll find that lemon blueberry muffins are best the day they are made, but you can store them for later use. To store at room temperature, place the muffins in an airtight container. Store for no more than 3 days.
To store them in the refrigerator, place the muffins in an airtight container. They will keep for no more than 1 week.
To freeze: These are the perfect make-ahead muffins. You can freeze them for up to 3 months. Then, you can thaw them one by one or the whole batch overnight in your fridge. For a single muffin defrosted quickly, place in the microwave for 40-60 seconds.
Possible variations
Use your favorite berry in place of blueberries.
Gluten-free flour blends should work fine with this recipe.
Make these muffins whole wheat by subbing up to 50% of the flour for whole wheat flour.
Jen's best tips
If you mistakenly zest the lemon down to the pith, your muffins will taste unpleasantly bitter. It's best to use a microplane for zesting the lemon because it gives you better control.
Don't worry about the batter for the lemon blueberry muffins appearing so thick. It's meant to be a scoopable thickness for easy muffin cavity filling.
Bring on the minis! Kids love the mini muffins because they are so easy to eat and easy for parents to pack in lunches. You can make these in a mini muffin pan, but you will need to reduce the baking time to 9-11 minutes. Watch them closely for signs of doneness.
More lemon blueberry recipes to try
---
Watch how to make it
There's a typo in the video! It states sour cream but should say Greek yogurt. Be sure to use the ingredients listed below in the recipe card, they are correct.
NEED MORE BAKING IDEAS? Subscribe to our newsletter and Youtube channel. Also, follow along on Facebook, Instagram, and Pinterest for all the latest updates!