This post may contain affiliate links. Read the full disclosure here.
This homemade lemon blueberry bread recipe is light, fluffy, loaded with fresh berries, and has a vibrant zing from lemon zest. This versatile bread can be served throughout the day or with a scoop of ice cream for a fresh summer dessert.
I adapted this lemon blueberry bread from my yummy lemon blueberry muffins recipe. Lemon zest offers a lemony flavor throughout the bread, but rather than a streusel topping, this bread has a lemon glaze that gives an extra punch of sweet lemon flavor.
I like to make lemon blueberry desserts in the summer when blueberries are bursting off the vine and loaded with flavor.
The lemon zest and lemon juice added to the bread batter give this light and fluffy bread a bright vibrant flavor. Sour cream makes this bread extra tender and adds a delightful zing. The lemon glaze only adds to the deliciousness.
I'd suggest you keep this bread out on your counter under a cake dome for a few days for people to grab a slice as they walk by, but there is no way it will last that long. It's just too good. Luckily, it's an easy starter recipe that is great for kids or beginning bakers, so you can quickly whip up another loaf!
If you find yourself overwhelmed by your blueberry bounty, please also try my lemon blueberry bundt cake and my blueberry lemon icebox cake.
---
Recipe Details
Taste – This bread is vibrant and bright lemon flavored with blueberries
Texture – Light, fluffy and tender.
Ease – Quick and easy! Perfect for beginner bakers.
Time – This takes about 20 minutes to prepare and a little over an hour to bake.
---
What You'll Need
Ingredients
Butter: Unsalted sweet cream butter allows you to control the amount of salt.
Sugar: Granulated white sugar adds sweetness and moisture to the bread.
Eggs: I bake with large brown eggs, and these should be at room temperature.
Lemon Zest: You will zest about 2 lemons to get the needed amount of lemon zest.
All-Purpose flour
Leavening: Baking soda and baking powder work together in this recipe.
Salt: I use kosher salt in baking.
Sour Cream: This keeps the bread tender and fluffy, and adds depth and moisture.
Blueberries: Use fresh if you can. I don't recommend frozen berries here.
Powdered sugar: Confectioners' sugar is the base of the glaze.
Butter: Melted, unsalted butter is needed for the glaze.
Lemon Juice: Adds tangy lemon flavor to the glaze.
Recommended tools
How to Make Lemon Blueberry Bread
I love recommending that new bakers start off with a quick bread. They easily come together in under 30 minutes, smell great while baking and taste delicious. They are perfect for breakfast, as an afternoon snack or with a scoop of ice cream for dessert.
Prepare to bake your bread by preheating the oven to 350°F, adjusting the oven rack to the middle position, and spraying the inside of the loaf pan with nonstick cooking spray.
Make the batter. In a large bowl, beat the butter and sugar together until light and fluffy, about 5 minutes. Add the eggs, one at a time, mixing well after each addition. Beat in the lemon zest.
In a separate bowl, whisk together the flour, baking soda, baking powder, and salt. Add half of the flour mixture to the butter mixture followed by the sour cream then the remaining flour mixture, beating just until incorporated. The batter will be thick. Gently fold in the berries.
Transfer the batter to the prepared pan and spread evenly with a silicone spatula. Bake for about 55-65 minutes, until the golden brown and a toothpick inserted into the center comes out clean.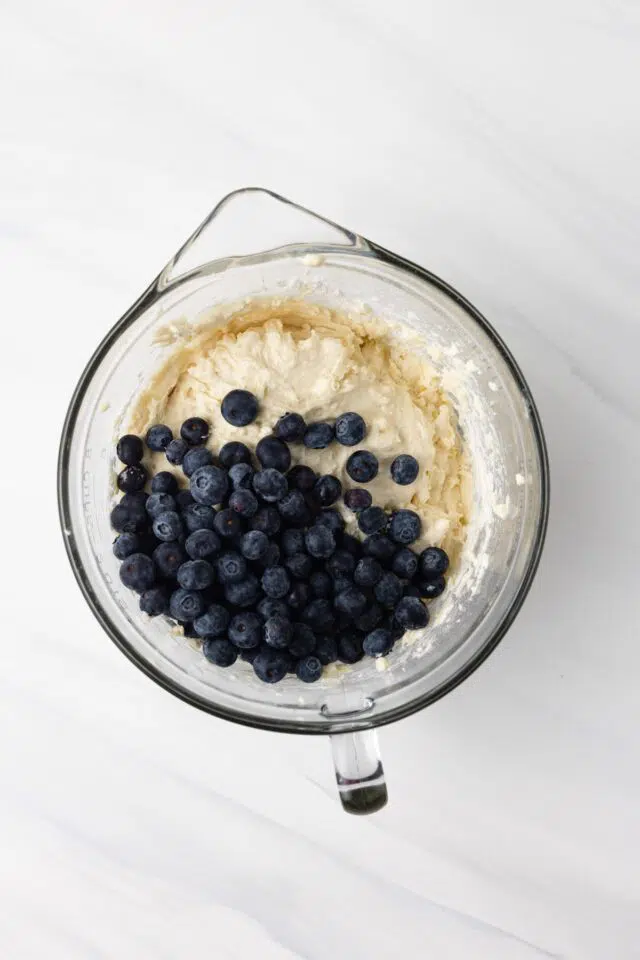 Make the glaze. Combine the powdered sugar, melted butter and lemon juice together in a small bowl. Stir until the sugar is dissolved.
Cool the bread the pan for 10 minutes, then transfer to a wire rack. Once cooled, drizzle the glaze over the bread.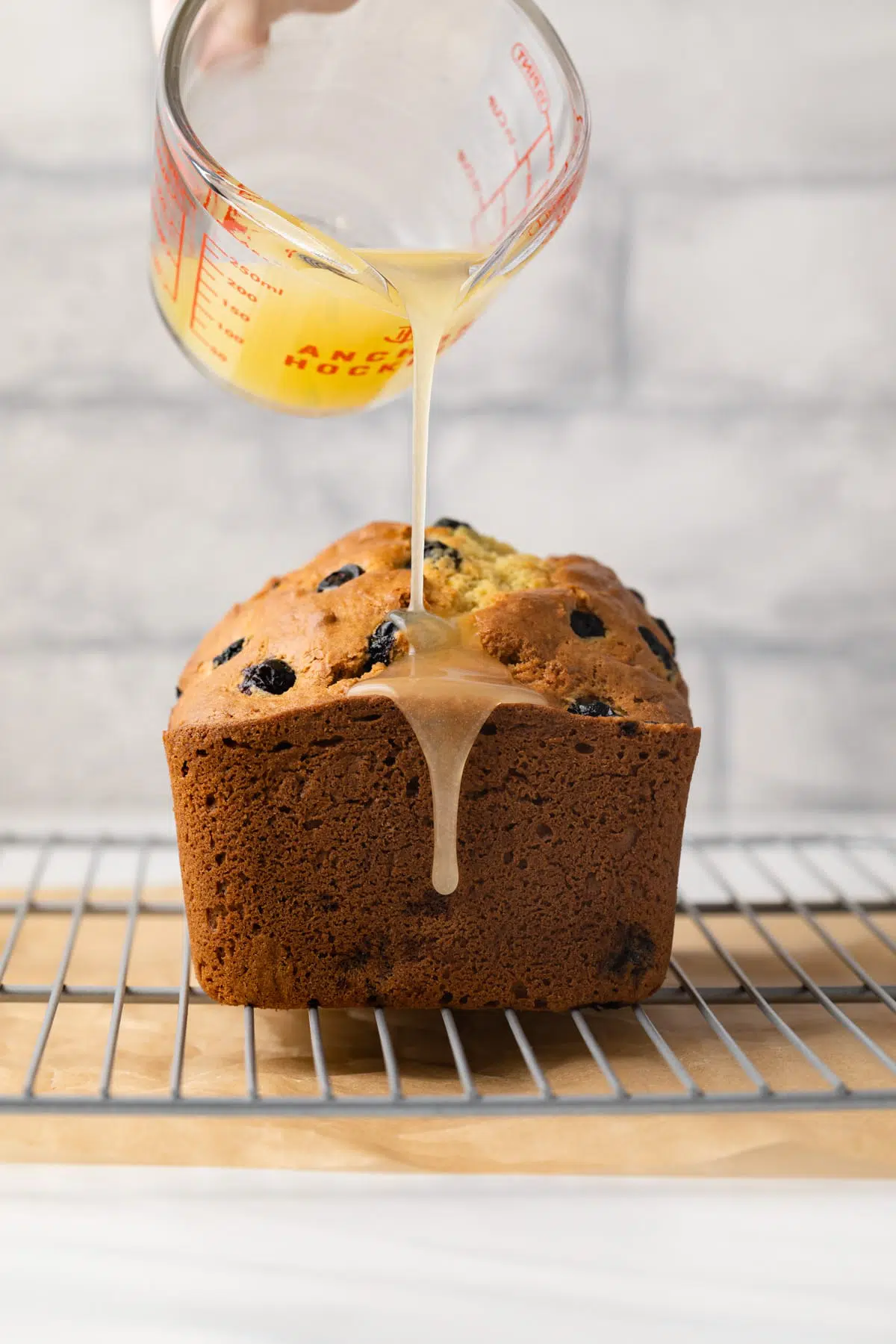 Tips For Success
Sour Cream: Plain yogurt is a great substitute for sour cream. Unsweetened applesauce or mashed banana may also be used.
Blueberries: Fresh blueberries are best. I do not recommend frozen blueberries. If you must use them, do not thaw, toss the blueberries with 2 Tablespoons of flour and extend the bake time.
Zest: If you mistakenly zest the lemon down to the pith, your muffins will taste unpleasantly bitter. It's best to use a microplane for zesting the lemon because it gives you better control.
Recipe FAQs
Can I use Gluten Free Flour?
Yes, gluten free baking flour should work just fine in this recipe
What if I don't have blueberries?
I love the combination of blueberries and lemons, but you could also make this recipe with blackberries or raspberries.
---
Storage & Freezing
Cover and store this lemon blueberry bread at room temperature for 2 days or in the refrigerator for up to 1 week. If you can resist eating it for that long!
The bread should cool completely before wrapping the loaf or slices (individually or grouped) in 2 layers of plastic wrap or aluminum foil. Place wrapped bread in a large freezer-friendly storage bag or reusable container. Freeze for up to 4 months. Thaw in the refrigerator or at room temperature.
Did you try this recipe? I would love for you to leave me a 5-star rating or comment. This way, I have a better understanding of which recipes you like and can create more of them.
Please take a moment to follow me on Instagram, Pinterest, Facebook, Youtube or sign up for my free newsletter to never miss the newest recipes and blog updates.
You can also shop my favorite baking tools. Thank you so much for your support!