Glazed Maple Pecan Scones
This post may contain affiliate links. Read the full disclosure here.
Full of maple flavor, speckled with pecans, and topped with a sweet maple glaze, these Glazed Maple Pecan Scones are light and flaky. They're the perfect treat to share with your loved ones during the holiday season.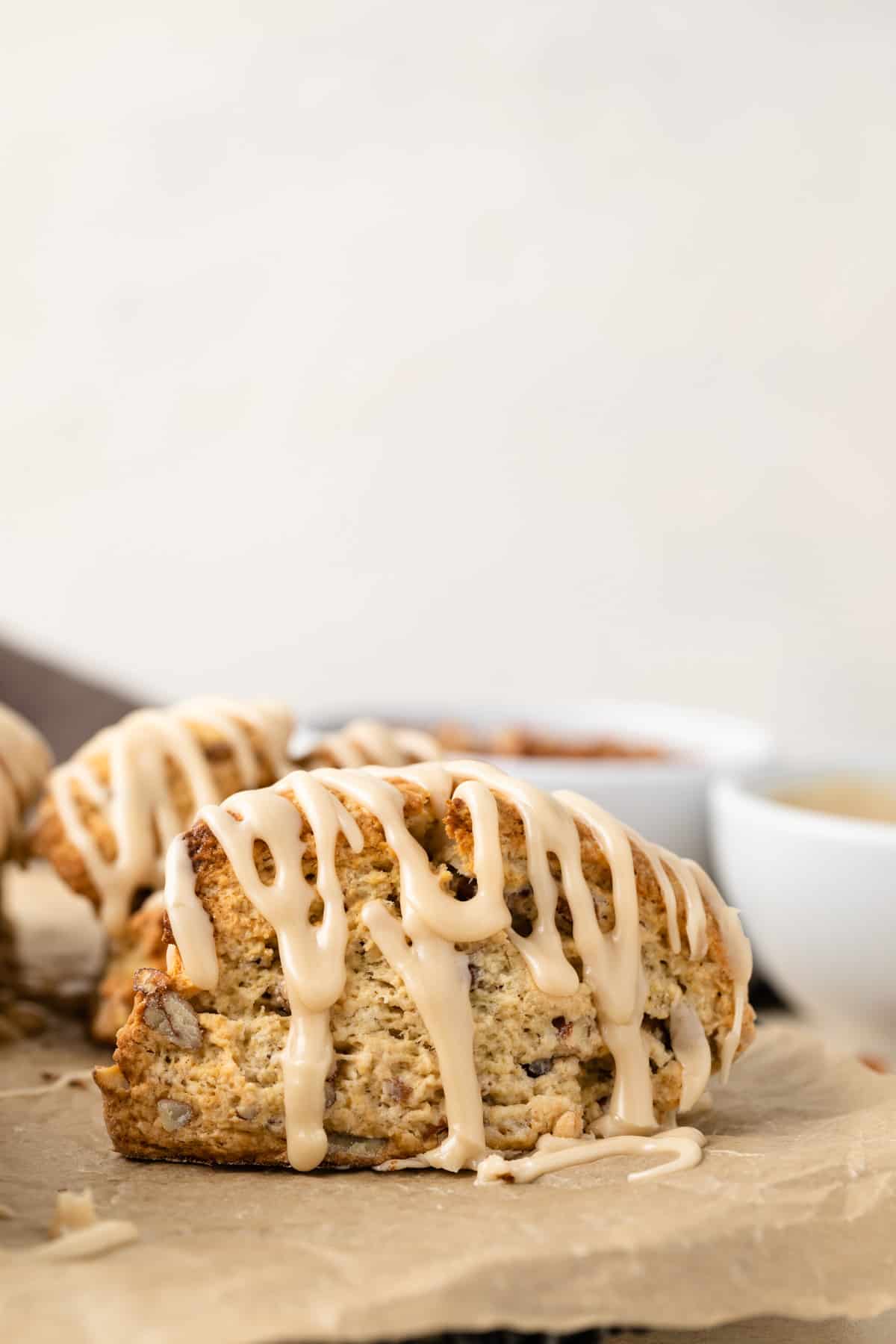 Soft & Flaky Maple Scones
I love coming up with new recipes and sharing food is one way I love to show my friends and family how much I care. While I do that year-round, I find myself sharing my favorite recipes more during this time of year.
These Glazed Maple Pecan Scones are one of my favorite treats to share during the fall and winter season.
This scone recipe starts with my soft scones dough, to ensure that soft, flaky texture. They're sweetened with brown sugar and maple syrup, for a rich sweetness and maple flavor throughout and then laced with pecans.
Maple and pecan is a favorite fall flavor combo. I love the contrast of the sweet tender scone and crunchy, nutty pecans. I could eat this flavor of scone all day long.
They're buttery, light, and taste just like fall. Hints of maple and crunchy pecans fill each bite. For the best experience, enjoy them warm from the oven – though they'll be tasty the next day too!
What You'll Need
Like most scones, this maple pecan scone recipe is made with your basic ingredients like flour and brown sugar, and, of course, maple syrup and pecans.
Ingredients
All-purpose flour
Baking powder & baking soda – Helps the scones reach just the right texture.
Salt
Light brown sugar – The molasses flavor of brown sugar is a great complement to the other flavors. You can also use granulated sugar.
Pure maple syrup – Using pure maple syrup is essential, no artificial versions! It adds that delightful maple flavor to every bite.
Heavy cream – You can also use milk.
Egg – My secret to super soft scones.
Vanilla extract – Adds a light flavor.
Butter – Use cold butter that's cut into small cubes. Be sure it's unsalted.
Pecans – Coarsely chop them into pieces.
Buttermilk – Buttermilk should be cold. I do not recommend substituting it. However, you can make homemade buttermilk by combining whole milk with lemon juice.
Confectioner's sugar – Is needed for the glaze to add stability and help it "set".
Helpful Items
Pastry blender: I find that a pastry cutter works best for cutting the butter into the flour mixture. If you don't have one, you can use the tines of a fork.
Parchment paper: Lining your baking sheet with parchment paper makes for easy clean-up!
Sharp knife: Use a sharp knife to slice the dough into triangles. Or you can also use a bench scraper if you have one.
Pastry brush: Brush heavy cream over the scones by using a pastry brush.
---
How to Make Maple Pecan Scones
Making these delicious scones is quick and easy. You need only a mixing bowl and spatula to make the dough and it requires just 30 minutes of chill time!
Make the scone dough. Combine flour, brown sugar, baking powder, baking soda, and salt in a large bowl.
Cut the butter into the dry ingredients until it looks like coarse crumbs. Fold in the pecans.
In a separate bowl whisk together the buttermilk, maple syrup, egg, and vanilla. Gradually add it to the flour mixture, stirring until the dough comes together.
You may not need all the buttermilk, just add a little at a time until the mixture is moist but not too well.
Shape the dough. Transfer to a lightly floured work surface and knead four or five times. Skip the rolling pin and just pat the dough into a circle. Cut into 8 triangles.
Freeze. Arrange on a prepared baking sheet 2 inches apart. Freeze for 30 minutes.
Bake. Brush the tops of the scones with cream and sprinkle with coarse sugar. Bake until golden brown, 15 to 20 minutes.
Add the glaze. In a small bowl, stir together the glaze ingredients until smooth. Drizzle glaze over the warm scones.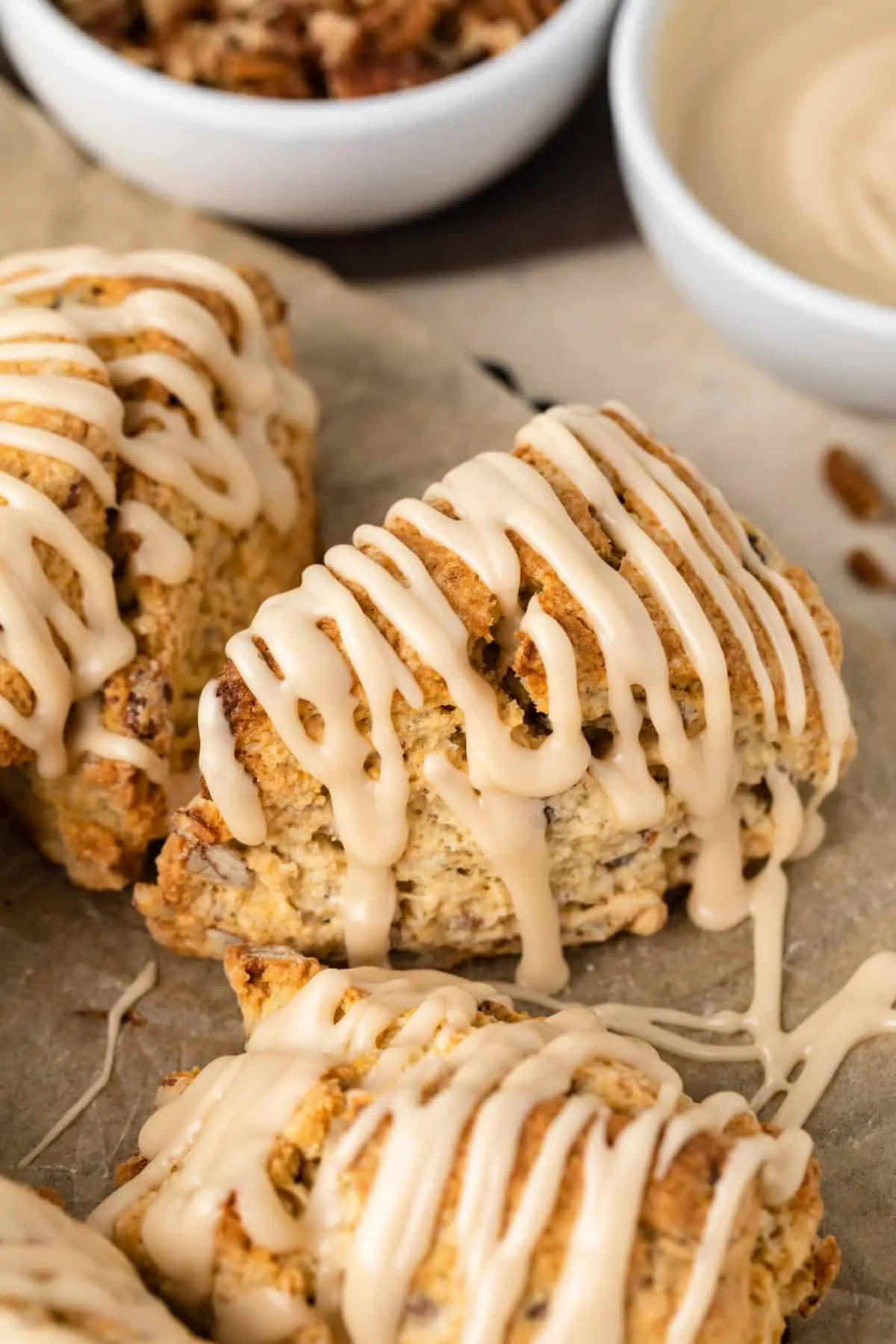 Tips for Success
For the best pecan scones, here are a few things to keep in mind.
Make sure you use pure maple syrup. You want 100% of that maple goodness without all the extras. You will really be able to taste in the glaze, so it's important to use the real deal.
How to shape the scones. I like to shape the dough into a disk and then cut it into wedges. Alternatively, you can scoop the dough with a large cookie scoop and place them 2-inches apart on the baking sheet.
Should I add the glaze while the scones are warm? You can wait until the scones cool before glazing the top so it goes on nice and thick. Or you can glaze them while they are fresh out of the oven for a thin layer of glaze.
Add more pecans. While the recipe calls for ½ cup (56 g) chopped pecans, I've made them with a whole cup. I prefer the texture of more pecans as it adds extra crunch to the pecans. If you prefer more texture as well, go ahead and double the amount of pecans added.
Avoid dense scones. Measure the flour correctly so that you are not using too much flour. Also don't overwork the dough. It should be loose and shaggy but hold together when squeezed, much like the dough for pie crust.
Serving Suggestions
These Glazed Maple Pecan Scones are the perfect breakfast alongside a hot cup of coffee or tea on a cold morning! Of course, you can also enjoy them in the afternoon or as dessert as well.
---
How to Store
How to store unbaked scones. Unbaked scones can be refrigerated overnight. You can also freeze them for up to a month. Add 2 minutes to the baking time if baking from frozen.
How to store baked scones. Scones are best when enjoyed immediately but they will last for up to 2 days at room temperature, in an airtight container.
Can I freeze scones? These scones can be frozen for 3 months. Thaw overnight in the fridge then bring to room temperature.
More scone recipes you'll love
Did you try this recipe? I would love for you to leave me a 5-star rating or comment. This way, I have a better understanding of which recipes you like and can create more of them.
Please take a moment to follow me on Instagram, Pinterest, Facebook, Youtube or sign up for my free newsletter to never miss the newest recipes and blog updates.
You can also shop my favorite baking tools. Thank you so much for your support!