With a thick cinnamon streusel topping over fluffy, buttery cake and a ribbon of melty cinnamon through the center, this Cinnamon Crumb Coffee Cake is going to be a hit at your family breakfast.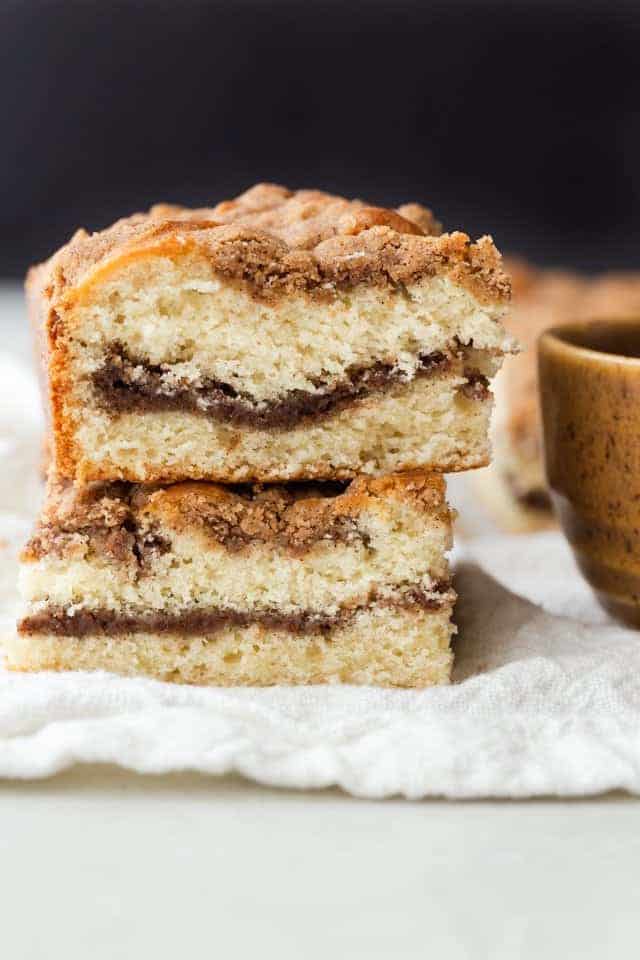 Easy Cinnamon Crumb Coffee Cake
This classic coffee cake recipe is from Jacqueline at Go Go Go Gourmet, a food blog dedicated to busy moms who enjoy baking, cooking, and entertaining.
The coffee cake is buttery, light, fluffy, and features a sweet ribbon of melty cinnamon through the center.
It's everything a good breakfast cake should be. And it's piled high with a thick cinnamon streusel topping that offers a lovely texture contrast.
It's similar to my cinnamon sour cream coffee cake except this one is butter based. It's so buttery tender, it practically melts in your mouth!
Perfect for enjoying alongside a cup of hot coffee. Truly the best crumb cake recipe.
Sweet carbs are actually one of the things I really enjoy for breakfast. If you are like me, you may also want to try these whole wheat banana muffins and peanut butter and banana coffee cake!
An old-fashioned crumb cake recipe
Every baker should have this easy crumb cake recipe on hand. The batter is thick and ultra rich.
It yields a super soft crumb which is perfect for a cake that you are going to eat for breakfast. Butter and an egg leave the cake fluffy and tender with tight crumbs throughout.
The butter is creamed with the sugar which provides the moist, cakey texture that is so well loved about this coffee cake.
There's a ribbon of sweet cinnamon through the center of the cake and thick crunchy cinnamon streusel over the top. Both the filling and topping are made with brown sugar, flour, cinnamon, and softened butter.
Work the softened butter into the dry ingredients with your fingertips or a pastry cutter until the mixture resembles coarse crumbs. It's important to use softened butter in this recipe.
Softened butter is easier to work into the dry ingredients, making sure each granule of sugar, flour, and cinnamon are coated with buttery goodness.
---
How to make cinnamon crumb coffee cake
Step 1: Make the cake
Prepare the batter and spread half in the bottom of a 9-inch square cake pan.
Step 2: Make the filling
Prepare the filling and sprinkle it over the batter in the pan then top the filling with the remaining batter.
Step 3: Make the topping and bake
Make the topping and sprinkle it evenly over the top of the batter. Bake the coffee cake for 45-50 minutes in a 350°F oven.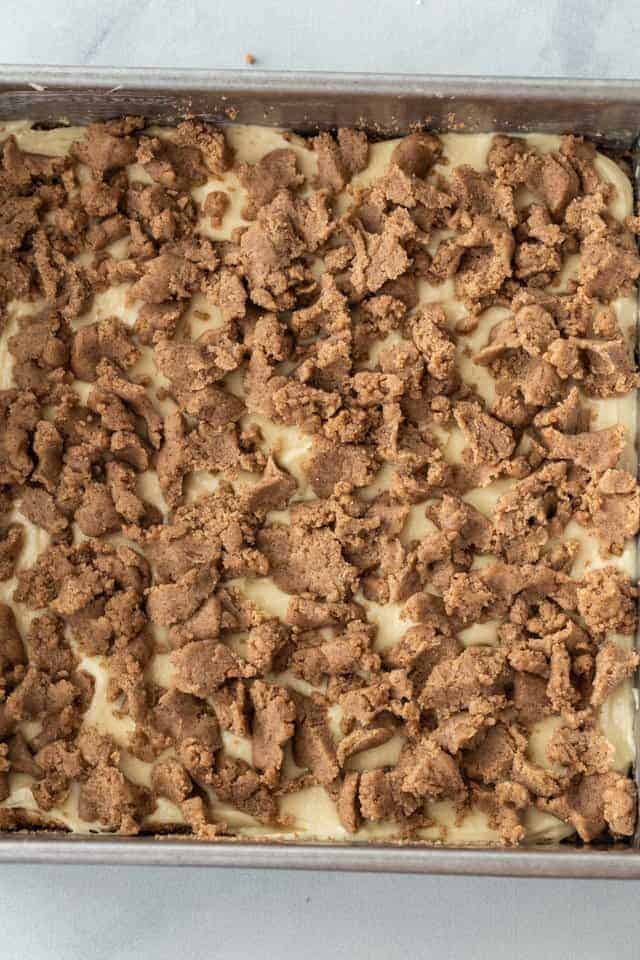 Common questions about Cinnamon Crumb Coffee Cake
Can you make it the night before and then bake it in the morning?
I'd recommend baking it the night before. Let it cool completely and store it in the refrigerator. You can warm it the next morning by baking it at 300°F for 15 minutes.
Is the cinnamon crumb topping very sweet?
I don't think it's too sweet. The cake overall is well balanced. But everyone's taste is different.
Can I make cupcakes with this recipe?
I suppose you could. They would turn out more like a muffin than a cupcake though.
Helpful Tools
More cinnamon recipe you'll love
NEED MORE BAKING IDEAS? Subscribe to our newsletter and Youtube channel. Also, follow along on Facebook, Instagram, and Pinterest for all the latest updates!