This post may contain affiliate links. Read the full disclosure here.
If you love oatmeal cookies loaded with chocolate and peanut butter, then this no-bake cookie recipe is for you! So simple to make with just a handful of ingredients, these cookies can be made in just 20 minutes.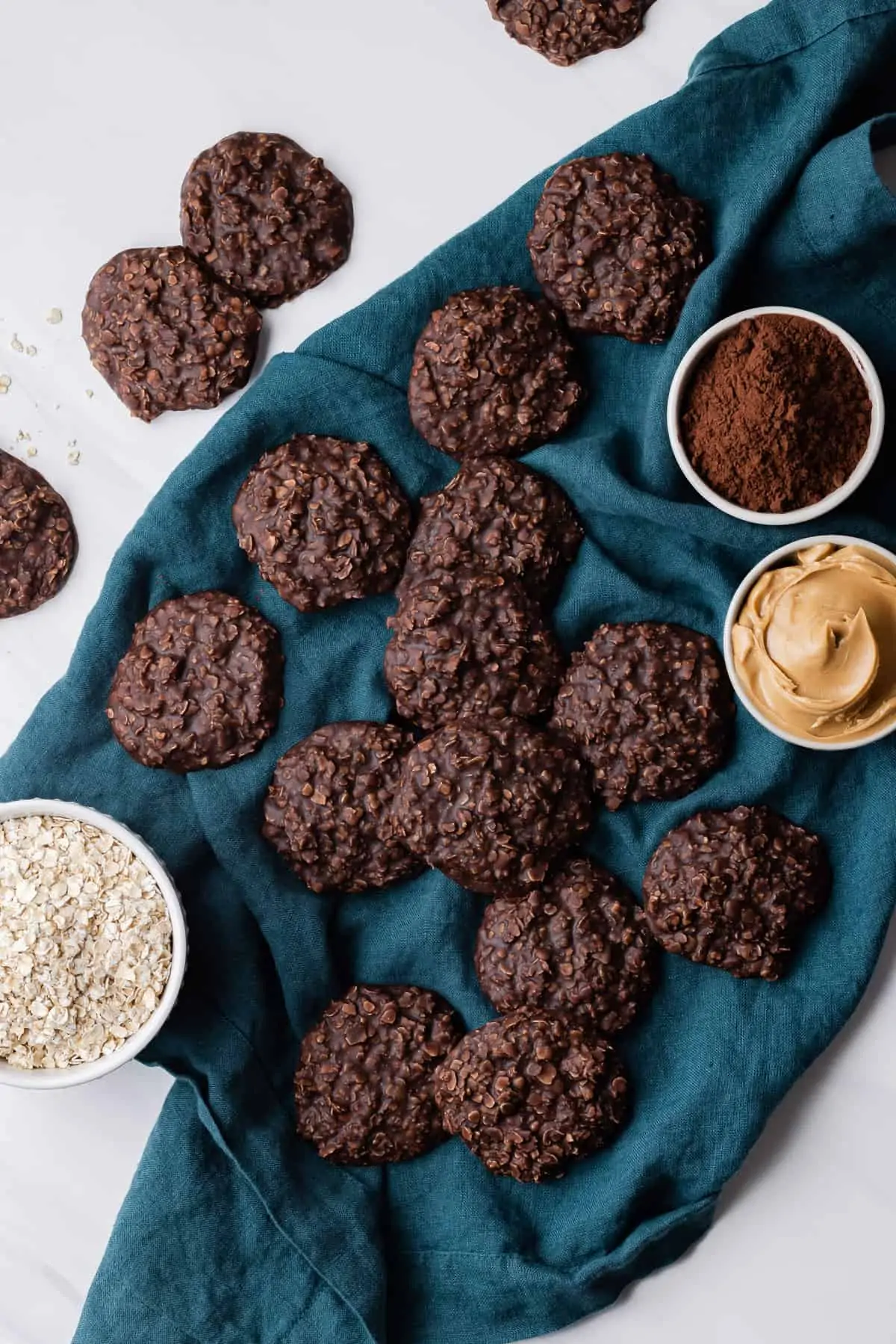 These chocolate no bake cookies are the perfect, easy dessert for summer. Since they don't require baking, they can be made in as little as 20 minutes. The ingredient list is fairly simple also.
Peanut butter no-bake cookies and cookie butter no-bake cookies are some of my favorite simple desserts. Taking either of these recipes and adding a little cocoa powder will give you a fun new spin, which is what I did with today's cookies.
I added cocoa powder to the peanut butter version and the result is a sweet, chewy cookie that's full of peanut butter and chocolate flavor.
The base of the cookies is made right on the stovetop. Once all the ingredients are mixed together, the cookies are scooped onto a baking sheet and left to set.
Give this easy childhood favorite a try today! Once you've made these, you've got to try my no-bake chocolate peanut butter bars.
---
Why this recipe works
Quick cook oats soften quickly in the hot cookie base and offer a chewy texture to the final product.
Dutch-processed cocoa powder creates a smooth chocolate flavor.
I prefer creamy peanut butter but crunchy would be good also.
No bake chocolate oatmeal cookies are good any time of year. You simply can't go wrong with the wonderful combination of flavors. And who can pass up a recipe that's so easy?!
Ingredients for no-bake oatmeal cookies
My favorite thing about these cookies is the simple ingredient list. The ingredients are pretty basic and are staples in most kitchens.
Sugar: Use granulated white sugar. It melts to create a syrup that sets firm. This is important for the cookies to set properly.
Butter: Unsalted butter is what I always use so I can control the amount of salt in the recipe.
Milk: Whole milk is going to give you the best results.

However, almond milk or soy milk will also work.

Cocoa powder: Unsweetened Dutch-processed cocoa offers a smooth chocolate flavor. You can use natural cocoa if that's all you have.
Peanut Butter: Creamy is my preferred choice but crunchy will also work.

If you have a peanut allergy, almond butter or sunflower seed butter are great alternatives.

Vanilla & salt: Pure vanilla extract and a pinch of salt add an extra depth of flavor.
Oats: Use quick oats! If all you have is old-fashioned oats, briefly pulse them in a food processor. Smaller oats will hold together best.
Tools I used to make this recipe
With any recipe, it is essential that you have the right equipment on hand. Below are the items I used to make these no-bake cookies.
Kitchen timer: Needed to time how long the mixture boils.
Cookie scoop: Perfect for portioning out the cookies.
Baking sheet: The cookies will rest on paper-lined baking sheets until set.
How to make no-bake cookies
1. Boil the mixture
Bring the sugar, butter, milk, and cocoa powder to a boil over medium heat.
As soon as the mixture reaches a rolling boil, set a timer for 1 minute. Let the mixture continue to boil until the timer goes off.
Remove from heat.
2. Stir in remaining ingredients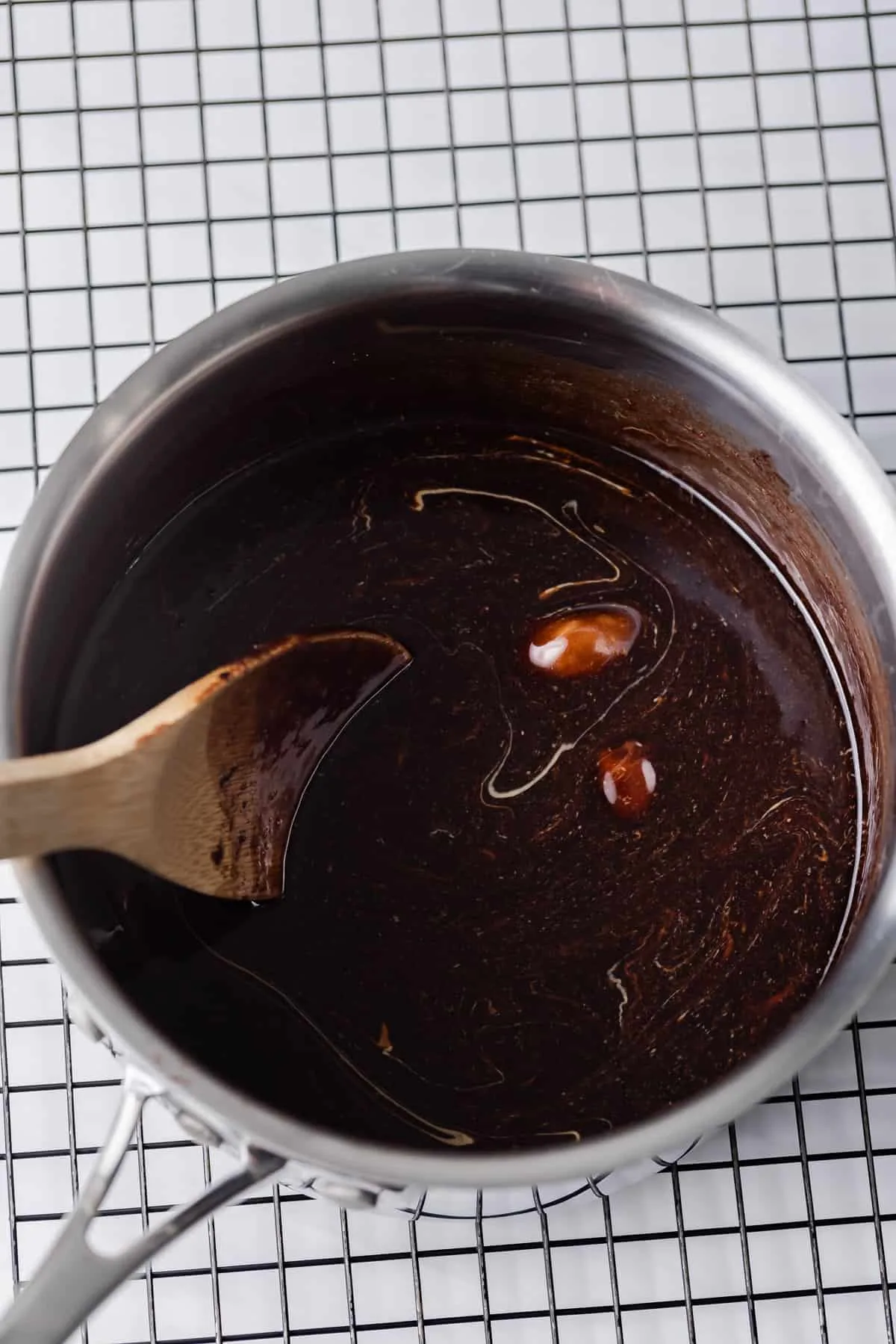 Immediately stir in the peanut butter, vanilla, and sat. It will take a minute or two for the peanut butter to fully melt and mix in.
Once the peanut butter is completely incorporated, stir in the oats until they are all well coated with the chocolate mixture.
Let the mixture sit for 1-2 minutes until slightly thickened.
3. Portion and let set
Use a 1.5 tablespoon cookie scoop to portion mounds of dough onto a parchment-lined baking sheet. You can use the back of the scoop to gently spread and shape the cookies if needed.
Leave the cookies to sit until they have hardened. This can take about 30 minutes.
Jen's Best tips
Make sure to measure all the ingredients and have them ready to use. This recipe moves fast and you will not have time to measure as you go.
The cookies should take around 30 minutes set up at room temperature. But, if you live in a hot or humid environment, you may need to put the cookies in the refrigerator to help them harden.
Storing & Freezing
Nothing beats a no bake cookie recipe that can be made in advance!
To store: The cookies will keep for up to 3 days stored at room temperature in an airtight container. Or up to 1 week in the refrigerator.
To Freeze: The cookies will keep for up to 3 months stored in the freezer. Thaw in the refrigerator overnight. Bring them to room temperature before serving if desired.
---
Frequently asked questions
Why did my cookies not set?
The number one reason no bake cookies fail to set is that the mixture didn't boil long enough. Make sure to allow the mixture to come to a rolling boil before setting the timer.

If your cookies still didn't set, you can try boiling the mixture for 13-30 seconds longer the next time you make them.
Can you use substitutes or add mix-ins?
Yes! You can customize your no-bake cookies any way you like.
– Use Nutella or chocolate peanut butter instead of peanut butter.
– Stir in ½ cup shredded coconut or chocolate chips.
This recipe is the only no-bake cookie recipe I will ever use. It's lightly sweet, peanut buttery, and perfectly chewy.
Did you try this recipe? I would love for you to leave me a 5-star rating or comment. This way, I have a better understanding of which recipes you like and can create more of them.
Please take a moment to follow me on Instagram, Pinterest, Facebook, Youtube or sign up for my free newsletter to never miss the newest recipes and blog updates.
You can also shop my favorite baking tools. Thank you so much for your support!