Honey Cream Cheese Biscuits
This post may contain affiliate links. Read the full disclosure here.
Bake up a large batch of these homemade Honey Cream Cheese Biscuits! They are easy to make, great alongside your favorite meal, and so tasty! They are even wonderful alone with a pat of butter.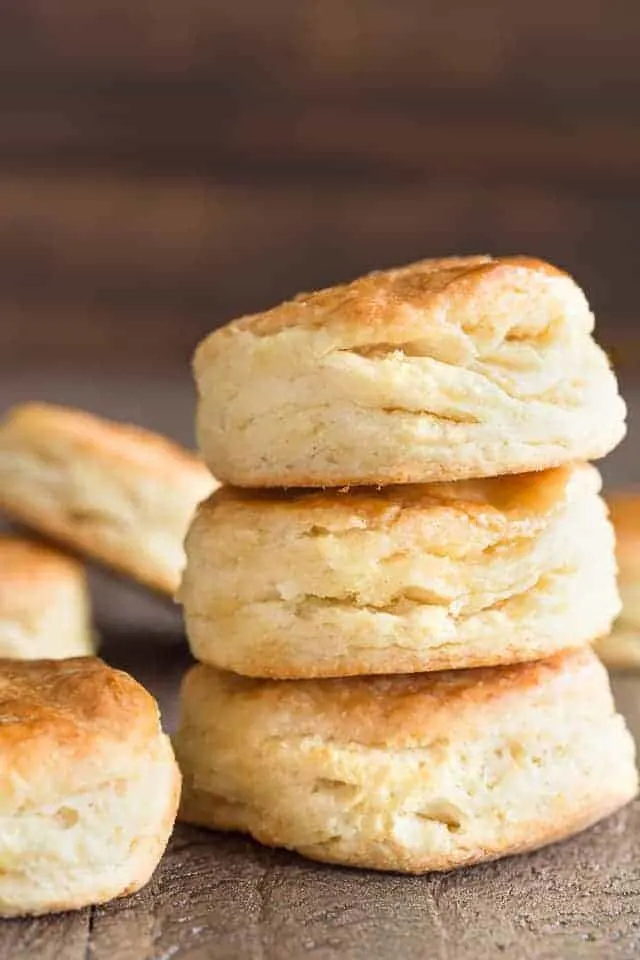 About Honey Cream Cheese Biscuits
Have you ever had a cream cheese biscuit? They are so tender and fluffy. You will be forever converted. They are tender and fluffy just like these buttery jam biscuits.
This recipe is so full of flavor and texture. It has subtle hints of honey with a fluffy moist interior. The exterior is slightly crunchy. It's undeniably good!
Unlike the zucchini drop biscuits I shared with you a couple of weeks ago; these biscuits are rolled and cut. Don't be afraid though, they are extremely simple.
How to Make Cream Cheese Biscuits
Since I had never attempted cream cheese biscuits before, I turned to Cook's Country to guide me with this recipe. I followed the recipe fairly close, with the exception of a few changes; one being the flour.
Their recipe calls for a mix of all-purpose and cake flour. I opted to use straight all-purpose instead. I also added some honey. It's light enough that you get just a hint, but it really makes these biscuits something special.
Butter and cream cheese play a part in this recipe. Both are required in order to produce a moist and tender biscuit. Without the butter, the biscuits would end up like bricks.
Buttermilk is also a culprit in keeping these biscuits impeccably moist. It's a great additive to many baked goods when you are looking for a luxuriously tender texture.
Step 1: Cut butter and cream cheese into flour
Use a pastry cutter, fork, or two butter knives to cut cold butter and cream cheese into flour until it resembles coarse crumbs. There should be pea-sized lumps of butter and cream cheese in the flour.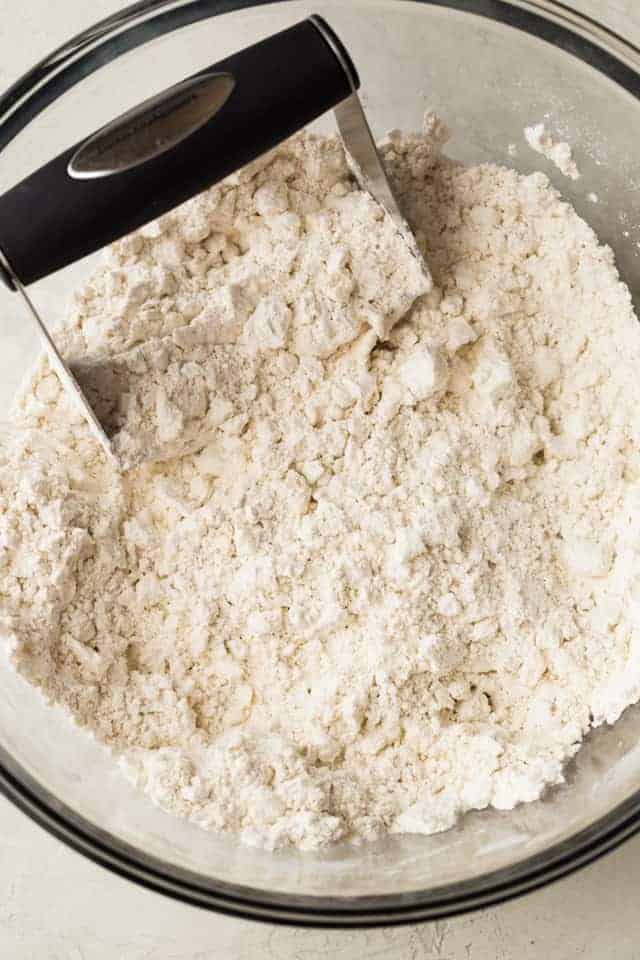 Step 2: Stir in buttermilk
Gently fold cold buttermilk into the flour mixture until just combined. Take care not to overmix the dough. The dough will appear a bit dry, this is normal.
Step 3: Shape biscuits and bake
On a well-floured surface, knead the dough gently until it comes together in a ball. Work quickly and handle the dough as little as possible. Flatten the dough into an 8-inch circle and cut biscuits using a 2-inch rough cutter.
Place the biscuits on a baking sheet or cast iron skillet and bake for 10-15 minutes in a 450°F oven. Brush the tops with melted honey butter and bake for another 5 minutes.
Tips for Making Honey Cream Cheese Biscuits:
Make sure the butter, cream cheese, and buttermilk are super cold.
Don't overwork the dough. Knead and it as little as possible until it comes together.
When cutting the biscuits, don't twist the cutter. This will pinch the sides of the biscuits and affect how well it rises. Instead, press the cutter down firmly then lift straight up.
Did you try this recipe? I would love for you to leave me a 5-star rating or comment. This way, I have a better understanding of which recipes you like and can create more of them.
Please take a moment to follow me on Instagram, Pinterest, Facebook, Youtube or sign up for my free newsletter to never miss the newest recipes and blog updates.
You can also shop my favorite baking tools. Thank you so much for your support!