This post may contain affiliate links. Read the full disclosure here.
Three-layered Nutella Chocolate Cake with Swiss Meringue frosting is a show-stopping dessert that's perfectly nutty, moist, and decadent.
It's hard to find a more festive way to celebrate any occasion than with a three-layered chocolate cake. Add in creamy hazelnut from Nutella and you have an all-around winning recipe perfect for any time of year!
I adapted this chocolate layer cake recipe from my popular Chocolate Pistachio Cake, adding in Nutella for everyone's favorite chocolate-hazelnut flavor combo. The cake is very soft and delicate and the frosting is perfectly light and spreadable. I garnished with chocolate shavings but that's completely optional.
Why this recipe works
You'll bake this three-layered chocolate cake in three separate cake pans. This way, there's no tricky slicing of cakes horizontally. Plus, your layers will be perfectly even.
Adding Nutella to both the cake and the buttercream frosting means this cake has tons of flavor in every bite. Plus, it stays super moist.
The cake itself is rich and dense, so the light and airy buttercream is a perfect counterpoint. While there's a lot of flavor, it's refined, not overwhelming or too sweet.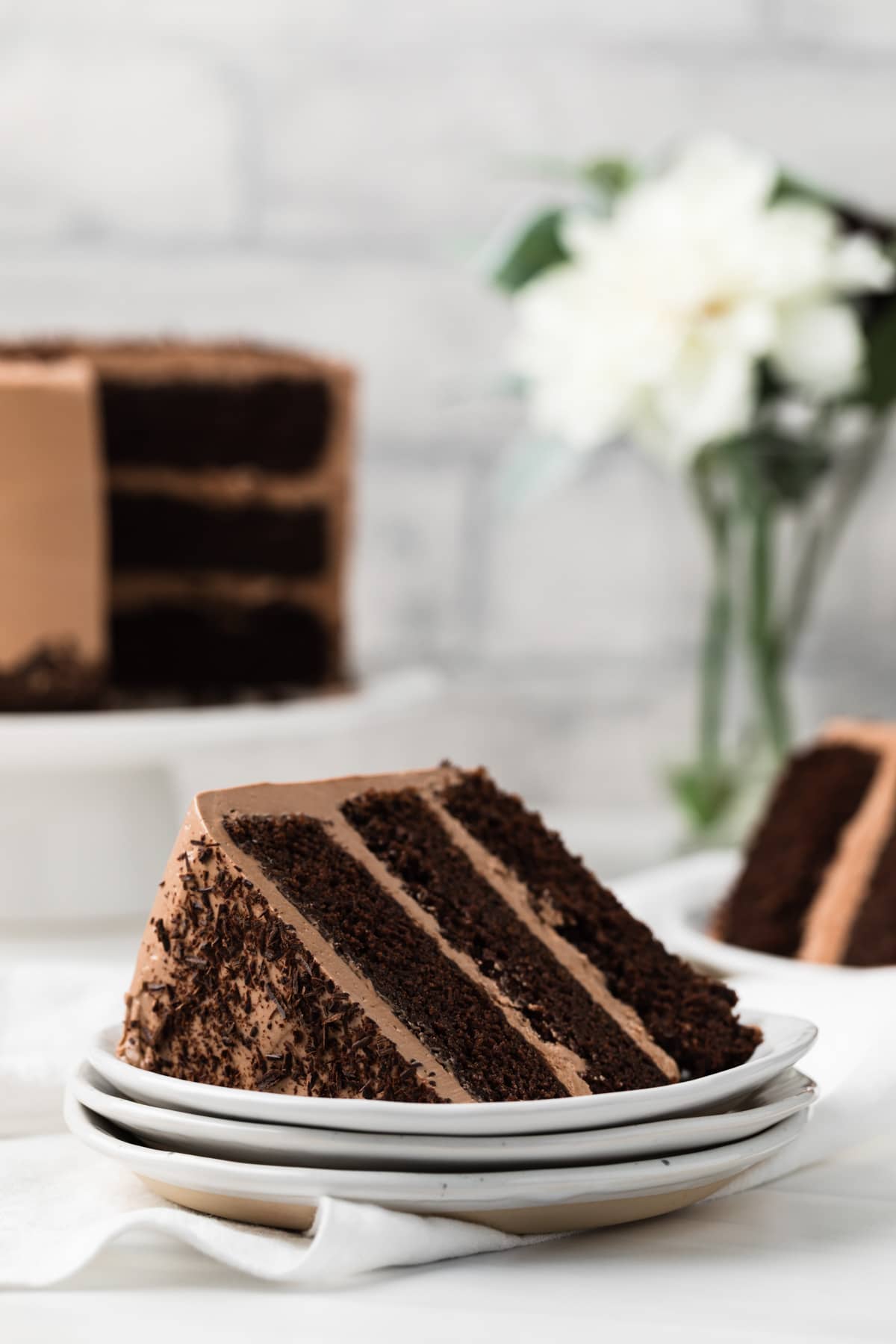 Nutella cake recipe
What makes this the best Nutella chocolate cake recipe? For starters, it jammed full of Nutella at every turn. From the cake batter to the Swiss meringue frosting, this cake is brimming with hazelnut-chocolate decadence.
In addition, this cake is easier than some layer cakes because you bake each of the three layers in its own cake pan. This means there's no tricky business of slicing cake rounds into thinner pieces, which often results in an uneven shape. This is the perfect layer cake for beginners and pros alike!
---
Ingredients
Nutella: This creamy, nutty spread adds flavor, texture, and moisture to the cake and frosting. It's an easy way to elevate classic chocolate cake and buttercream.
Flour: You'll need regular all-purpose flour for this cake. As always, avoid overmixing the cake batter after you add the flour, which can cause the cake to become too chewy and dense.
Unsweetened cocoa powder: This is the key to the decadent chocolate flavor without overdoing the sugar.
Leavening: This cake gets its lift from baking powder and baking soda. These two do double duty to ensure your cake is light and airy.
Salt: Salt enhances the deep chocolate and hazelnut flavor in the cake.
Butter: You'll need unsalted butter for the cake and the frosting. Melt and cool the butter for the cake batter. For the buttercream, you'll use solid, room temperature chunks of butter.
Sugar: Regular granulated white sugar adds just enough sweetness to the cake batter and the buttercream frosting.
Eggs: The protein in egg whites adds structure while the fat in the yolks adds tenderness to the cake batter. Use room temperature eggs for easier blending.
Vanilla: A dash of vanilla is the perfect complement to Nutella's nutty flavor.
Buttermilk: Buttermilk is the key to a slightly tangy, perfectly moist cake. It contains acid which reacts with the baking powder for extra lift during baking. Use room-temperature buttermilk to prevent lumps from forming in your batter.
---
How to make Nutella cake
While there are three layers and a homemade buttercream frosting in this recipe, it's easier to make than it seems. First, you'll make a simple chocolate cake enriched with Nutella.
Then, whip up the simple Nutella buttercream frosting. Finally, assemble your three layers and smooth, chocolaty frosting.
Step 1: Make the cake batter
Before you start mixing the cake batter, prepare 3 8-inch cake pans. Grease them well and line them with parchment paper for easy removal. I recommend dusting the parchment with cocoa powder for extra insurance.
Then, whisk together the dry ingredients. Separately, beat the butter and sugar until light and fluffy. I use a hand mixer for this, but you can do it by hand with some elbow grease. Add the Nutella, eggs, and vanilla. Finally, add the dry ingredients in three additions, alternating with the buttermilk.
Step 2: Bake the cake
When the batter is just combined (a few lumps are totally fine), divide it evenly between your prepared cake pans and bake!
The cakes are done baking when they're fully set in the center, about 25 to 30 minutes. Now it's very important to let the cakes cool fully before frosting.
Step 3: Make the frosting
While the cakes cool, whip up your Nutella buttercream frosting. You'll need the bowl of a stand mixer (or another heatproof bowl) and a pot of barely simmering water.
In this bowl, heat the egg whites, sugar, and salt until the sugar is fully dissolved and the mixture is starting to steam. It should register 150°F.
Now use the electric mixer to beat the egg whites into a fluffy foam. Start adding the butter, 1 tablespoon at a time, until the mixture is totally smooth and creamy. Take your time here––if you add the butter too quickly, your buttercream can break.
Mix the frosting until it's fully smooth and spreadable. If you notice it's seizing up at all, beat the frosting on medium speed and it should soften up.
Step 4: Assemble the cake
When your cakes are cool and out of their pans and the frosting is light and fluffy, you're ready to assemble the chocolate Nutella cake.
Place the first cake layer on a serving platter. Coat the top of the cake in a thin layer of frosting and top with the second cake layer. Repeat with the third cake layer.
Finally, use the rest of your frosting to coat the sides and top of the cake. I find that an offset spatula is the best tool to get this job done. To top it off, sprinkle the cake with chocolate shavings if you like.
I recommend chilling the cake before serving for even, neat slices.
Tips for success
Buttermilk is required because there's a good amount of baking soda in this recipe. The acid from the buttermilk will neutralize the baking soda, this removes any off-flavor the baking soda can leave behind.

If you don't have buttermilk or don't want to purchase it, you can make it by placing 1 tablespoon lemon juice or vinegar into a 1-cup liquid measuring cup. Then fill the cup with whole milk to make 1 full cup. Stir and let sit for 5 minutes before using. Do this for every cup of buttermilk called for in the recipe.

This cake is soft and delicate! It's best to cool the layers and chill them before frosting. Also, chill the frosted cake before slicing if you wish to have neat slices.
Dust the inside of the pans with cocoa powder to prevent the cake from sticking. The cocoa powder will blend in with the dark cake color, unlike flour.
Use room temperature ingredients! Cold eggs are difficult to blend into cake batter without overworking it. Cold buttermilk will cause the butter to resolidify and the batter will curdle.
For the very best results, weigh the ingredients. Small kitchen scales are relatively inexpensive.
Storing & Freezing
To store: The frosted cake can be kept in a cake keeper at room temperature for up to 3 days or in the refrigerator for up to 5 days. Bring to room temperature before serving.
To Freeze: The frosted cake can be frozen for up to 2 months. Thaw it overnight in the refrigerator and let it come to room temperature just before serving.
Alternatively, you can wrap the baked and cooled cake layers in plastic wrap and store them in the refrigerator for up to 2 days.
---
Watch how to make it
Did you try this recipe? I would love for you to leave me a 5-star rating or comment. This way, I have a better understanding of which recipes you like and can create more of them.
Please take a moment to follow me on Instagram, Pinterest, Facebook, Youtube or sign up for my free newsletter to never miss the newest recipes and blog updates.
You can also shop my favorite baking tools. Thank you so much for your support!