This post may contain affiliate links. Read the full disclosure here.
Tomato Roasted Pork Loin is exactly what you need for your meal plan. This tender, flavor pork will please everyone at the table. A boneless pork loin recipe that has the perfect amount of flavor from sun-dried tomatoes, vinegar, Italian seasoning, salt, and pepper. Vegetables are roasted right alongside the pork so you can have a full meal with little effort. When you're trying to decide what to make for dinner, this recipe will make a great option.
Pork, like chicken, is a lean and versatile meat choice. There really are so many different ways to flavor it and it's easy to work with since it requires very little trimming. I like to use pork loin for almost all of my pork dishes.
Although, I don't eat pork often. Dinner usually consists of skillet chicken and rice with leeks and kale, baked teriyaki chicken, or a spicy sausage pizza. But once in a while, I get a craving for tender, juicy roasted pork loin.
Today's recipe is one of my favorites. The marinade is made with sun-dried tomatoes, seasoned lightly with Italian seasoning, vinegar, and garlic. For more flavor in the pork loin, you can cut 1 inch long slits in the top of the roast and work the marinade down inside the slits. I highly recommend doing that!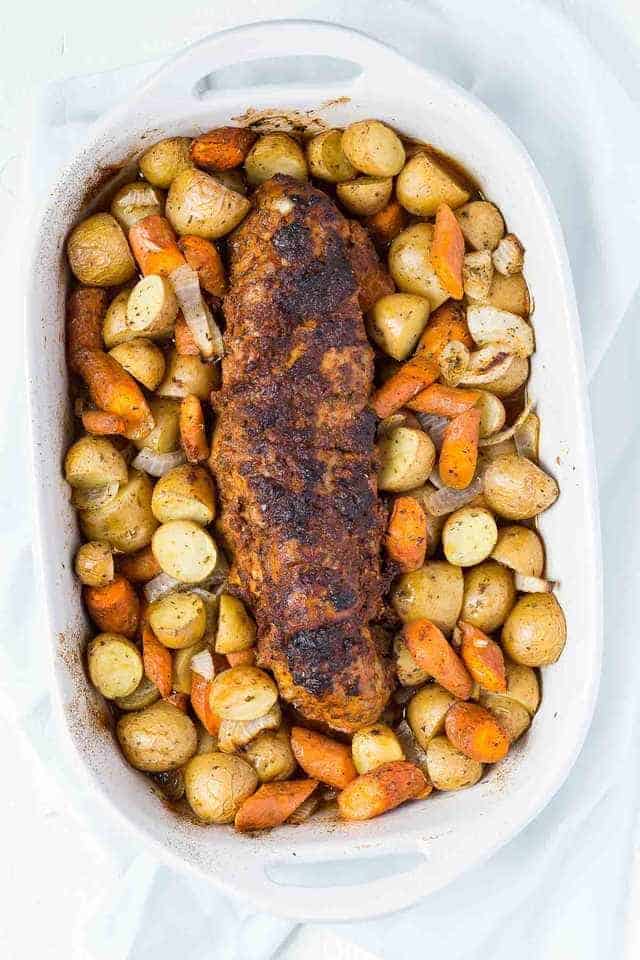 To make turn this tomato roasted pork loin into a complete meal, I added a mix of vegetables and roasted them in the same pan with the pork. Potatoes, carrots, and onions are a safe choice but you can mix it up and use any vegetable that's in season.
I tossed the vegetables in the oil from the sun-dried tomatoes before giving them a light sprinkle of Italian seasoning and then placed them around the pork loin in the roasting pan. I was tremendously impressed with how this recipe turned out.
The pork developed a lovely crust on the outside, which I love, and the meat was melt-in-your-mouth tender.
Give this recipe a try when you need to jazz up your dinner menu. It is sure to be a hit with the entire table!
Did you try this recipe? I would love for you to leave me a 5-star rating or comment. This way, I have a better understanding of which recipes you like and can create more of them.
Please take a moment to follow me on Instagram, Pinterest, Facebook, Youtube or sign up for my free newsletter to never miss the newest recipes and blog updates.
You can also shop my favorite baking tools. Thank you so much for your support!