This post may contain affiliate links. Read the full disclosure here.
There's nothing like a soft, chewy pretzel bite to curb your snack cravings. These lemon poppy seed soft pretzel bites are perfectly bite-sized and are extra delicious when dipped in a cool, creamy honey yogurt sauce.
This is a sponsored post written by me on behalf of Red Star®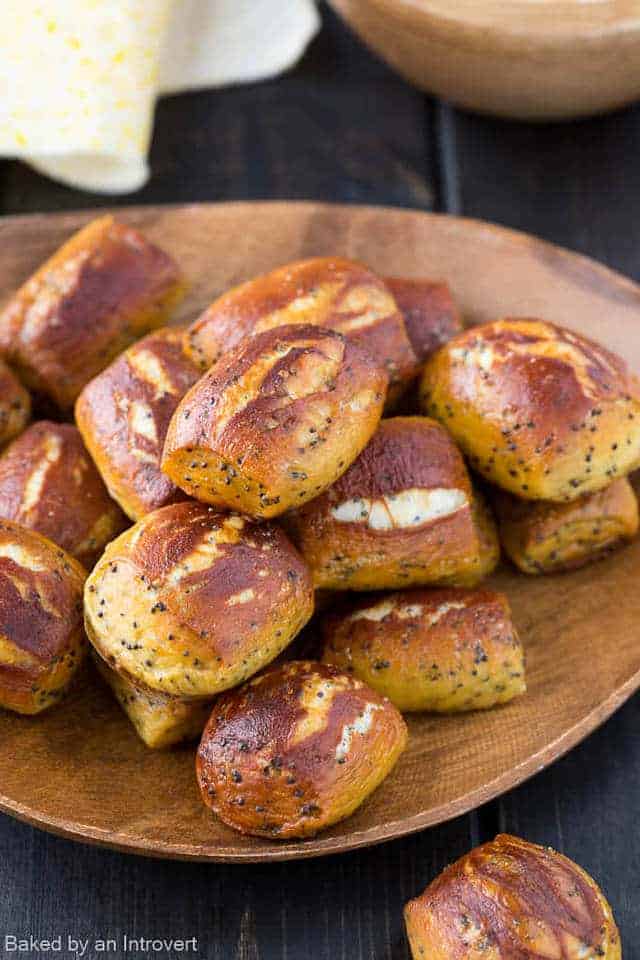 Soft pretzels are one of my favorite snack foods. There's a shop in the mall that has the best soft pretzel bites and I just have to have them anytime we go.
Today, I'm excited to be sharing a spring-inspired pretzel bite recipe that you can make at home. There really are only so many ways you can make soft pretzels and have them come out perfectly soft and chewy.
I learned the basics last year when trying to make maple bacon fat soft pretzels. Several recipes were tested until I achieved the best texture for my taste. I think you are going to enjoy and appreciate this recipe.
These Lemon Poppy Seed Soft Pretzel Bites are a fun new twist on my favorite soft pretzel recipe. They are some of the best sweet pretzel bites I've ever eaten. And so full of spring flare! They are full of lemon and honey flavors with loads of poppy seeds speckled throughout.
Homemade soft pretzels aren't difficult to make, but they do take time. I suggest reading through all the instructions before you begin and plan ahead.
Tips for making Lemon Poppy Seed Soft Pretzel Bites at home:
The most important tip is to use high-quality yeast. We're using Red Star® Active Dry Yeast for these soft pretzel bites. I'm a huge fan of Red Star® and have been for as long as I can remember. It yields consistent and reliable results.
Using bread flour for soft pretzels is by far the best route to take. You want a dough that is stiff and sturdy. It's an absolute must! The high gluten content in bread flour is what will give the pretzels that chewiness that is so well loved.
You want to let the dough double in size before shaping it. This will increase the lightness of the texture inside the pretzel. I love a soft pretzel that is chewy on the outside and fluffy on the inside.
Shape the dough by dividing it into 8 equal size pieces. Roll each piece into a 20-inch rope and cut the rope into 1 and ½ inch slices. If the dough is difficult to roll out and continues to shrink back, let it sit for about 5 to 10 minutes. This will give it some time to relax. Relaxed dough is easier to manipulate.
The pretzels need to go into a water bath before baking. This is crucial for developing that dark shiny surface. It also helps keep the pretzels from puffing up too much in the oven. In a way, it sort of "sets" the dough.
The water bath is simply water and baking soda. Boil the pretzel bites in batches for about 20 seconds. That's all they'll need. Just a quick dunk.
Feel free to sprinkle some coarse sugar over them just before baking. I tested this recipe with and without it. I love the extra sweetness it provides. And as the pretzels bake, the sugar will melt and caramelize on the outside. It's worth the extra step it takes to sprinkle it on.
Bake them up until they are the desired color of golden brown. Some folks like their pretzels to be darker in color and some like them to be lighter. Just be careful not to underbake or burn them.
To find more recipe ideas, check out Red Star® on Facebook, Instagram, and Pinterest.
Did you try this recipe? I would love for you to leave me a 5-star rating or comment. This way, I have a better understanding of which recipes you like and can create more of them.
Please take a moment to follow me on Instagram, Pinterest, Facebook, Youtube or sign up for my free newsletter to never miss the newest recipes and blog updates.
You can also shop my favorite baking tools. Thank you so much for your support!