This post may contain affiliate links. Read the full disclosure here.
Surprise your family and friends with these homemade Easter Cheesecake Macarons. Crisp and chewy French Macarons sandwiched together with your choice of fruity Cheesecake filling.
This post is brought to you by Bob's Red Mill.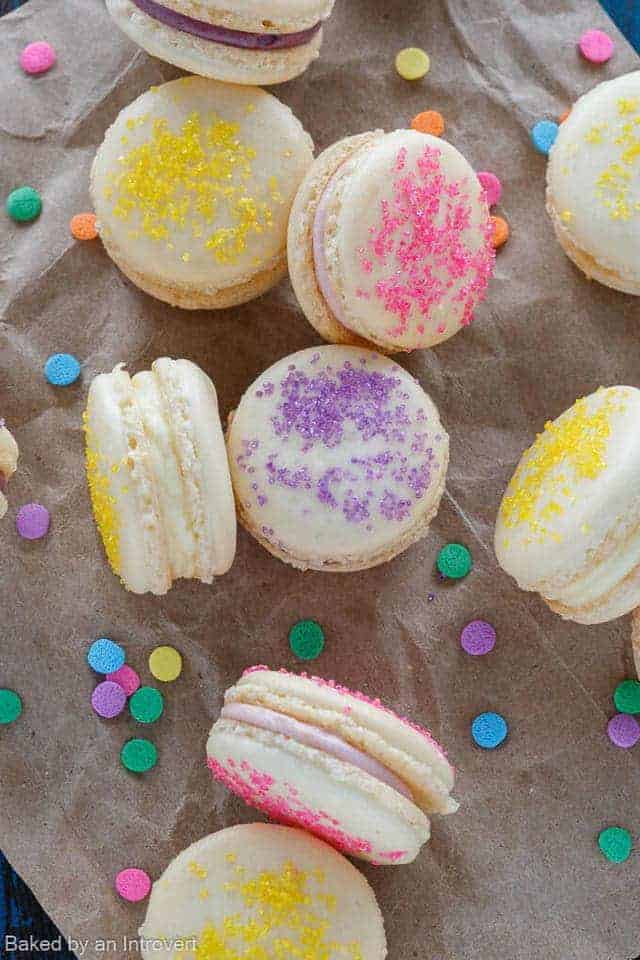 Lemon, strawberry, and blueberry cheesecake flavors offer colorful fillings that are perfect for Easter. Each shell is decorated with color-coordinated sugar crystals to match the filling.
My basic French Macaron shells are filled with three different cheesecake flavors. There's tangy lemon, bright strawberry, and utterly delicious blueberry.
Macarons are a tad bit finicky and require precision and a delicate hand. You can read all about my tips for achieving success in my macaron tutorial.
Start a new Easter tradition by making these fun, colorful macarons for your family and friends!
Today's macarons are inspired by Easter and pretty spring colors. Just look at the pink, yellow, and purple fillings. They make me so happy!
Let's talk about Easter for a sec…
Back when I was growing up we dyed Easter eggs the night before, woke up early for the sunrise service at church, and came home to unwrap Easter baskets filled to the brim with candy.
As an adult, I don't have any Easter traditions. I'm not religious and I don't have kids to do the whole Easter basket thing with. So for me, it's just another day really.
I don't eat much candy but I do get excited about baking fun Easter-themed treats. What about you? Do you have any Easter traditions? I'd love to hear about them.
If you are like me and don't particularly celebrate, you can still make these oh so yummy cheesecake macarons! They are a wonderful treat for adults and kids alike.
It does require technique and precision to master these delicate almond cookies.
But you can absolutely do it. I mean if I can do it, you can totally do it! Read over the tutorial I linked above in the recipe highlights and follow those instructions to make the macaron shells.
Remember to weigh all your ingredients and use a high-quality almond flour.
My favorite is Bob's Red Mill. Bob's Red Mill Almond Meal is ground from whole, blanched sweet almonds, which are full of protein. The almond flour is also very low in carbohydrates and inherently gluten-free.
Once you have made the batter and piped out rounds, sprinkle some colorful sugar crystals on top. Do this while they are still wet.
As they bake, the crystals will adhere to the cookie. I chose sugar crystals that matched the filling colors.
Aren't they pretty?
The cheesecake filling is my favorite part about these macarons. It's not overly sweet and compliments the sugary shells perfectly.
All I did was divide some softened cream cheese into three parts and add a different flavor of jam to each one.
I went with lemon, strawberry, and blueberry. The lemon was my favorite out of the three.
I'm absolutely hooked on making macarons now! They offer such a unique texture with the crisp, chewy shells and cool creamy fillings. Simply to die for!
Did you try this recipe? I would love for you to leave me a 5-star rating or comment. This way, I have a better understanding of which recipes you like and can create more of them.
Please take a moment to follow me on Instagram, Pinterest, Facebook, Youtube or sign up for my free newsletter to never miss the newest recipes and blog updates.
You can also shop my favorite baking tools. Thank you so much for your support!